Your SPAM-tastic guide to Waikiki Spam Jam 2016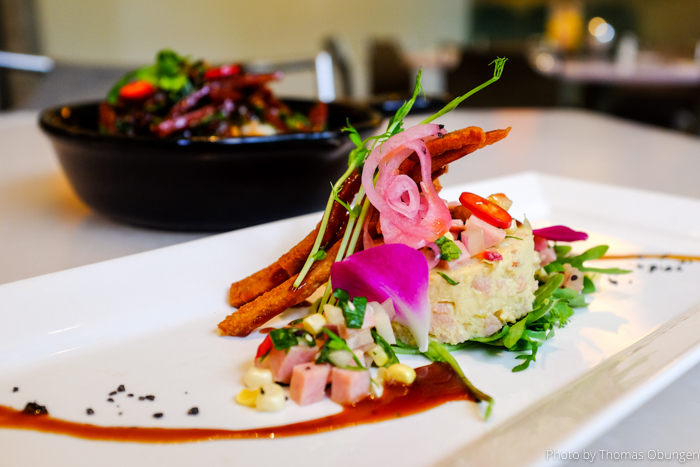 Mmmm. Do you smell that savory, distinctly porky scent wafting in the spring trades across Kalakaua? That's right, it's Spam Jam! For the fourteenth year, the absolutely bonkers street fest takes over Waikiki in a massive celebration of our state's canned meat of choice.
When: Saturday, April 30 from 4 to 10 p.m.
Where: Up and down Kalakaua Avenue
Why: A benefit for the Hawaii Foodbank, Waikiki Community Center and Visitor Aloha Society of Hawaii
Admission: Free
Parking: Parking information
The entertainment
Outrigger Stage — fronting the Outrigger Waikiki Hotel
4:30pm Hiroshima
5:15pm Waimanalo Sunset Band
6:30pm Ben Vegas & Maila Gibson
7:30pm Jeff Rasmussen & Robi Kahakalau
8:30pm Raiatea Helm
Shops of Hawaii Stage — fronting the Royal Hawaiian Center
4:30pm The Women of Halau Ka Waikahe Lani Malie & The Men of Kahulaliwai
5:30pm Honoka & Azita
6:30pm Germaine's Luau
7:30pm Lehua Kalima and Shawn Pimental
8:30pm EMKE
On the menu
Saturday's Spam Jam guarantees to be to have you SPungover with Spammy creations from 16 participating restaurants and stores.
ABC Stores
On the menu: SPAM kamakaze ($5) and tempura SPAM fries ($6)
Atlantis Seafood & Steak
On the menu: SPAM lau lau ($8) and SPAM bun ($4)
Buho Cocina y Cantina
On the menu: SPAM tacos with Maui Gold pineapple (2 for $5), SPAM fried rice burrito ($TBD) and fresh guacamole ($TBD)
Chai's Waikiki
On the menu: Ahi SPAM katsu with mango salsa ($12) and SPAM fritter with fresh pineapple ($12)
Duke's Waikiki
On the menu: Duke's famous Hula Pie ($9) and Korean SPAM street tacos ($5)
Eggs 'n Things
On the menu: Crispy SPAM chips ($5), grilled SPAM & cheese sandwich ($6) and a combo ($10)
Gordon Biersch
On the menu: Gordon Biersch garlic fries ($5), BBQ SPAM sliders ($5) and SPAM won ton nachos ($6)
Hard Rock Cafe
On the menu: Apple SPobbler ($4) and SPmac & cheese balls
Hawaiian Crown Plantation
On the menu: Grilled pineapple & SPAM skewers, grilled SPAM & cheese sliders, pineapple sorbet with SPAM sprinkles
Hula Grill
On the menu: SPAM fried rice ($6), SPAM loco moco ($10) and SPAMwich ($6) and the Award-winning Gemütlichkeit Spamwich
MAC 24/7
On the menu: Mongolian SPAM Poke Bowls ($5) and Coconut SPlan with candied SPAM ($5)
Mahaloha Burger
On the menu: Loco moco SPAM burger and teriyaki SPAM burger
Noi Thai
On the menu: Noi's SPAM Salad ($7), SPAM Pineapple Fried Rice ($8)
OnoPops
On the menu: Assorted gourmet ice pops ($4)
PF Chang's
On the menu: SPAM lo mein and SPAM lettuce wraps
Seafood Village
On the menu: SPAM shumai and SPAM manapua