Your Guide to the Perfect Weekend in Honolulu: July 13–19, 2022
Shop for new plants, laugh with a Saturday Night Live star and catch the final edition of a beloved local festival.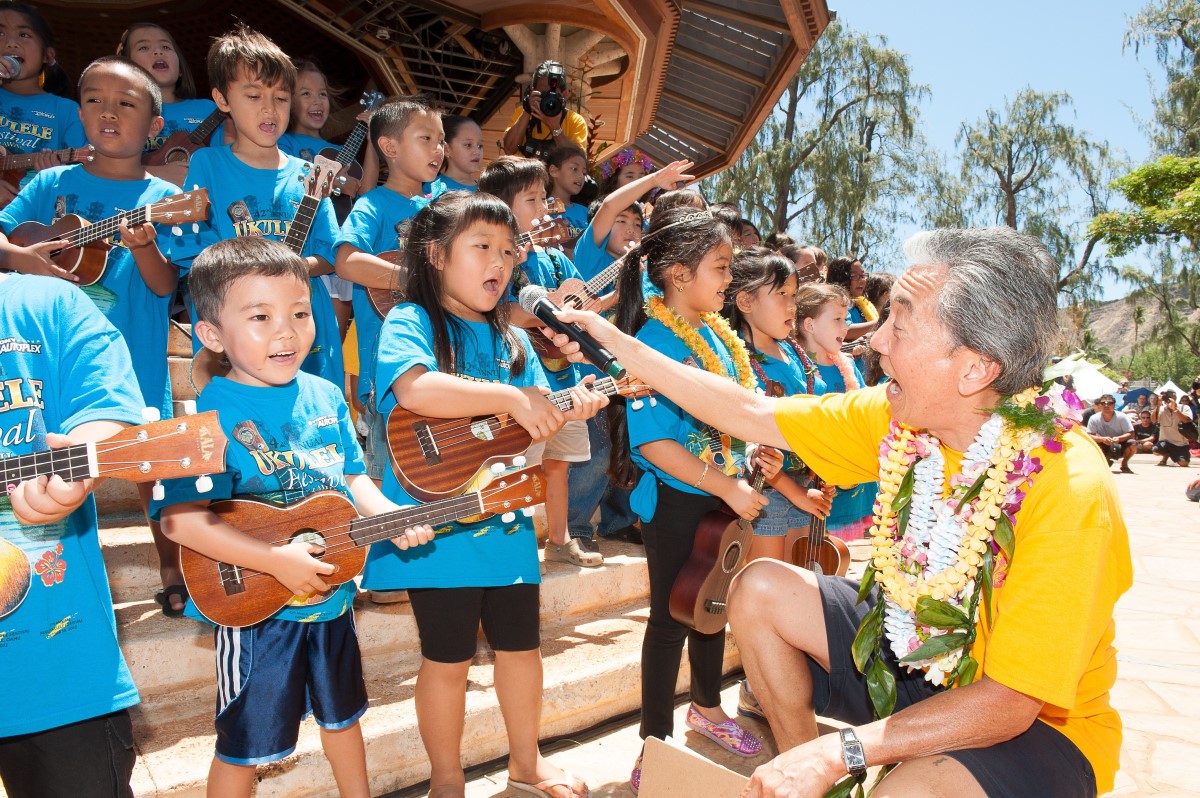 'Ukulele Festival Hawai'i
Sunday, July 17, 7 p.m.
After more than 50 years of showcasing 'ukulele music to the world, co-founders Roy and Kathy Sakuma are calling it quits after one last virtual festival. Roy Sakuma will co-host with Jake Shimabukuro, and expect to see Danny Kaleikini, who has emceed the event since the '70s; Herb Ohta Jr. and Sr.; Paula Fuga; and others. Grab your own uke to join the global play-along. The festival will be livestreamed on Facebook and broadcast on KHNL. A silent auction of 'ukulele, chocolates, hotel stays and Jack Johnson concert tickets is open now through Sunday at 11:55 p.m.
Free, ukulelefesthawaii.org, @ukulelefestivalhawaii
---
Bloom Garden & Art Festival
Saturday, July 16, and Sunday, July 17, 10 a.m. to 4 p.m.
A lot of people started investing in plants in the past few years, bringing the outside in, and many of us are still going strong. If you have more plant babies than pots, check out handmade pieces from members of the Hawai'i Potters' Guild. If you're looking for some new blooms to join your jungle, shop from local nurseries, the Paradise Bonsai Club and the Honolulu Orchid Society. The event spans Ward Centre, with many vendors taking up shop in the old Pier 1 space next to Nordstrom Rack. There will also be free workshops on both days—see the website for more details.
1142 Auahi St., wardvillage.com, @honolulumakersmarket
---
SEE ALSO: Q&A: Hawai'i Photographer Richie Biluan and "The Carbon Almanac"
---
Chris Redd
Wednesday, July 13, and Thursday, July 14, 6:30 p.m.
While Saturday Night Live is on break for the summer, cast member Chris Redd brings his standup to Honolulu. Even if you're not an avid SNL fan, you may have heard the Emmy-winning song "Come Back, Barack," which he co-wrote and performed with fellow cast member Kenan Thompson and Chance the Rapper. We also loved him as pizza delivery guy Carlo in the comedy-horror film Scare Me, which premiered at Sundance in 2020. Doors open at 5 p.m., with Simmone Park kicking off both nights. Don't forget the $10 food/drink minimum per person.
$35–$45, 2335 Kalākaua Ave., bluenotejazz.com, @chrisreddis
---
SEE ALSO: Things to Do on O'ahu in Summer 2022
---
Walking Tour of Statues in Waikīkī
Saturday, July 16, 9 to 11 a.m.
Join Cheryl Soon, author of Reflections in Stone and Bronze: Exploring Hawai'i's History & Culture Through Sculpture, on this tour of about a dozen statues in Waikīkī. She'll talk about their creation as well as historical and modern context. Tickets are limited to the first 16 registrants and include a copy of the book, as well as free parking vouchers for International Market Place that day. And after that, catch the next tour, of downtown statues, on July 30.
$35. Meet at 2050 Kalākaua Ave., register here
---
Native Hawaiian Convention
Starts Tuesday, July 19
Looking to get involved with local issues? Register now for next week's 21st Annual Native Hawaiian Convention, put on by the Council for Native Hawaiian Advancement. It runs from July 19 to 22. This year's theme, "Hulihia: Transforming Hawaiʻi Nei," will focus on cultural perpetuation, civic engagement and tourism transformation. Panel discussions and workshops will take place at the Sheraton, along with a pop-up shop and gubernatorial debates. See the agenda here. The convention will also host the 45th Annual Nā Hōkū Hanohano Awards on July 20, though you don't have to attend other convention events in order to go—tickets are separate. Or catch the Hawai'i News Now broadcast of the awards.
Registration is $75 for members, $175 for nonmembers, plus more for meals and evening events. Sheraton Waikīkī, 2255 Kalākaua Ave., hawaiiancouncil.org, @hawaiiancouncil