Your Guide to the Perfect Weekend in Honolulu: Aug. 18–24, 2022
Celebrate legendary waterman Duke Kahanamoku, audition to become the next superstar idol and watch hula in Waikīkī.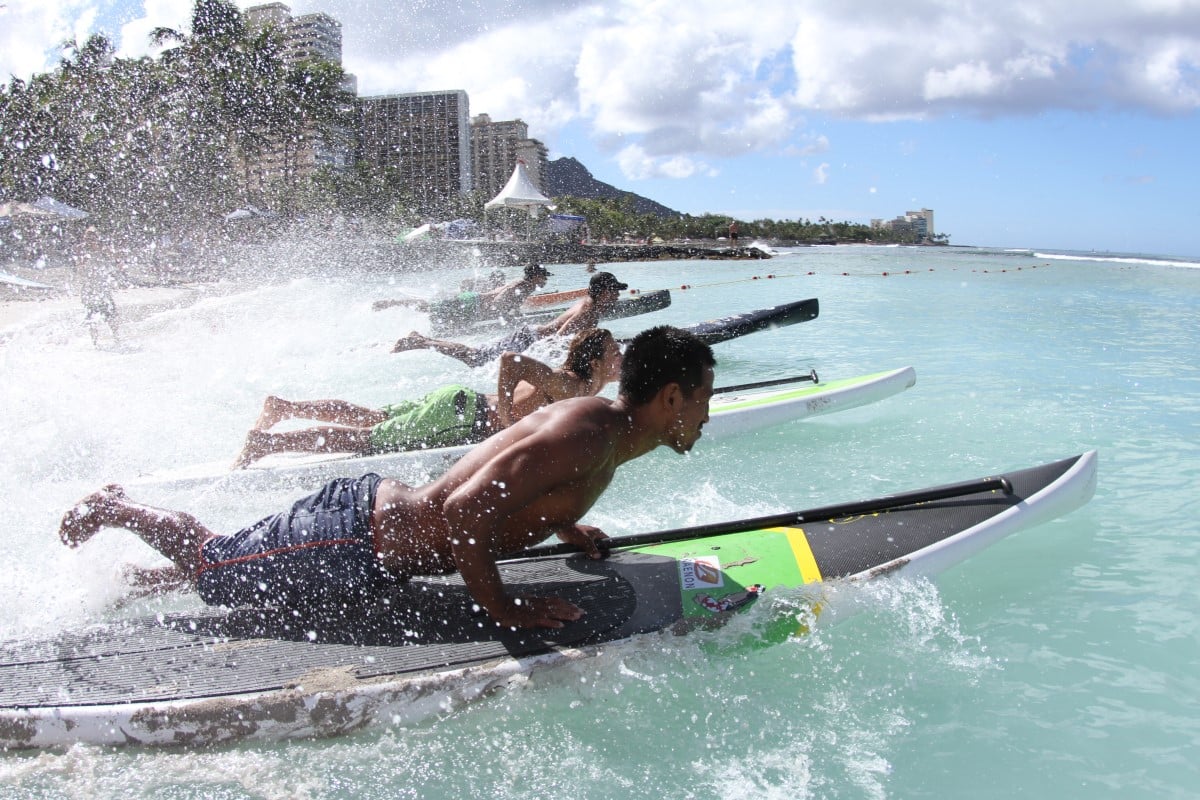 Duke's OceanFest
Saturday, August 20, through Wednesday, August 24, various times and locations
A medley of events launches this week with Duke's OceanFest, an annual celebration of water sports and surfing in honor of Duke Paoa Kahanamoku. There's the Red Bull Party Wave on Aug. 20, featuring costumed teams that will swim out to catch waves, and AccesSurf invites people with disabilities to showcase their skills at its adaptive surfing event on Aug. 22. Attend the official opening ceremony of Duke's OceanFest on Aug. 22, and watch beloved pets ride the waves at Raising Cane's Going to the Dogs "Surfur" Competition on Aug. 23. Or, watch a documentary screening and attend a talk story panel for Beyond The Sport – Joey Cabell: The Legend of Surf at Hawai'i Theatre on Aug. 24. There's plenty to do, so check out the whole schedule here.
Family-Friendly Event, various locations, dukesoceanfest.com, @dukes_oceanfest
---
Korean Festival
Saturday, Aug. 20, 11 a.m. to 8 p.m.
The annual cultural festival returns! We've got all the details of what it is, where to park, what to eat and what's on the entertainment schedule. Click here to read our ultimate guide to the event.
Family-Friendly Event, Honolulu Hale Civic Grounds, 650 S. King St., koreanfestivalhawaii.com
---
Illusion and Reality, Generational Bridge: A Boomer and A Millennial
Through August 27
Come see this collaboration of paintings by 2021 University of Hawai'i at Mānoa graduate Crissia Vaughn (the millennial) and veteran artist Charles Valoroso (the boomer). See photorealistic underwater spearfishing scenes, intricate aloha shirts and more, on view Tuesdays through Sundays during gallery hours, 11 a.m. to 6 p.m.
Downtown Art Center, 1041 Nu'uanu Ave., Second Floor, (808) 773-7339, downtownarthi.org, @downtownartcenter
---
Legends of Hawaiian Music
Thursdays, 7 to 10 p.m.
Every Thursday, Nā Makamaka – Jerry Santos and Friends will perform live at Waikīkī restaurant Shor. Best known for his work with the Hawaiian music group Olomana, Santos has been an influential singer and songwriter for more than four decades. For VIP seating, order from Shor's prix fixe three-course menu at $75 per person. Shor's regular menu will also be available in the non-VIP area. Complimentary self-parking up to four hours is available for guests who attend the Legends of Hawaiian Music event and dine at Shor. Your best bet to secure a seat is via reservation on OpenTable.
Hyatt Regency Waikīkī Beach Resort & Spa, 2424 Kalākaua Ave., (808) 923-1234, hyatt.com, @shorwaikiki
---
Pearlridge Center 50th Anniversary Celebration
Friday, August 19
Celebrate Pearlridge Center's 50th anniversary with special (and free!) anniversary popcorn from L1 'Iniki Popcorn, live music by DJ Anit from noon to 2 p.m., and a live performance by local boy band Crossing Rain and fan signing from 6 to 8 p.m.
Family-Friendly Event, Wai Makai, Pearlridge Center, 98-1005 Moanalua Road, (808) 488-0981, pearlridgeonline.com, @pearlridge
---
Meet the Maker: Nick Kuchar
Thursday, August 18, 5 p.m.
Nick Kuchar, the artist and founder of Nick Kuchar Art & Design, shows audiences a glimpse of the inspiration behind his vintage-style surf and travel art, plus gives a behind-the-scenes look at his artistic journey. He will also demonstrate how he screen prints one of his newest designs. Register for the virtual event, which will stream live on YouTube and Facebook, at houseofmanaup.com.
houseofmanaup.com, @houseofmanaup
---
Reveries: The Art of Hung Liu
Opens Thursday, August 18
The Honolulu Museum of Art recently acquired three large-scale Hung Liu paintings from the estate of longtime museum supporter Joyce L. Stupski: "Temple School" (1996), "Reverie" (1998) and "Imperial Pillar" (2011). Liu is a contemporary Chinese American artist who became famous for her paintings and mixed media works. This new exhibit, Reveries, also showcases seven paintings on loan from the Collection of Ella Qing Hou and J. Sanford Miller; the Collection of Jordan D. Schnitzer; and Turner Carroll Gallery, Santa Fe.
Honolulu Museum of Art, 900 S. Beretania St., (808) 532-8700, honolulumuseum.org, @honolulumuseum
---
Ho'olauna Aloha Hula Festival
Sunday, August 21, 4:30 to 6:30 p.m.
Back in person after a two-year hiatus, the Hoʻolauna Aloha Hula Festival returns with performances by kumu hula Hokuaulani Nihipali and kumu hula Ed Collier with Hālau Hula O Nā Pua Kukui; kumu hula Sonny Ching and kumu hula Lopaka Igarta with Hālau Hula Nā Mamo O Puʻuanahulu; kumu hula Maelia Carter with Hālau Hula Ka Ua Noe O Waʻahila; and Lehua Kawaikapuokalani Hewett. Waikīkī Beach Walk offers three hours of validated parking.
Family-Friendly Event, free, Waikīkī Beach Walk, Plaza Stage, 226 Lewers St., (808) 389-1312, waikikibeachwalk.com
---
"Idol Across America" Virtual Auditions
Friday, August 19
Calling all superstars! The reboot of TV's American Idol is in its sixth season and holding virtual Zoom auditions in search of its next singing sensation. Flex your vocal skills online and get real-time feedback from an American Idol producer. If you're chosen to move on to the next round, you'll have a chance to audition in person. Participants must be at least 15 years old by Sept. 15. If you don't want to audition live, you can submit a video online.
abc.com/shows/american-idol/auditions
---
Reggie Watts
Saturday, August 20, 8 p.m.
Musician, writer, actor and comedian Reggie Watts is best known for being the bandleader of CBS' The Late Late Show with James Corden. Famous for blending and blurring the lines between music and comedy with an absurd and unpredictable style, Watts promises to disorient and amuse audiences at Hawai'i Theatre. Note that theater management requires masks be worn on property.
$45–$65, Hawai'i Theatre, 1130 Bethel St., (808) 528-0506, hawaiitheatre.com, @hawaiitheatre
---
SEE ALSO: The Lineup: Where to Catch Comedy in Honolulu
---
Mele on the Marina: Nathan Aweau
Saturday, August 20, 3 p.m.
Nā Hōkū Hanohano Award-winning singer Nathan Aweau performs live at the marina docks, along with Hālau 'O Napuala'ikauika'iu, Ka Hale I O Kahala and Hālau Kawaihoa. Spin the prize wheel for a chance to win giveaways and grab a bite to eat from Chopstick and Rice, Maile's Thai Bistro or Koa Pancake House.
Family-Friendly Event, Hawai'i Kai Towne Center, 333 Keāhole St., hawaiikaitownecenter.com, @hawaiikaitownecenter