Our Guide: Where to Celebrate the 4th of July in Honolulu
Of course there are fireworks, but fourth of July fun this year also includes cruises, carnival games, country stars and more.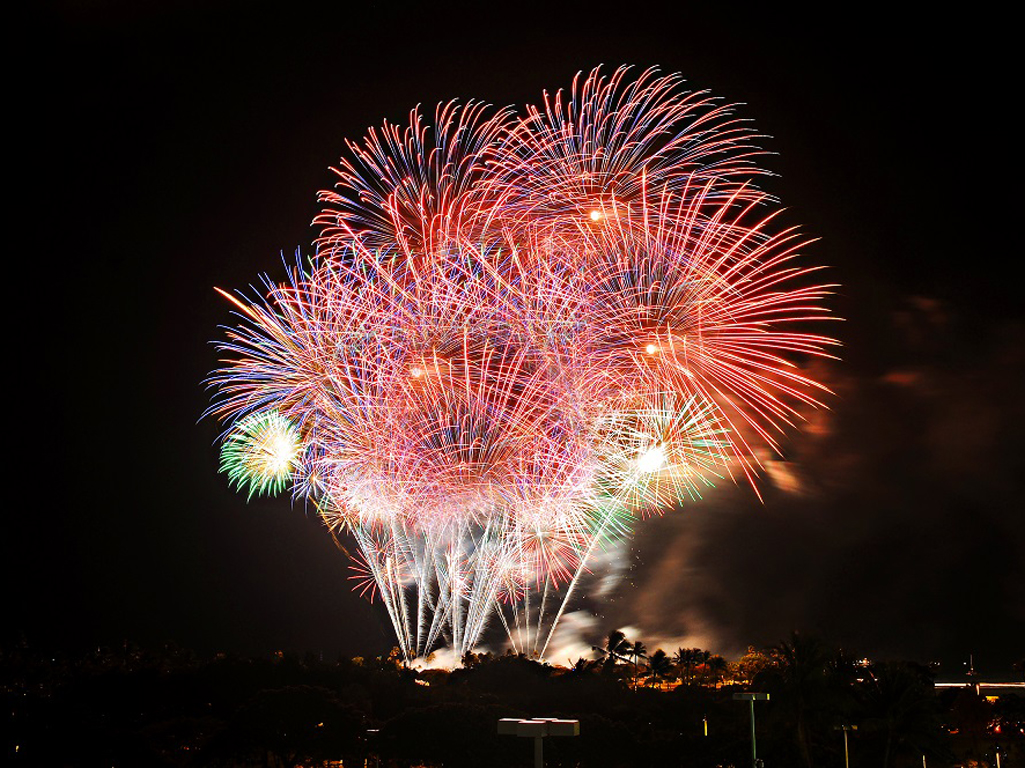 Photo: Courtesy Ala Moana Center
The holiday is on a Thursday this year, so you may want to start celebrating a little earlier than usual. Here are eight places from Wahiawā to the Windward side, all open to the public, where you can watch the fireworks. A few festivities include other entertainment for the kids including carnival rides, raffle prizes and a tour of a historic battleship.
Ala Moana Center
Hawaiʻi's largest Fourth of July fireworks show will sync up with KSSK 92.3 FM which will be playing hit songs from the last six decades. The show will officially launch the 60th anniversary celebration of Ala Moana Shopping Center.
Free, 8:30 p.m., Ala Moana Beach Park, 1201 Ala Moana Blvd. alamoanacenter.com
4th of July Spectacular at Schofield Barracks
The festival in Wahiawā opened to public a few years ago, meaning all families can enjoy a full day of fun. This is one of the few events that begins in the morning, with carnival rides, games and food booths opening at 10 a.m. Dita Holifield, Rebel Souljahz and country music star Jordan Davis will entertain the crowd before the 25th ID Band starts the signature "1812 Overture" just ahead of the fireworks. All drivers and adults will need to show a valid state or federal ID at the gate. Grilling, fireworks, glass, pets and profane T-shirts are banned. And bring cash, vendors will not accept credit cards.
Free, 10 a.m. to 9 p.m., Schofield Barracks, non-military and Department of Defense visitors must enter through the Foote Gate on Foote Avenue. hawaii.armymwr.com
Hukilau Marketplace Fireworks
Kids can play carnival games run by Kahuku Project Grad, get their faces painted and receive free balloon animals at this event next to the Polynesian Cultural Center. Adults can try to best a bucking bull ride. Josh Tatofi, Mākaha Sons, Rebel Souljahz and the Tonga Sisters will also perform before the fireworks begin. Deep-fried Twinkies, plate lunches and more will be available for purchase.
Free, activities begin at 4 p.m., the fireworks begin at 9 p.m. Hukilau Marketplace, 55-370 Kamehameha Highway, Lā'ie. hukilaumarketplace.com
Kailua Beach Fireworks
At Kailua Beach, people will not only be able to enjoy the fireworks display, but also a pre-firework air show. The complete schedule for this year isn't online yet, but last year, the Skydive Hawaiʻi show with Colonel John Bates and the Flying Leathernecks started at 5:45 p.m. with the fireworks going off at 8 p.m. Parking is usually available starting at 3 p.m. at Kailua Intermediate School, Kailua Town Center, Kainalu and Lanikai elementary schools. A free shuttle will pick up people from the old Macy's parking lot.
Free, fireworks begin at 8 p.m. Kailua Beach Park, 526 Kawailoa Road, Kailua, kailuafireworks.net
Picnic on the Pier
Head over to Pearl Harbor for a family picnic to celebrate Independence Day. If you don't feel like packing food for your picnic, Tin Hut BBQ Truck, Franks Burgers and other trucks will sell plates and you can pick up a beer or Jamba Juice from other vendors. In addition to the traditional fireworks, Hawaiian Soul will perform and there will be raffle prizes, keiki activities and complimentary tours of the Battleship Missouri Memorial. Remember grills and glass are not allowed.
$10 for adults ($15 on the day), $5 for children 4-12 ($10 on the day). Activities begin at 6 p.m. The Battleship Missouri Memorial, 63 Cowpens St., Honolulu, ussmissouri.org
Rock the Lagoon at the Hilton Hawaiian Village
Live music and the grill will fire up at noon at this bash on the Hilton's Great Lawn. Buy hamburgers, hot dogs, shrimp kabobs and something to drink (alcoholic and non-alcoholic), play giant Jenga and listen to Next Level, Kelandy and Press Play perform. You'll have a good view of the Ala Moana fireworks, starting at 8 p.m.
Free admission. Noon to 8 p.m., 2005 Kalia Road, (808) 949-4321, hiltonhawaiianvillage.com
Cruises
Atlantis Fourth of July Cruise
Atlantis Cruise's Majestic will take people out on the water for the fireworks show. Each ticket comes with a buffet of American dishes such as country fried chicken, BBQ pork sliders and warm apple pie. Both packages include a view of Fourth of July fireworks.
$96 for kids 3-12 years, $164 for adults, 6:15 to 9:15 p.m., check-in is 30 minutes prior. Atlantis Cruises Majestic, Pier 6, atlantisadventures.com
Star of Honolulu 2019 Independence Day Cruise
The Star of Honolulu is providing a variety of Independence Day celebrations aboard its decks. While all come with a view of Waikīkī and Fourth of July fireworks, each package varies from a three- to seven-course meal at a private table.
$116 to $251, 6:15 to 9:15 p.m., Aloha Tower Marketplace, 1 Aloha Tower Drive, starofhonolulu.com