Weekend Picks – June 19, 2014
Lei Chic's guide to the weekend's best events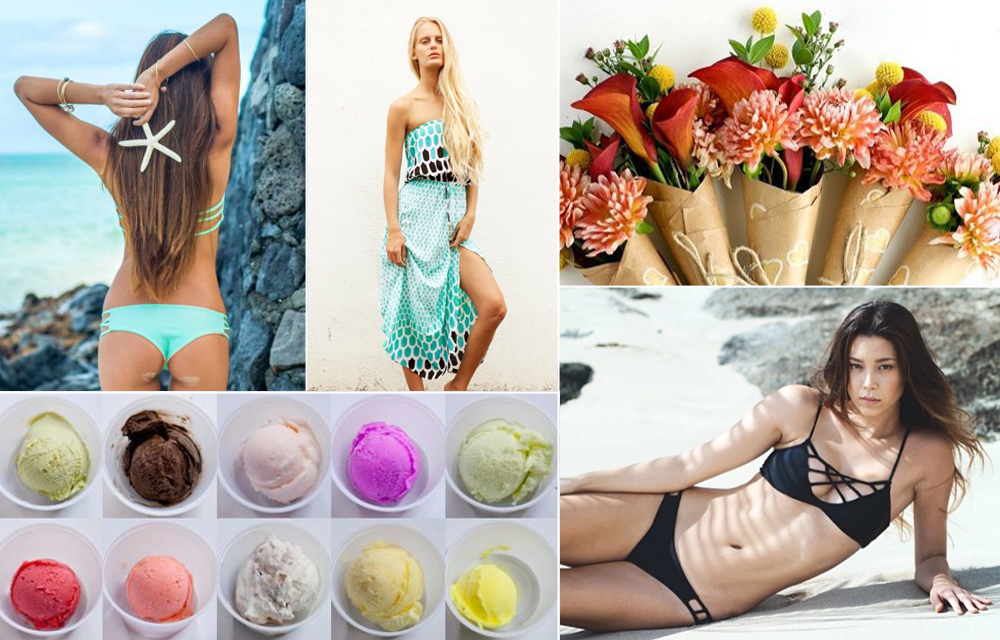 Shop
X Market's the Spot
What: Another month, another opportunity to score some swag for your house, mouth and closet at Night Market! Lei Chic featured shop Sealove will be there with its beach-ready summer separates, joined by seasoned Honolulu designers such as Issa de Mar and newcomers such as Akemi swimwear. You won't want to miss the Gillia fashion show at 8 p.m. debuting a new collection or the motley crew of street performers juggling, walking on stilts and practicing magic from 6–8 p.m. Most of all, we're excited to grab some Il Gelato treats and pick up a fresh bouquet from new flower vendor Fleur. They're the perfect summer accessories.
When: Saturday, June 21 from 6–11 p.m.
Where: Kakaako Warehouse, 449 Cooke St.
Details: Visit honolulunightmarket.com for more
Attend
The Old Man and the See
What: Throw together two lovable geezers, a park bench and a lifetime of stories on a stage and anything can happen. Especially when the stars include local celeb Joe Moore and Pat Sajak of Wheel of Fortune fame. The duo wrote the script for the new play Wrestling Ernest Hemingway, which is an adaptation of a 1993 Warner Brothers comedy of the same name. Bonus? Sajak's argyle socks and Birkenstocks on Moore are a can't-miss sight.
When: June 19–22 and 25–29 at 7 p.m., and June 21, 22, 28 and 29 at 2 p.m.
Where: Hawaii Theatre
Details: Tickets are $23–$72 here. Read our interview with the two stars.
Eat
Hop Scotch and Soda
What: When it comes to finding the one that's made for you, Mom was right: Give yourself a couple of choices before you settle down. The Chamber of Commerce gets it. For its upcoming networking event "Hop, Scotch and Moulin Rouge," choose between rich Scotch-and-cigar pairings or luscious wine-and-chocolate pairings for a true love lottery that you're guaranteed to win either way. Don't they always say that two is better than one?
When: Friday, June 20 from 5:30–8:30 p.m.
Where: Honolulu Club, 932 Ward Ave.
Details: $50–$60 for non-members. Purchase tickets at the cochhawaii.org website.
Shop
This Takes the Cake
What: In Hawaii, we take first birthdays seriously—even when they aren't for babies. Which is why Tasi Boutique is going big with its one-year anniversary party this weekend. You'll definitely want to hit up the North Shore for this mini shop fest: Owner Olivia is bringing in food, entertainment and vendors such as Nicole Vermilli, Bikinis by M and Josa Jewelry. There will also be a bangle bar for crafty partygoers, a raffle, gifts with purchase and discounts. A very merry birthday, indeed!
When: Saturday, June 21, 4–9 p.m.
Where: 67-292 Goodale Ave., Suite 105
Details: Call 990-1236 for more information.
Watch
Fell For It
What: As if we needed anything more to make us scared of things that go bump in the night, Falling Skies has totally got our interest piqued, so we've marked its Season 4 premiere on our calendar. A gritty post-apocalyptic drama, it follows humanity's struggle against an invading alien force. It's got the suspense and jarring action scenes you'd expect, along with a hefty dose of family and relationship drama that gives the show heart. Plus, enough mysteries to keep us aching for the next episode each time the credits roll.
When: Sunday, June 22 at 7 p.m.
Where: TNT
Details: Catch up on past seasons with clips and background at fallingskies.com.
Read
Lawn Party
What: We totally loved Lemony Snicket, i.e. Daniel Handler, even before Jude Law was cast to play him in 2004—although that certainly didn't hurt. Now, Handler has collaborated with artist Maira Kalman for Girls Standing On Lawns, a book of paintings inspired by vintage photographs at the Museum of Modern Art. His stark, dreamy text and her vibrant images make for an evocative, nostalgic look at the past. No orphans or evil childhood fears in this book, but it's one that would certainly look good on your coffee table.
Where: $10.79 before shipping on amazon.com.
Details: The book was published by the Museum of Modern Art. Visit mairakalman.com for a peek at some of the pages.
Wardrobe Update
The Roberta Oaks line of too-cute summer dresses is now for sale online and in stores. We're loving the cheery shifts in summery lime and cerulean stripes, and the ruched linen sundresses in magenta and aqua with contrast stitching.
Matt Bruening's much-awaited summer collection, Matte, released this past Saturday and available at Salt + Sand, is an edgy, all-black take on the season with breezy, wide cuts and draped silhouettes. Highlights include a cape-y flowing T-shirt dress and sporty LBD with a racer-back neckline detail.
Sales
Who: Eden in Love, Ward Warehouse
Deal: 25 percent off all Venice-inspired items
When: Until June 22
Who: American Eagle Outfitters, Pearlridge Center
Deal: Up to 60 percent off clearance
When: Until June 21
Who: 7 For All Mankind, Ala Moana Center
Deal: Up to 50 percent off styles in-store
When: Until July 6
Who: Calypso St. Barth, Royal Hawaiian Center
Deal: 20 percent off full-priced styles
Who: J.Crew
Deal: 30 percent off summer styles with code HISUMMER
Who: Scoop NYC
Deal: Up to 40 percent off select men's and women's styles
Who: Bird
Deal: Summer designer sale on select apparel and accessories