Weekend Picks – JUNE 12, 2014
Lei Chic's Guide to the Best Weekend Events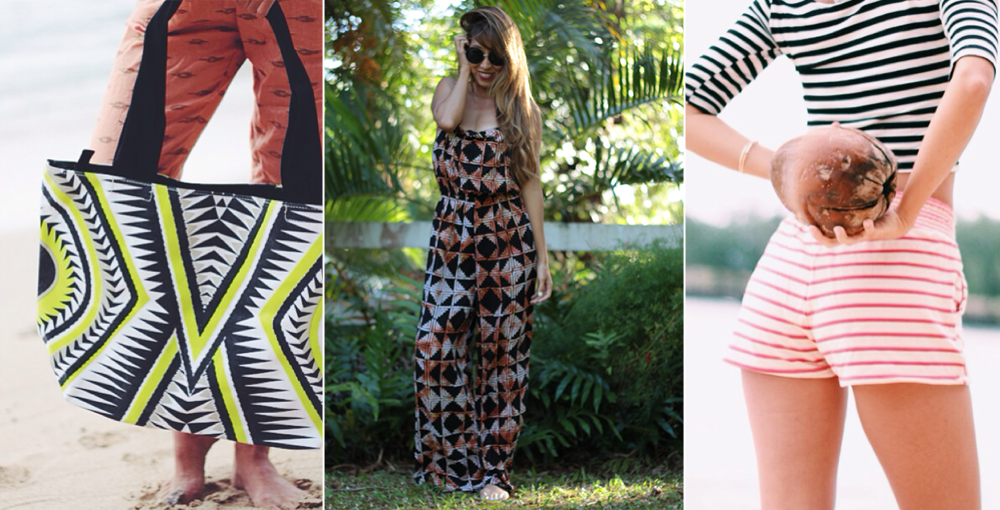 Shop
Fruits of Labor
What: We love the sun, don't get us wrong. And surf? Awesome. But our favorite part of summer may actually be all the mid-year sales. Guava Shop in Haleiwa is kicking off its annual "tent" sale this Friday with a whopping 20 to 70 percent off its breezy resort-style, perfect-for-summer duds like this chic Indah jumpsuit (middle). Pack up your gals, get in the car and head up to the North Shore to make a beach day/shop-a-thon of it. Now that's summer done right.
Where: 66-165 Kamehameha Highway, Haleiwa
When: Friday, June 13 and Saturday, June 14 from 10 a.m.–6 p.m.
Details: Sip on spiked summer mint lemonade while you're there, and don't be concerned if you don't see a tent—the Guava team opted to skip the tent this year and stay in the comfort of the store's AC.
–SPONSORED LISTING–
Win


Dad Company


What: Uh oh—Father's Day already? Three days to get a gift worthy of the man who taught you everything? Royal Hawaiian Center's Instagram contest has got you covered. It's the last day to enter to win the ultimate gift package for Dad and all you have to do is show the world how much you care: Just snap a selfie with the Best Dad Ever (he has the mug to prove it), tag it with #RHCdad and follow and tag @RoyalHwnCtr to enter the contest. Dad will be totally over the moon with an $800 gift certificate for Leather Soul, a Salvatore Ferragamo men's leather belt, a Wolfgang's Steakhouse Big Father's Day Special Brunch and more. (Psst—pictures at the Center itself are especially loved!)

 Not the lucky winner this year? There are still oodles of Father's Day present options at The Ferrari Store, Island Slipper, the Apple Store and more.
When: Contest ends tonight at 11:59 p.m. Winners will be announced tomorrow, June 13.
Details: Entry needs to be from a public Instagram account. Prizes for 2nd and 3rd place available. Find more info at royalhawaiiancenter.com.
Watch
Don't Hate the Playa
What: Ever since you first looked into evil Lena Headey's eyes or bonded with the moody Jon Snow, you were hooked. Now, the upcoming Game of Thrones finale is purported to be the "best yet" according to showrunners David Benioff and Dan Weiss. Spoiler Alert! What will happen with Tyrion's death sentence? Or Jon's assassination plans? Will there be a raunchy sex scene? I think we already know the answer to one of those.
Where: HBO
When: Sunday, June 15, 10 p.m.
Details: Visit hbo.com to refresh your memory with clips of past episodes.
Shop
Jeepers Peepers
What: Girl Crush Thursday is official: Karlie Kloss is a top model, has a big heart and loves baked goods as much as we do. Even better, her sunglasses collab with uber-hip, uber-affordable Warby Parker eyewear will help you solve that pervasive early-summer problem: What frames will I wear this season? The collection was just released this week, so spend the weekend selecting which of the sleek, minimal wireframe beauties would best frame your sunny adventures. Maybe with a little poolside "research."
Where: warbyparker.com
Details: $145 per pair. Each pair is made from ultra-strong and lightweight titanium.
Visit
Rock the Ages
What: Whether it's through the musical stylings of Bob Dylan or rocking out on Guitar Hero, we've all been touched by the power of the guitar. Revel in the history of this infectious cultural instrument at Bishop Museum's Guitar: The Instrument That Rocked The World exhibition. On display are a range of influential, popular, innovative instruments from throughout history, as well as iconic cousins to the guitar such as the ukulele.
Where: Bishop Museum, 1525 Bernice St.
When: The exhibit runs through September 1. The museum is open 9 a.m.–5 p.m. every day except Tuesday.
Details: General adult admission is $19.95. Kamaaina adult admission is $12.95. Visit bishopmuseum.org for more details.
Shop
Jewel Intentions
What: When it comes to treasure hunting, you're a real pro. Your jewelry box can attest to that, filled as it is with all the booty—er—pieces you've snagged in your lifetime. This weekend, follow the X on the map straight to Fighting Eel in Kailua, where you can stock up on baubles at the Jewelry by Justine trunk show. Not only will you be able to grab your favorite glittering pieces, but you'll get them for a steal, too: At 20 percent off, it's the perfect score.
Where: Fighting Eel Kailua, 629 Kailua Road
When: 10 a.m.–4 p.m.
Details: Visit jewelrybyjustine.com to see examples of Jewelry by Justine pieces.
Read
Royal Treatment
What: You probably spent your Kamehameha Day sunning at the beach and pretending email didn't exist. But there's a lot more to the day, which honors the Kingdom of Hawaii's first monarch. Pick up Kamehameha: The Boy Who Became A Warrior King by Ellie Crowe for an easy, illustration-rich beach read and brush up on the tale behind this historical icon's rise to power.
Where: barnesandnoble.com
Details: The paperback is $5.95.
Sales
Who: Roberta Oaks
Deal: 10 percent off select goods with code LOVEDAD
Who: Handmade Life
Deal: 15 percent off all hats
When: Until June 20
Who: Global Village, 539 Kailua Road
Deal: 20 percent off select pastel apparel
When: Until June 17
Who: Furla, Royal Hawaiian Center
Deal: 20 percent off all sale products
When: Until June 15
Who: Nordstrom, Ala Moana Center
Deal: Up to 40 percent off select men's items
When: June 13, 9:30 a.m.–9 p.m.
Who: Asos
Deal: 20 percent off Asos label
Who: Opening Ceremony
Deal: 40 to 50 percent off select items
Who: Ssense
Deal: Further markdowns up 50 percent off select items