Your Weekend: The Best Family Events-June 15
Our roundup of the best family events on O'ahu.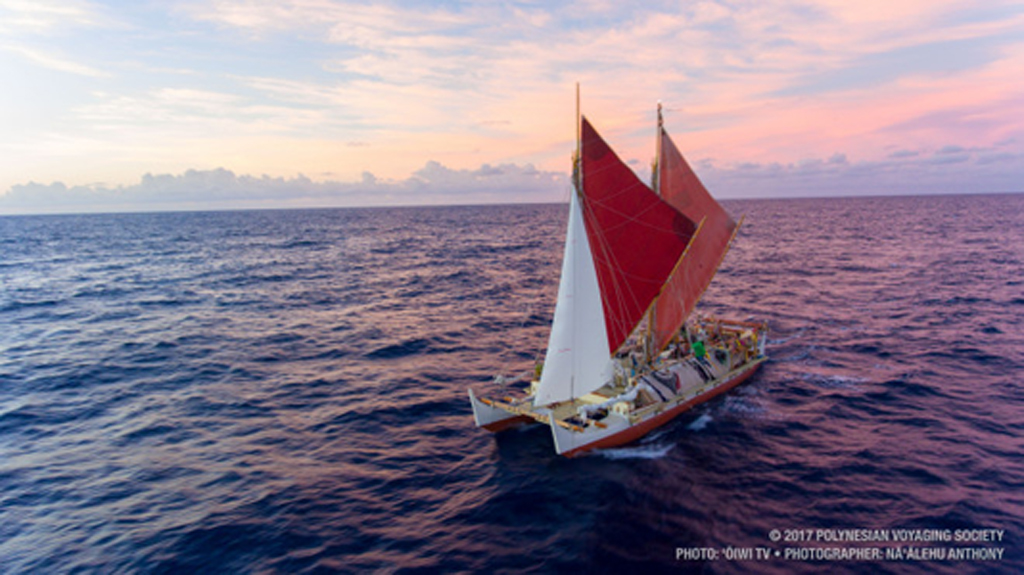 Photo: 'Ōiwi TV. Photographer: Na'alehu Anthony
Hōkūle'a Homecoming
Forget any plans for a relaxing day on the sand at Ala Moana Beach Park this weekend. The Hōkūle'a Homecoming is expected to bring thousands to the shore to welcome the canoe home from its three-year global voyage. Get there early to see four local canoes arrive just before the Hōkūle'a, then stay for live music by performers including Jon Osorio and Auli'i Carvalho and to buy lunch from local favorites such as Best of HONOLULU Family winning Teddy's Bigger Burgers, Da Spot and Il Gelato. Or skip the busy homecoming and learn more about navigation through hands-on displays at the Mālama Honua Fair at the Hawai'i Convention Center. See HONOLULU Magazine's tips to parking, the weather and how to honor the crew on honolulumagazine.com.
Want more? Subscribers to HONOLULU Family's free eNewsletter also learned where to join a Bon Dance (plus a few tips for beginners), why this may be the weekend to visit the 50th State Fair and got a closer look at a great $37 dining deal in Waikīkī. Subscribe now to learn more.
Dive 'n' Movie
Beat the humidity by splashing around after dark at the first Twilight and Dive 'n' Movie at Wet 'n' Wild Hawai'i. Dress the little ones up as a prince or princess for free admission after 5 p.m. That still leaves you four hours to slide, float and play during the park's extended hours. Just in case you haven't gotten your "How Far I'll Go" fix for the week, pull up a chair by the wave pool for the showing of Moana.
Honolulu Night Market: Home
The monthly event is going extra big in June for two reasons. It's celebrating the official dedication of SALT at Kaka'ako and the homecoming of the Hōkūle'a. What this means for you is three stages of entertainment showcasing entertainers including Waipuna and Taimane, a chance to meet Hōkūle'a crewmembers and donate money to the Polynesian Voyaging Society, and a showing of the film Moana, in addition to the usual line up of eateries and retail vendors. The list of more than 20 food vendors includes The Pig and The Lady, Bao Tao'n and Nosh while the 28 retailers will offer everything from skincare to kids clothes to swimsuits. See the full list of vendors on Honolulu Night Market's Facebook page.
Ho'oulu 'Āina Community Work Day-Volunteer Opportunity
HONOLULU Family senior editor Jennifer Carlile Dalgamouni tried this volunteer opportunity with her family as research for an article. Now it's one of her family's favorite things to do. Kids of all ages can help weed, harvest and tend to Kokua Kalihi Valley's garden. They'll discover new plants, fruits and vegetables and love the chance to just run around. Make sure to get there early to find parking and bring a dish and stick around for the after work day potluck. Tip: Do not depend on GPS to get you to the tucked-away garden. You'll avoid getting lost by following the directions on the group's website.
Animation Show of Shows
We love short film collections. If one story doesn't capture your child, it's over in just a few minutes. But this compilation playing at the Honolulu Museum's Doris Duke Theatre features a dozen family-friendly films including the Pixar short "Piper" that made us giggle right before Moana in movie theatres. There are also touching and engaging shorts from Scotland, Belgium and Latvia along with a 360-degree storytelling technique used to tell a heartfelt father and daughter story (on Father's Day, no less) by Google. Did we mention this is free?
Looking for more events for adults? Check out HONOLULU Magazine's Weekend Picks on honolulumagazine.com.