We Tried It: "The Search for Snoopy: A Peanuts Adventure"
Step into an iconic comic strip wonderland, search for clues to crack the code and meet the Peanuts characters in-person at this immersive exhibit on O'ahu.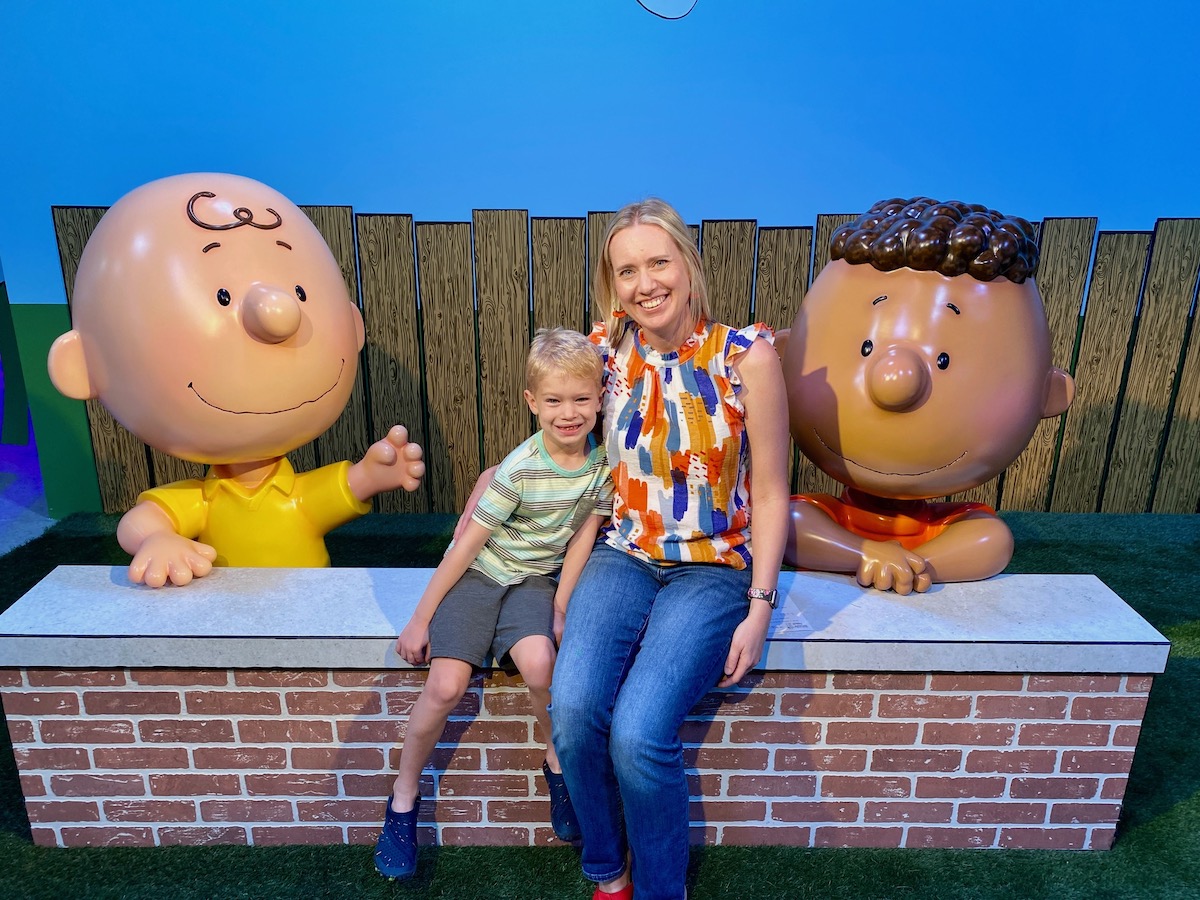 What: An interactive exhibit at Ala Moana Center
Who: A mom and her 5-year-old son
Where: Ala Moana Center, Target wing, Level 3
When: Friday afternoon
Can you relate to this? Situation: Summer break is halfway over, and I'm running out of ideas to keep my son busy. Thank goodness The Search for Snoopy opened just in time!
Duke first encountered Charlie Brown and Snoopy in the Peanuts movie when he was a toddler and loved it. We've never read the comic together, so I wasn't sure how much of the exhibit he would get based on his limited exposure. Well, it turns out that you do not need to know the series or be a super-fan to have a blast here. The gist is that you need to help Charlie Brown find his canine pal by searching for clues and cracking the code to reunite the Peanuts gang.
When we first arrived, Duke was intrigued by the playful décor and ready to jump in right away, but we needed some instruction first. The friendly staff checked our tickets and summarized our assignment with a few helpful tips. We were given the choice to collect our clues digitally via the SnoopyScope app or a printed guide. We decided to try both!
Entering through a larger-than-life doghouse, we found ourselves in a cartoon-like world with a series of rooms, all depicting iconic scenes from the comic strip. Wow-ed by the hands-on activities like putt-putt golf on the moon, playing a mini piano and measuring how loud Duke could yell in the scream room, we spent the first 20 minutes just discovering and playing. Then it was time to get down to business!
We backtracked to the first room to start searching for the clues. At first, we didn't know what to look for, but after we found one, we were on a roll. I tracked our clues digitally on the app while Duke logged our progress on the printed guide (great writing practice for him)! At Duke's age, he definitely needed adult assistance, but we saw older kids cracking the code independently. Even the toddlers who could care less about the clues were having a blast discovering the animated space.
After finding the seven clues, you must unscramble the letters to decode the message. I am embarrassed to admit, it took me awhile to figure out the answer, but in the end we did it! We were inside the experience for a total of one hour, but you can take your time and stay to play longer. At the end, you'll exit through a gift shop selling Peanuts-themed toys, books and apparel.
Duke loved "fishing" for gourds in the pumpkin patch (think: It's the Great Pumpkin, Charlie Brown) and strutting his stuff on the light-up dance floor at the winter dance scene. My favorite part was seeing Duke interact with the live characters that were roaming the rooms. Snoopy embraced Duke with a hug, Charlie Brown gave him a tour of his room, and Lucy was great a fist-bumps!
What a fun outing for summer, plus it's in air conditioning! The only drawback I see is that it is a one-and-done experience: Once you know where the clues are, it doesn't make sense to return for a second visit.
Our Tips
Know your punctuality personality. Do you run on-time? For the least expensive tickets, you'll need to reserve a specific time slot for entry. For a few bucks more per ticket, you can buy a VIP Anytime ticket to arrive whenever you want that day.
Download the app at home. To collect clues digitally and enable augmented reality experiences, you'll need the SnoopyScope app available for Apple and Google Play. When I downloaded it upon arrival, it seemed to take forever, so best to do it at home when you are connected to Wi-Fi.
Time to ERGO Up! No strollers are allowed, so plan to carry your little ones. With nooks, crannies and secret doors, you won't want to take your eyes off of infants and toddlers who have a tendency to wander off.
Find a bathroom. The closest restrooms are a single stall at the Oreo Café inside It'Sugar candy store, at Buffalo Wild Wings restaurant or inside Target on the second level.
Set expectations. With an impossible-to-avoid Peanuts gift shop and mega candy store across the corridor, discuss with your kids ahead of time whether you'll be buying souvenirs and treats to avoid on-site meltdowns.
Continue the fun. The outdoor jungle gym climbing area towards Target is a great place to burn off additional energy (or sugar highs) before or after your visit to The Search for Snoopy.
The Search for Snoopy is open Wednesday through Sunday. Check the ticketing page for up-to-date hours. Tickets start at $25. Free for infants under 12 months old. Ala Moana Center, 1450 Ala Moana Blvd., Honolulu. searchforsnoopy.com, @searchforsnoopy