The Hitt List: My Weekend Picks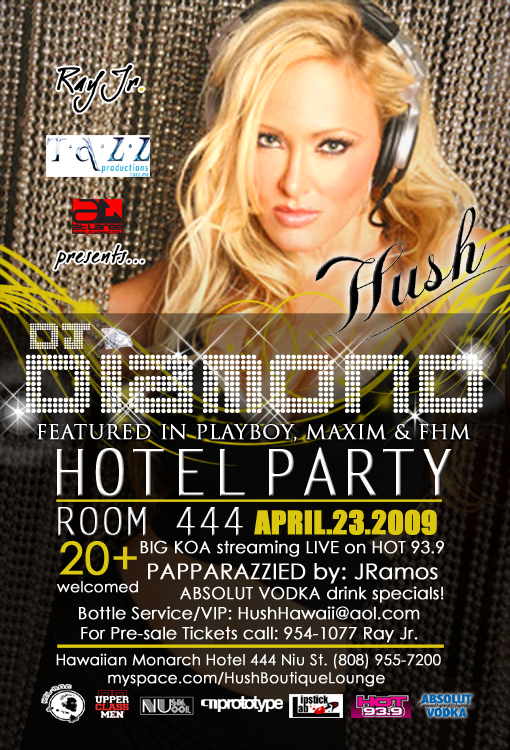 1. Want a place to watch the NBA playoffs? I know the perfect place. It has 17 plasma TVs and it will be giving away free pizza. Head over to Giovanni Pastrami's in Waikiki this Thursday, April 23, for its happy hour from 3-6 p.m. Get a free cheese pizza with a drink purchase till 5 p.m., and there will be $5 personal pan pizzas and $5 chili cheese fries during happy hour. Game starts at 4:30 p.m. Go Lakers! 227 Lewers St., 923-2100. www.giovannipastrami.com
2. Continue your Thursday night at Hush Boutique Nightclub and Lounge for the Hotel Party with DJ Diamond. She has been featured in Playboy, Maxim & FHM and will be performing tomorrow night, April 23. 20+ welcome. Hawaiian Monarch Hotel, 444 Niu St., validated parking available.
3. The Dueling Pianos at Level 4 will not be showing this week or next week, but will return the week of May 4. For more information, call (808) 931-6100. Also, although Waikiki Nei is closed (since October 2008), a whole new production will be starting at the end of June that plans to be even more acrobatic. It will be a different theme but still involve various cultures that have come to Hawaii.
4. Renowned percussionist and conga player, Poncho Sanchez will be bringing Latin rhythms to the Toyota Pops Stage this Friday and Saturday night. DeShannon Higa will also be there to help get the night started as the music sways from jazz to Latin to Afro-Cuban bebop. Fri-Sat 8 p.m., Neal Blaisdell Center, $20. www.honolulusymphony.com
5. Since F&M's Candy Bar promotion ended, Pearl seems to be holding its own on Friday and Saturday nights. This Saturday, April 25, Russell Tanoue's Beautiful event will be held for its second time at Pearl Ultralounge. Needless to say, it will be packed, there will be beautiful people present and the dress code will be strict. To see highlights from its debut event, visit my previous blog. And, as for the end of Candy Bar, managing partner, Emi Hart states, "We've just decided to go in a different direction with the promotions and do our own in-house marketing. We have a really great marketing team so you'll be seeing a ton of great events from us this Summer." Tanoue's event is definitely one not to miss.
6. The 34th Annual Spring New Products Show is this weekend, April 24-26 at the Blaisdell Exhibition Hall. Discover the newest products, go shopping and enter to win prizes. $3 General Admission, Friday 5-10 p.m., Saturday 10-9 p.m., Sunday 10-5 p.m.