SPAM-tacular guide to Waikiki Spam Jam 2017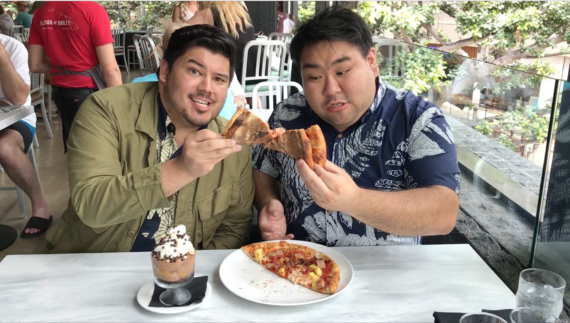 Sponsored
Spring has sprung and that means it's time once again for Waikiki Spam Jam! The 15th anniversary promises to be bigger and SPAM-mier than last year. Nineteen restaurants are serving up their best Spam-tastic dishes, and new kids on the Waikiki block have upped the ante with all-new creations.
Here's what to check out at Saturday's street festival celebrating our state's favorite canned meat.
Event details
When: Saturday, April 29 from 4 to 10 p.m.
Where: Up and down Kalakaua Avenue
Why: A benefit for the Hawaii Foodbank, Waikiki Community Center and Visitor Aloha Society of Hawaii
Admission: Free
Parking: Parking information
Traffic note: Roads close around 1 p.m. for setup
The entertainment
Outrigger Stage — fronting the Outrigger Waikiki Hotel
4:15 p.m. Puuloa
5:15 p.m. Blayne Asing
6:15 p.m. Maunalua
7:30 p.m. Jeff Rasmussen & Robi Kahakalau
8:30 p.m. Henry Kapono & Duke's Band
Shops of Hawaii Stage — fronting the Royal Hawaiian Center
4:15 p.m. Na Mea Ho'okani
5:15 p.m. Honoka and Azita
6:15 p.m. EMKE
7:30 p.m. Manoa DNA
8:30 p.m. Taimane
Duke's Stage — fronting the Hyatt Regency Waikiki
4:15 p.m. Hawaiian Vow Renewal Ceremony
5:30 p.m. Halau Hula Ka No'eau
6:15 p.m. Hula Halau 'O Kamuela
7:30 p.m. Hālau Nā Mamo O Pu'uanahulu
8:30 p.m. Halau Na Mamo O Kahalelehua & Halau Na Mamo O Ka 'Upai'iaka'uaua
On the menu
Saturday's Spam Jam guarantees to be to have you SPungover with Spammy creations from a whopping 19 participating restaurants and stores.
ABC Stores: Spam tempura fries with roasted poblano aioli $6, Spam dynamite $6
Atlantis Seafood and Steak: Spam Lau Lau $9, BBQ Ribs/Chicken $9, Spam Bun $4
Buho Cantina: Spam Tacos $5, Mexican Street Corn $4, Homemade Guacamole and Chips $5
Eating House 1849: Housemade Spam reuben with Spam potato salad $5
Eggs 'n Things: Spam Katsu Fingers $5, Spam Mac & Cheese Bites $5
Flour & Barley: Aloha Pie slices $5, Chocolate Mousse $5
Gordon Biersch: Mango BBQ Spam Sliders $5, Local Kine Spam Won Ton Nachos $6, Garlic Fries $5
Hula Grill: Spam katsu sandwich $8, Buffalo-style Spam sandwich $8
Kani Ka Pila Grille: Spam crackle
Kona Grill: Spam egg roll, Spam fried rice, Spam corn dog
Mahaloha Burger: Spam cheeseburger $8, Spam teryaki burger $8, Spam loco moco burger $8, hot dog topped with crispy Spam $6
Noi Thai Cuisine: Cashew nut Spam, pineapple and Spam fried rice, garlic fried chicken, cashew nut tofu (vegetarian), and red curry with chicken
Ono Pops: Chocolate ice cream with chunks of chocolate-covered candied Spam and a limited run of the infamous saimin pop $4
PF Chang's: Spam lo mein $6
Seafood Village: Spam siu mai $5, Spam manapua $5, and mix plate $9
Shops of Hawaii: Assorted Spam musubi
Stripsteak / The Street: Maui Onion Spam burger $10
Waikiki Yokocho: Spam katsu curry w/ rice $8, Spamyaki $6
Waiolu Oceanview Lounge: Spam wellington with Hamakua mushroom duxelle $5, Spam pho $5