Our Guide: 50th State Fair 2022
After a two-year hiatus, the 50th State Fair is back! Here's all you need to know about the jam-packed entertainment and family-friendly attractions at this summer's festival at Aloha Stadium.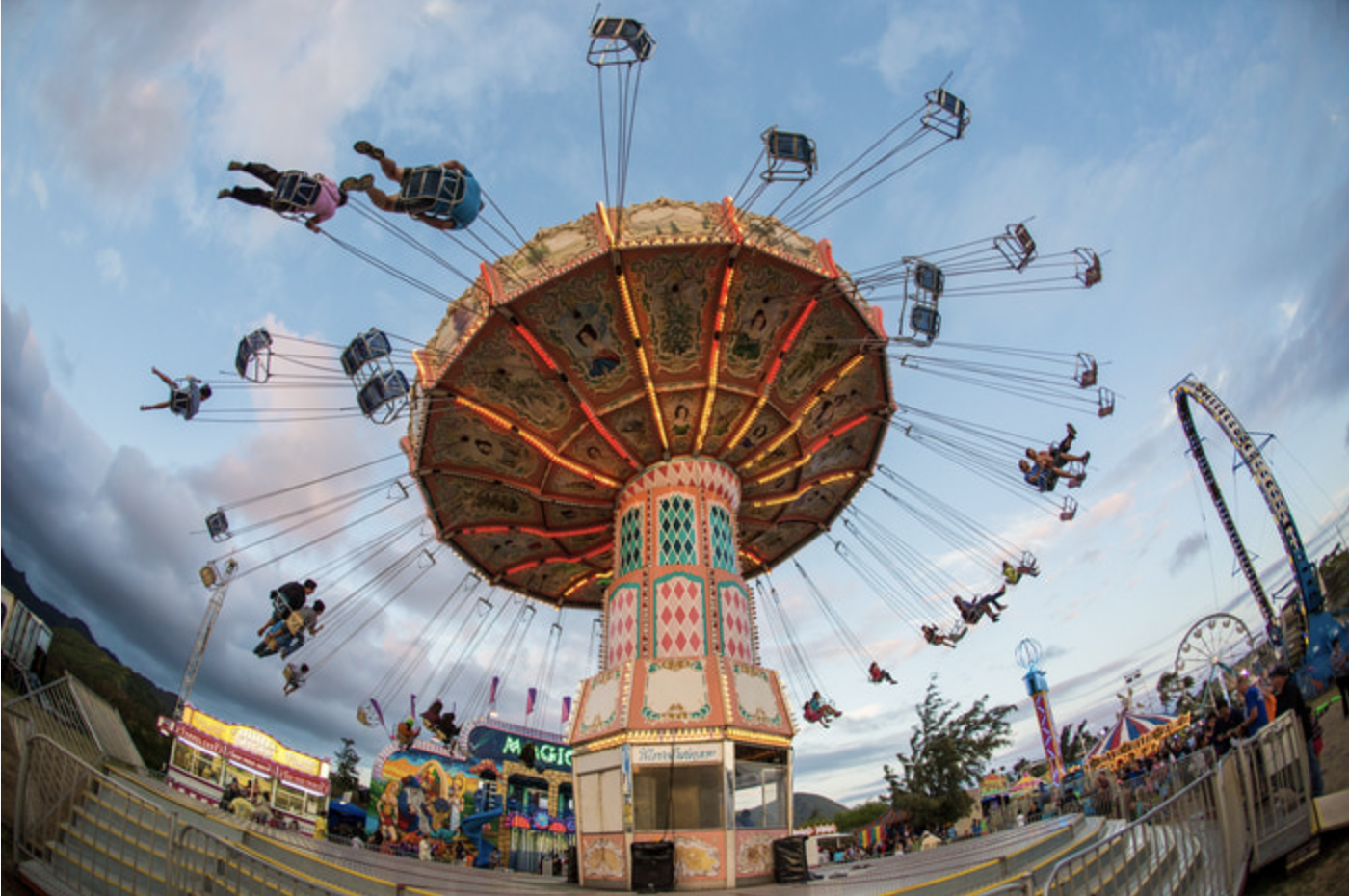 Been craving funnel cakes since 2019? Well, you're in luck, because the beloved 50th State Fair is back on with all your favorite rides, games, carnival snacks and concerts now through July 4. And you'll want to make sure to visit now, as this is E.K. Fernandez Shows' only scheduled fair for the entire year (say it isn't so!).
Admission
Just as in past years, admission, rides, games, and food are all paid for via credits on a Fun Pass Card. Each credit is equivalent to 10 cents. Admission is 60 credits, but children under 40" are free. Yes, you'll have to do some math to figure out how much to initially load on your cards. You can guestimate using the list of ride credits here, but there are 'reload' kiosks throughout the grounds (heads-up that some only accept cash).
Rides
View this post on Instagram
Good news! Thrillers—the Zipper and Wave Swinger rides—are back in the line-up for the first time in a number of years but are among the most expensive rides (66 credits). Little ones will cherish the classics like the Century Wheel and Carousel. Tip: the ride lines are the longest on Saturdays between 7 p.m. and 9:30 p.m., and the shortest in the afternoons.
Attractions
The Colton Farms Petting Zoo is a must-do for families where keiki can pet llama, cows, goats, sheep and mini donkeys for an entrance fee of 35 credits. There is even a cute photo op set-up to capture the moment. Another keiki-favorite, the Robocars, are only at the fair through June 5. These robot-to-car transforming performers roam the fairgrounds, so keep a lookout for them—this year, a police car and a fire truck.
Entertainment
New this year, you'll find not one, but two entertainment stages with local and national acts, including keiki hula hālau, which is all included with admission.
From June 9 through July 4, catch a magical performance by The Amazing Anastasini Circus with multiple show times a day. Expect a hair hanging stunt, aerial acrobats, comedy, and a motorcycle globe thrill act, plus face painting between shows.
For canine lovers, plan your visit to see JUMP! The Ultimate Dog Show from June 9 to July 3. With impressive stunts and tricks, many of the pooch performers were adopted from animal shelters. There is one show time on Thursdays and Fridays, but multiple chances to see them on Saturdays and Sundays.
The youngest fairgoers (and their grown-ups) will laugh till it hurts with the ZOOperstars!, a group of inflatable characters who entertain with synchronized dance routines, acrobatics, and comedy. Catch the stage show from June 17 to June 26 and check out this preview from their appearance on America's Got Talent.
Concerts
Food
View this post on Instagram
The fair favorites – cotton candy, smoked turkey legs and funnel cakes—are all there, as well as some local favorites and modern takes on classics. Try the poke bowls from BakudanPoke, famous for its Bakubombs, and get messy with the kalbi and shrimp piled high with garlic from Trydis. And, of course, kids will beg for Dippin' Dots and then spill half before they are finished.
The 50th State Fair runs from Friday, May 27 through Monday, July 4. Hours vary with most evenings closing between 9 p.m. and midnight. Aloha Stadium, 99-500 Salt Lake Blvd., ekfernandezshows.com, @ekfernandezshows