Our Guide: 50th State Fair 2017
The latest on the Fun Pass lines, two new thrilling attractions and our tips for getting the best deal possible at the annual event.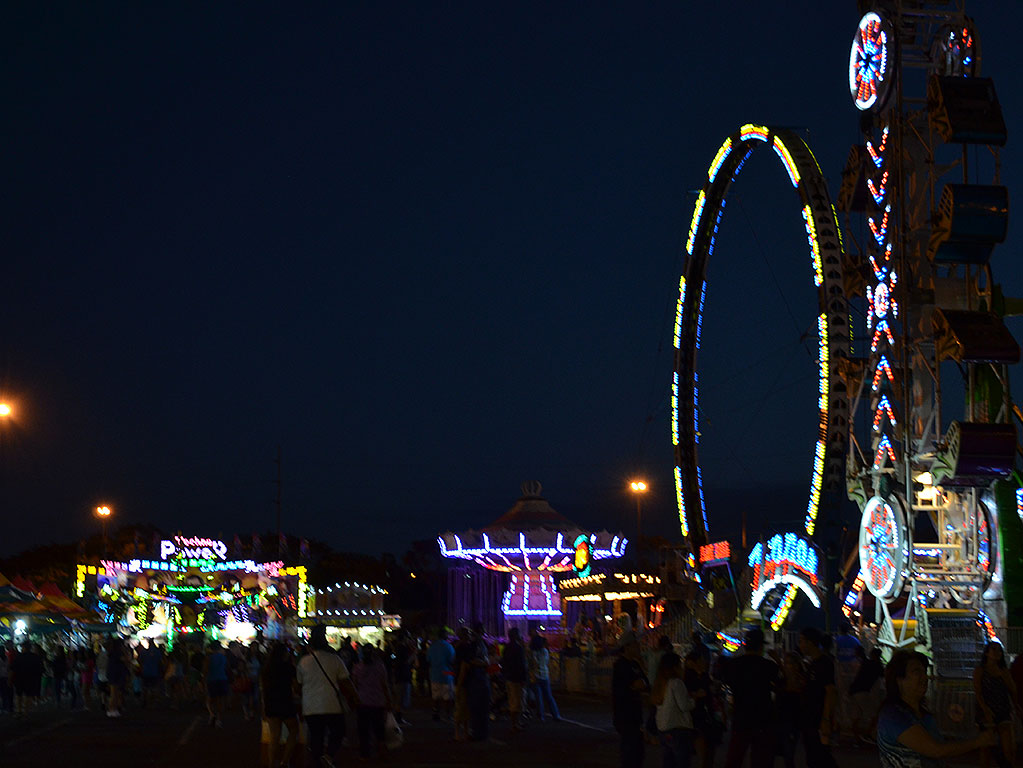 Photo: Christi Young
2017 has been a big year for my daughter. This is the first year she was tall enough to ride the Wave Swinger. So it goes without saying that she canʻt wait to head to the 50th State Fair. Itʻs an annual tradition for my sisters and me. We always go in a big, extended family group and break into age-appropriate groups to hit all the rides, see the free shows and other attractions that only come to Hawai'i for this annual event.
In 2016, the Fun Pass was the big news. It has changed the way we pay for almost everything on the fairgrounds. Love it or hate it, it is here to stay, but you probably wonʻt have to battle a long line to charge it up this year. Here is the scoop on the Fun Pass kiosk additions, new rides, attractions and our tips for getting the best deal at this family-favorite event.
Our 11 Tips
1. Bring cash to charge up your card. E.K. Fernandez says nearly everyone loves using the Fun Pass cards. Reviews on our social media have been more mixed. One big problem last year the long line to purchase one. Thirty new Fun Pass kiosks have been brought in this year to alleviate the wait but the new blue kiosks only take cash. If you want to use your credit card, you'll have to head to the red machines in the games tent. Remember, credits don't expire, a good thing because it can be challenging to use them all.
2. Know your discount days.
Bargain seekers, Sundays are your days. From noon to 5 p.m. on June 4 and 18 (and until closing on the 25) all rides will be just 20 credits. That's more than half off popular rides including the Wave Swinger, Super Sizzler and Zipper. Games will also be cheaper.
Military families will get the best deal on Memorial Day, May 29, when they receive free admission. Rides will also be marked down to 30 credits from noon to 6 p.m. on both Sunday, May 28 and Monday, May 29.
A note for families with young keiki, most of the smaller rides are just 33 credits every day, so only Sunday, June 4 will give you a significant discount.
Techno Power and Speed are not included in the special prices.
3. Avoid Saturday nights. The busiest time at the fair is always Saturday, 7 to 9:30 p.m. When we've gone at around 4 p.m. on a Saturday we didn't have to wait long for even the most popular rides.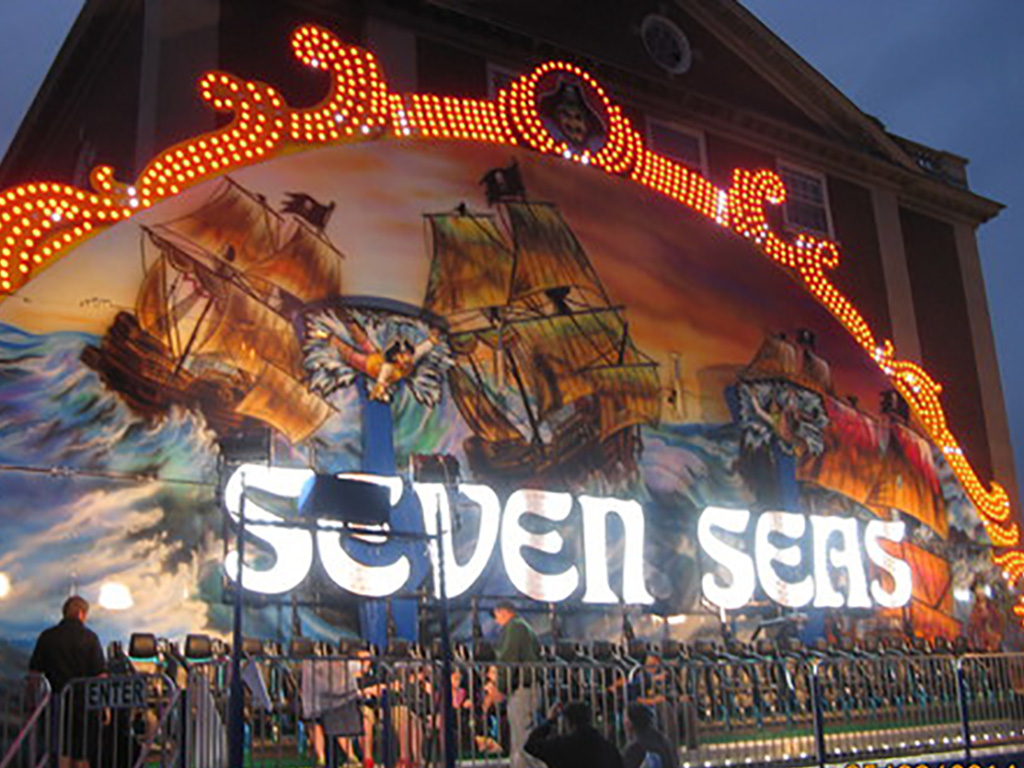 Photo: E.K. Fernandez
E.K. Fernandez bought the Seven Seas this year.
4. Hit the new rides, while you can. Three new ones will be debuting this year. Monster truck fans can hop on one the weekends of June 8 and June 16. If you have a thrill seeker in the family, the new Seven Seas ride, which spins like a wheel for free-falling fun, will open June 8 and stay in the E.K. Fernandez arsenal for good. Speed is being brought in just for the fair and will disappear after June 25. For 100 credits, or roughly $10, people will ride to the top of the 150-foot tower and spin around in free-spinning gondolas. We found a video of Speed from the South Carolina State Fair. You must be 54 inches to ride Speed (and can't be taller than 78 inches, by the way) and must be at least 42 inches to ride with an adult on Seven Seas. Don't look for the Fireball. E.K. Fernandez sold it.
5. Wear white or neon colors if you plan to try Altervision 3D. Another new import for the fair is this all-encompassing, 3D, black-light experience. E.K. Fernandez describes it as "an exciting immersive environment where you won't believe your eyes! Stunning imagery of outer space surrounds you…" We watched the video, read the comments and looked at the photos, but it's still difficult to explain exactly what you'll experience when you walk through the 360-degree 3D exhibit. Take a look for yourself on Altervision's website.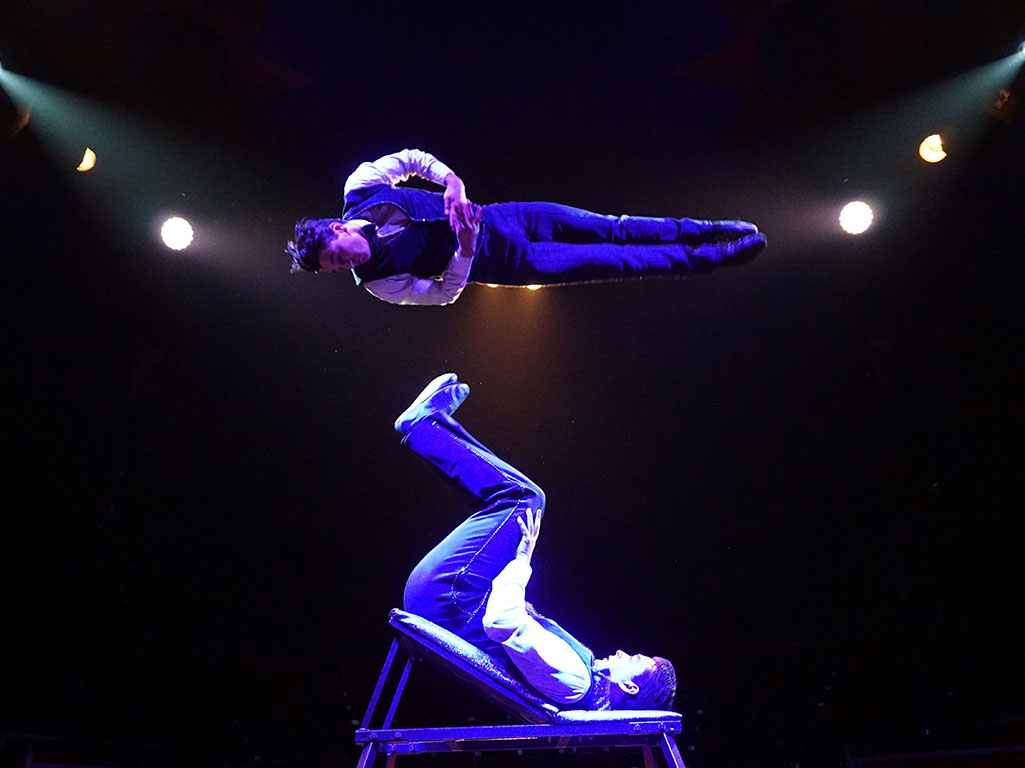 Photo: E.K. Fernandez
6. See the free shows. There are four this year, compared to just one in 2016. The Pork Chop Revue stars pigs and hogs doing balancing tricks, dancing and "singing." The Anastasini Circus is back with its lineup of acrobats, aerial artists and other performers. Watch monster trucks crush cars and listen to local keiki sing to win in Hawai'i Stars. In our experience, if you want a good seat you should reserve your spot about 20 to 30 minutes before the show. We usually had a few adults who jumped at the chance to sit down while the kids hit one more ride.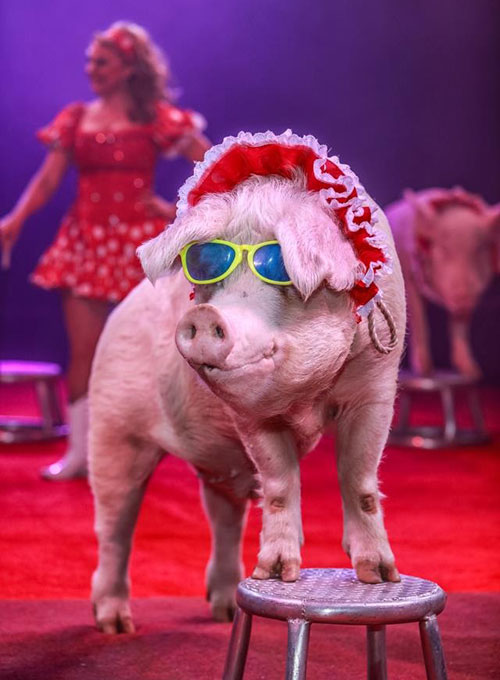 Photo: E.K. Fernandez
Anastasini Circus: Fridays and Thursday, June 8: 9 p.m. Saturdays: 7 and 9 p.m. Sundays and Monday, May 29: 4, 7 and 9 p.m.
D'Sturbed Monster Truck Demonstrations: Thursday, June 8 through June 11 and Friday, June 16 through June 18. Times to be determined.
Hawai'i Stars: Every Sunday starting June 4 from 4 to 7 p.m.
Pork Chop Revue: Fridays and Thursday, June 8: 7:30 p.m. Saturdays: 6 and 8 p.m. Sundays and Monday, May 29: 6 and 8 p.m.
7. Bring paper towels. The bathrooms always run out. The restroom trailers near the entrance are typically less crowded and in better condition than the one back by the entertainment tents and food areas.
8. The ride with the longest line: The Zipper consistently has the slowest line because riders can only load up two at a time.
9. The rides with the shortest lines: The quick-moving Super Slide and Magic Maze.
10. Go in a group. The price of parties has gone up. But, since the death of the 10-ride wristbands, going in a group is still the only way to get a deal on the price of credits. Gather 10 friends you can get $34 worth of credits for $30. Most rides run about $3.30 to $6. You also receive a reserved table under the tent where you can park water bottles and meet up in between rides. You do need to prepay and check in before 5:30 p.m. that day, but thatʻs also a good time to avoid the crowds.
11. Combine promotions for the best deal possible: Hereʻs how to get the most for your money. Go Sunday, June 4 with a party package before 3 p.m. Not only will you receive bonus credits on the biggest discount day of the fair, but parking on Sundays before 3 p.m. is $1 a person, kids 11 years and younger are free. Parking at Aloha Stadium is $7 a car any other time.
The 50th State Fair runs from Friday, May 26 through Sunday, June 25 at Aloha Stadium. Admission ranges from $3 to $5 for adults, kids 40 inches and under are always free. Go to ekfernandez.com for daily hours, updated information on shows and more.