O'ahu Bon Dance Schedule 2022
After a two-year pandemic hiatus, obon festivals are happening once again in Honolulu.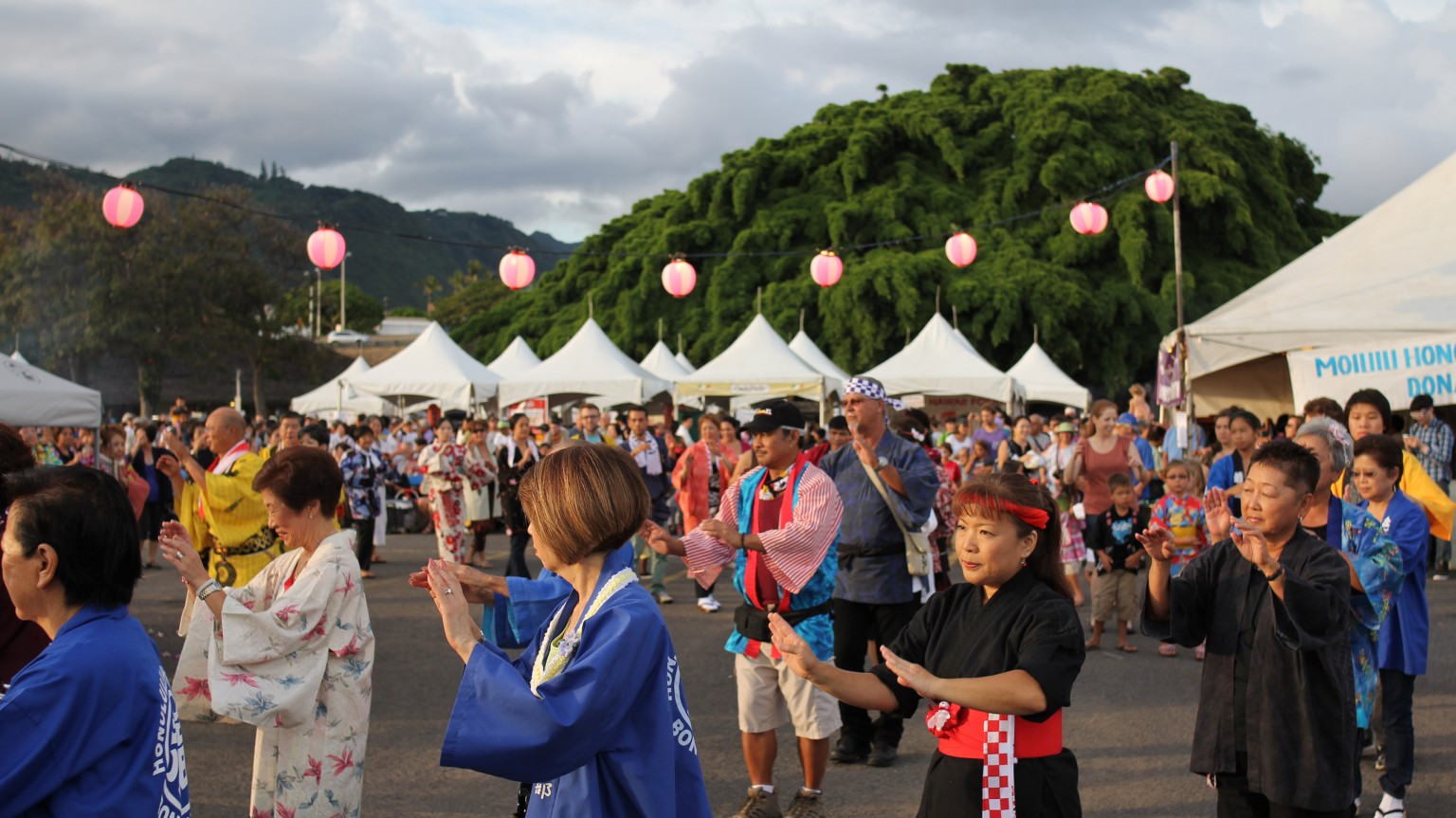 After a two-year pandemic hiatus, bon dances are back on O'ahu. In Japanese Buddhist tradition, obon is when adults and keiki alike commemorate ancestors, as well as celebrate life, and the dancing is a way to welcome spirits. A few festivals, including the Mōʻiliʻili Summer Fest, home to Honolulu's largest bon dance, have already come and gone, but there are still plenty of festivals to enjoy. Expect lanterns lighting up the night, the sounds of taiko drums, participants clad in kimono and a variety of food vendors.
Whether you're a regular, new to bon dancing or maybe just going for the andagi and people-watching, here is a lineup of the events taking place this summer.
SEE ALSO: How to Up Your Bon Dance Cred
July 15-16, 7:30–10:30 p.m.
Shinshu Kyokai Mission, 1631 S. Beretania St., 808-973-0150
Aug. 5 & 6, 6 p.m.
Shingon Mission of Hawaii, 915 Sheridan St., 808-941-5663
Aug. 5 & 6, 7 p.m.
Waipahu Soto Zen Temple Taiyoji, 94-413 Waipahu St., 808-671-3103
Aug. 12 & 13, 6:30–10 p.m.
Soto Mission of Aiea–Taiheiji, 99-045 Kauhale St., 808-488-6794
Aug. 19 & 20, 7 p.m.
Mililani Hongwanji, 95-257 Kaloapau St., 808-625-0925
Aug. 20, 5 p.m 
Jodo Mission of Hawai'i, 1429 Makiki St., 808-949-3995
Sept. 3, 5 p.m. (Festival is 3 & 4, 10 a.m. to 5 p.m.)

Okinawan Festival, Hawai'i Convention Center, 1801 Kapi'olani Blvd., 808-676-5400
Sept. 17, 5 p.m.
Hawai'i United Okinawa Association, 94-587 Uke'e St., 808-676-5400
Times and dates are subject to change. 
Scenes from this year's Mōʻiliʻili Summer Fest:
View this post on Instagram