No Leftovers Left Behind: 4 Easy Recipes You Can Make Using Leftovers
Trick your ʻohana into eating every bite.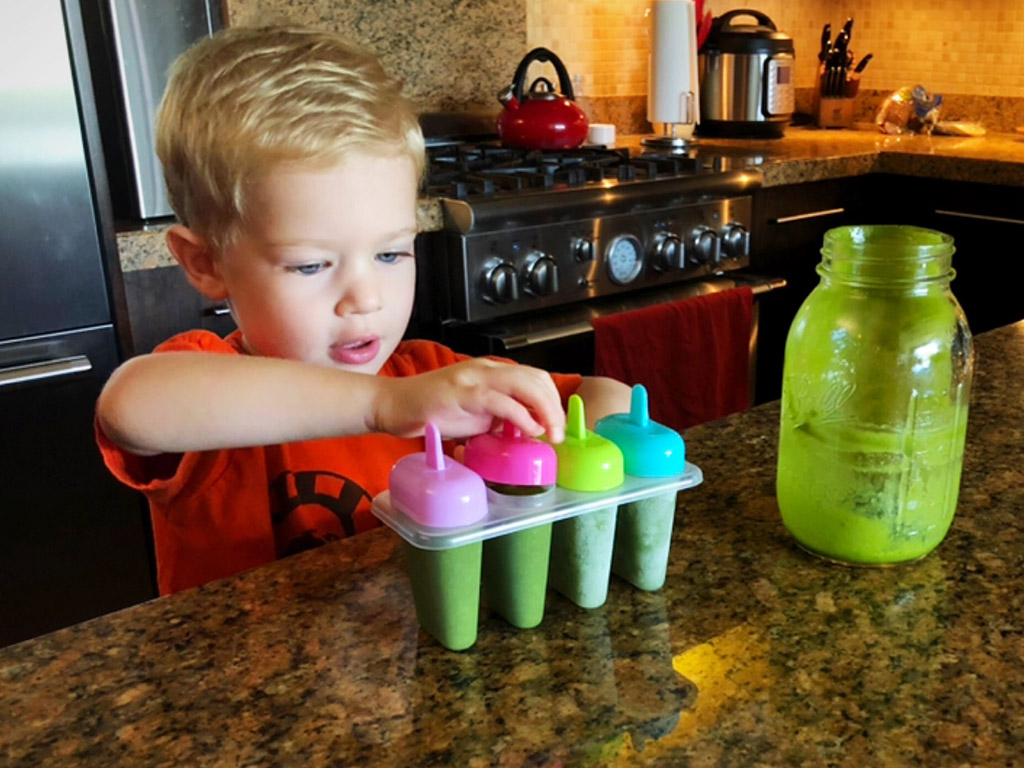 Photo: By Laura Dornbush
You know the scenario: you sit down for dinner, your children take one bite and want to be excused to go play.
My 2-year-old son, Duke, is a finicky and picky eater who would rather binge on Baby Shark videos than a chicken nugget. Some meals, he shovels it in and others, he just pokes and prods at his food.
I hate to waste, so I end up being a human garbage disposal finishing his plate (which is probably why I am still working to lose that last 5 pounds of pregnancy weight). While my husband is a hearty eater, he isn't a fan of leftovers.
So, to reduce our food waste for the benefit of our environment and grocery budget, I have come up with some clever ways to re-present leftovers to my family without them detecting it. Read on for my around-the-clock mealtime secrets.
Breakfast: Soupy Smoothies >> Healthy Popsicles
It is a Saturday tradition in our family to walk to the FarmLovers Kaka'ako Farmers' Market for breakfast before Duke's soccer class. Our go-to is the green superfood smoothie ($5 cup, $9 jar) from 'ŌMA'O MAN. They make healthy smoothies on-site with mango, banana, bok choy and spinach, to name a few. We bring a reusable mason jar to fill up, which earns us a $1 discount.
We usually have some smoothie left over, but it hardly looks appetizing the next day with green residue caked on the inside of the jar. My fix is to pour it into popsicle molds to become healthy breakfast popsicles. Duke likes to help by inserting the popsicle sticks. This transformation works for any smoothie, whether it is homemade or store-bought!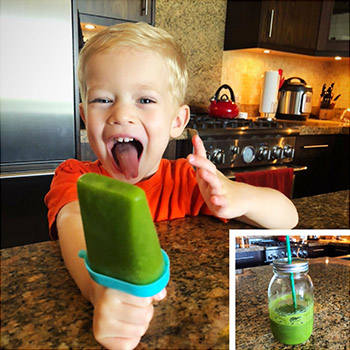 Photo: by Laura Dornbush
Tip: When you are ready to serve, dip the outside of the mold into hot water for 15 seconds, and the popsicles will slide out easily.
Lunch: Mushy Musubi >> Mini Musubi Balls
When we are out-and-about and need a quick lunch or snack, musubi is the answer. Inevitably, Duke will take a few bites and then I throw the rest into my massive mom-bag and off we go to the next activity.
Again, I hate to waste, so I'll dig the mashed musubi out of my purse, store it in the fridge and re-invent it into mini musubi balls the next day. I remove any packaging, wrap in a damp paper towel and microwave for 30 seconds. (Careful, it will be hot!) Then roll the rice into half-inch balls hiding some flaked salmon or diced SPAM inside the ball. Serve with a side of shoyu for dipping. Duke loves them because they are cute and easy to pop into his mouth.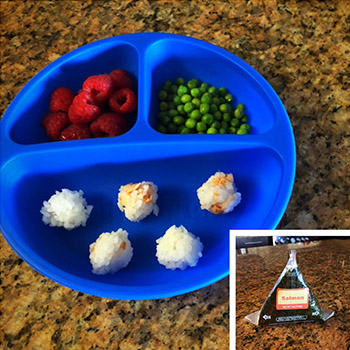 Photo: Photo by Laura Dornbush
Tip: While rolling the rice balls, dip your fingers in water to prevent sticking.
Dinner: Coagulated Chili >> Chili Mac Stuffed Peppers
Raise your hand if you have a remnant bucket of Zippy's chili in your fridge left over from Sunday's football watching party? My favorite Monday night meal uses up the weekend's scraps and is a crowd-pleaser from husband to toddler. I combine chili and leftover boxed mac and cheese to create Chili Mac Stuffed Peppers. Follow your favorite stuffed pepper recipe (I like this one), but substitute the filling for a mixture of half chili and half mac and cheese.
Kids can lend a hand by stirring, stuffing and sprinkling shredded cheddar cheese on top. Serve with diced avocado, hot sauce and Chinese parsley.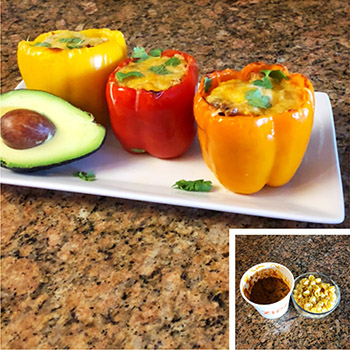 Photo: by Laura Dornbush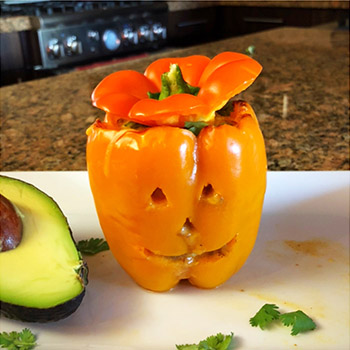 Photo: Laura Dornbush
Tip: With Halloween quickly approaching, win bonus points with your keiki by carving a jack-o'-lantern face into an orange bell pepper before adding the filling. Just keep the holes small, so the yummy 'guts' don't ooze out.
Dessert: Mashed Malasadas >> Malasada Bread Pudding
Whether for a PTO meeting or playdate, it is our custom here in the Islands to bring food and bring plenty. We all love malasadas, but there is a point when you just can't eat another. When I have a stale box of malasadas on my kitchen counter, I transform the dry, hard balls of dough into a moist Malasada Bread Pudding.
Use your favorite bread pudding recipe, but substitute the bread for malasadas cut into eighths. Reduce the amount of sugar by half since the malasadas are already coated in sugar. I use eight malasadas to fill an 8"x 8" pan. Duke helps by scattering raisins over the malasada pieces and enjoys eating a few along the way, too. The bread pudding is heavenly topped with ice cream or whipped cream.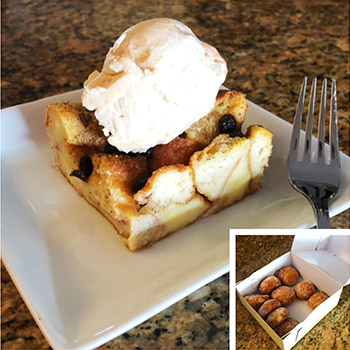 Photo: by Laura Dornbush
Tip: My husband likes a dense bread pudding, so I let the milk and malasada mixture soak on the counter for 30 minutes before baking. Right before putting it into the oven, I press down gently with my hands to compact the malasada pieces and remove any air pockets.
Food Safety Tips for Families
Since no one has time for a bout of food poisoning, here are some food safety guidelines to follow when working with leftovers.
Ensure food is cooked to a safe temperature by using a food thermometer
Refrigerate leftovers within two hours (within one hour if air temperature is above 90 degrees)
Cool food rapidly by dividing it into smaller portions before refrigerating
Wrap leftovers well in airtight packaging, or seal in storage containers
Throw out leftovers that have been refrigerated for longer than three to four days or frozen for longer than three to four months
Thaw leftovers in the refrigerator, cold water or microwave oven
Reheat leftovers to at least 165 degrees. Sauces and soups should come to a boil.