Night Market Guide: I (heart) Our Kakaʻako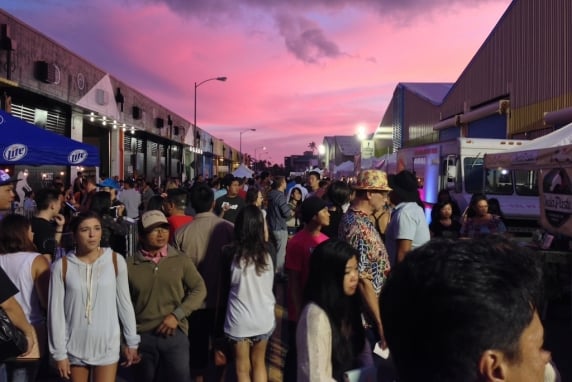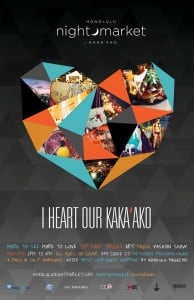 With "I Heart Kakaʻako" as this month's theme, Night Market returns to its new location along Cooke Street between Pohukaina and Auahi. Celebrating the things we love and the passions that drive us, the energy keeps pulsing through art and entertainment, food, fashion and shopping.
What: Honolulu Night + Market
When: Saturday, May 17 from 6 to 11 p.m.
Where: Cooke Street
Admission: FREE
Parking: On-site and street parking, Eat the Street lot at 555 South St., and paid parking at Restaurant Row
Connect: #ourkakaako #hnlnightmarket @ourkakaako (Instagram)
Nonstop: @nonstophonolulu (Instagram)
Here's a rundown of entertainment, retail and food to your heart's content:
The entertainment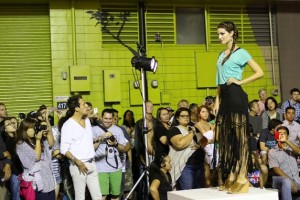 Main Stage lineup:
7:15-7:45 p.m. – Mai Sollner
8-8:30 p.m. – Fashion show styled by Cassie Louie
8:45-9:30 p.m. – Aidan James
10-11 p.m. – Amanda Frazier
Art Alley:
Two Crows, Art Truck, Jonovan Crail Photography, Nico Nico, Stephanie Boinay, Xisco Peculiar, The Artery, Art of Carlos Mozo, Storekeeper and 808 Urban.
• Street performers, including a stilt walker, uni-cyclist, solo guitarist and Charlie Chaplin impersonator.
Pinch of Salt shopping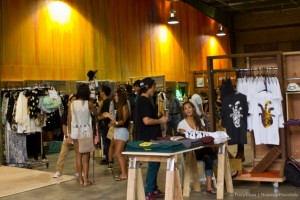 Packing the Pinch of Salt warehouse space is another handful of great vendors and boutiques.
Here's the list of what to look for:
A. Wattz Dezigns (handmade jewelry)
Barrio Vintage (vintage dresses, women's and men's tops)
Chief Hawaii (vintage clothing)
Drone Hawaii (shirts, outerwear, accessories)
Eden In Love (women's tops, dresses, outerwear, accessories)
Flutter Lashes (cosmetics)
Gillia Clothing (beach style clothing)
House of Aria (women's clothing, handbags, accessories)
Jolyn Clothing (swimwear, tops)
Kira Hawaii (jewelry, clothing)
LMS Boutique (women's clothing)
Moon Collective (shirts, bags, hats)
Nak on Wood (custom furniture and home goods)
PAD Hawaii (Lauren Makk) & Quince (furniture)
Puppy Love Hawaii (handmade collars, leashes, accessories)
San Lorenzo Bikinis (swimwear)
Shop @heenz @cirialyn @jenn_asis
The Cut Collective (fashion incubator/factory hybrid)
Thread & Stone (craft jewelry)
Virginia Paresa (beach chic)
The food
Aloha Pops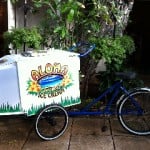 On the menu:
Heart shaped, chocolate-dipped strawberry crème, strawberry lemonade and pineapple coconut
Family Roots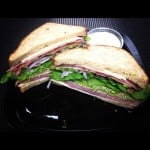 On the menu:
Acai bowls, vegetarian panini, pastrami panini
Five-O Ribs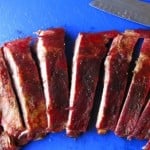 On the menu:
Smoked ribs, brisket, Baconator, meatloaf, Chicken and BBQ Explosion with rice, green salad or BBQ mac and cheese
Flavors of the World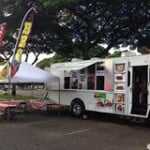 On the menu:
Pork sandwich, chicken sandwich and shrimp plate
Girls Who Bake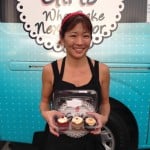 On the menu:
Three cupcakes for $6 (Chocolate Toffee Peanut Butter, Red Velvet and Cookies and Cream); Butter Mochi & Bod-Bod Butter Mochi
Hawaii's Fried Musubi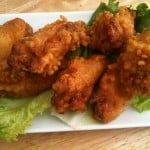 On the menu:
Fried Classic Spam Musubi and Mama's Fried Chicken Combo; Fried Spicy Bomb Musubi and Mama's Fried Chicken Combo; Fried Hawaiian Style Ahi Musubi and Mama's Fried Chicken Combo; Fried Dessert Sampler (Twinkie, Oreo and Twinkie); specialty drinks
Infernos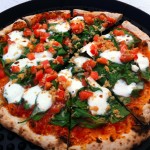 On the menu:
Handmade pizzas
Koi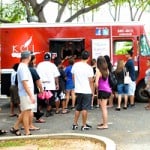 On the menu:
TBD
Otsuji Farms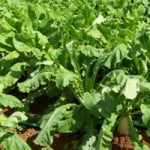 On the menu:
Sushi sliders, mushroom fries, Surf and Turf, ahi crustini and banana malasada
Pink Pearl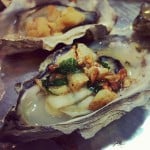 On the menu:
Spicy Delight, Ginger, Shiso Wasabi Gelee or Blackbean (grilled)
Pololi Oe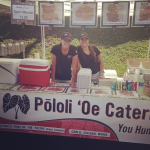 On the menu:
Garlic chicken wings, fried calamari, rice, potato mac, tossed greens and Spam musubi
Pt Suisse Crepes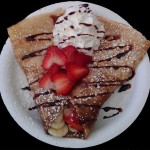 On the menu:
Dream (Nutella, strawberries and bananas), Fruit Bliss (strawberries, bananas, macadamia nuts and honey), Caprese (spinach, mozzarella cheese, grape tomatoes and basil oil), Greek (spinach, feta cheese, grape tomatoes, black olives and basil oil)
Taste of Indonesia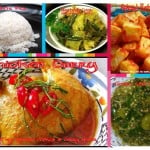 On the menu:
Rendang, Ayam Rica, Banana Blossom Pork, chicken curry, green curry, Cinnamon Passion drink
Uncles Kitchen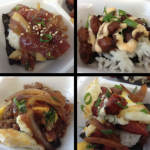 On the menu:
Deconstructed musubis, ahi poke, loco moco, Dynamite Chicken, Bacon Mac 'n Cheese, Country Katsu and veggie stir fry.
Wow Wow Waffles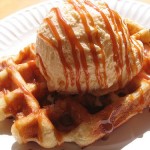 On the menu:
Belgian Torpedo (chocolate sticks melted onto a waffle topped with powdered sugar, chocolate sauce and fresh strawberries); Pumpkin Spice (pumpkin topped with whipped cream and cinnamon); Tropical Treat (local apple-bananas topped with macadamia nuts and whipped cream); Speculoos Cookie Butter (crunchy cookie butter spread with whipped cream); Wow Wow Lemonade