Night Lights: Weekend Wrapup Nov. 12-14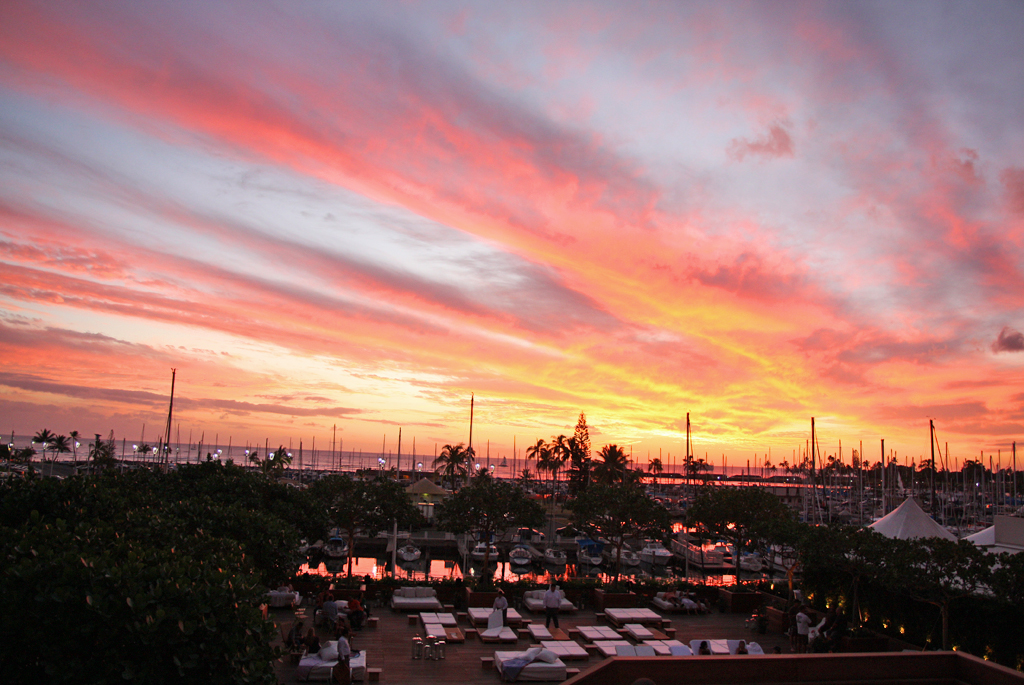 Last week and this weekend were so hectic that I had to sleep for a combined 12 hours on Sunday to recover from all of it. Party hard, much? Maybe, but since there's never a lot of drinking involved for me, you can call it more like work.
I guess the weekend officially kicked off with an invitation to a very hush-hush meet & greet with Far East Movement, hosted by Yosh, Alex and the guys from Element Group (which owns Ka, Ginza and Tsunami) at The Edition in Waikiki. Technically, it was for people who had won the privilege of meeting the performers, but how could I resist? They had timed it just right, and the sunset off the Edition's poolside balcony was a perfect backdrop. Here's the gallery:
Oh yeah, here's the sunset, too!
From there, it was straight over to Yelp Helps!, a big party thrown by Emi Hart and the Yelp Honolulu crew at Pacific Home. The event was great, with nonprofit organizations setting up shop all over the store, stellar food by the likes of The Alley, Otto Cake, Whole Foods and that new taco truck whose name I've already forgotten, but whose food was delicious, and to top everything off, an open bar with wine and sangria. I pity the fool who actually ate dinner before coming to the party. I hadn't exactly had time to, so I was that much more appreciative. Before I get too hungry thinking about it, here's the gallery:
Then it was back uptown for my girl Angie Lee's birthday party at The Mercury Bar. She was on stage with her band, Vice Vicarious, when I walked in…
And then it was time for the Far East Movement concert. While technically the event was a birthday party for 102.7 Da Bomb, everyone in the 16+ crowd was obviously there for Far East Movement, and the guys didn't disappoint. From their entrance, each member of the group wearing a glowy helmet-thing, to their amazingly energetic stage presence, to the last number they did, "Rocketeer," which was co-written and produced by local boy Bruno Mars, the audience loved 'em, and even though I was busy shooting photos and climbing over all the other photographers in the pit, so did I. Just FYI, if you sit in front of giant subwoofers (clubwoofers?) at a club or concert with enough bass, it feels like a fan.
Anyway, here's the gallery:
Another cool thing about FEM: I noticed that as soon as the concert had ended, the guys were replying to their fans on Twitter. Awww! You can follow them at @fareastmovement, if you're curious.
Saturday was no less crazy than the day before. After a few hours of sleep, I found myself at HEXXP, a new entertainment expo that brought out sci fi fans, anime fans, gamers and all sorts of interesting people. Being a nerd at heart, I loved it. And even though the crowd was small, there were still a lot of interesting stuff to see:
After a short break (dinner at home, this time), I headed back out to Fresh Cafe for GirlFest's closing night party. As one of the official photographers for GirlFest this week, I got to attend a conference, a therapeutic workshop and the closing party (which I shot for Nonstop), and meet some really amazing women. Here's the gallery:
After Fresh Cafe, I was pretty much beat. I headed uptown to thirtyninehotel, expecting it to be packed. Space Truckin', one of my favorite parties in Chinatown, was going on with Justin Van Der Volgen, former bass player and mixer for !!! and Out Hud, doing his thing in the DJ booth. There weren't nearly as many people there as I expected, but I loved the funky dance stuff he was playing and stayed for the rest of the night anyway.
So yeah, that was my weekend… how was yours?