Last-Minute Gift Idea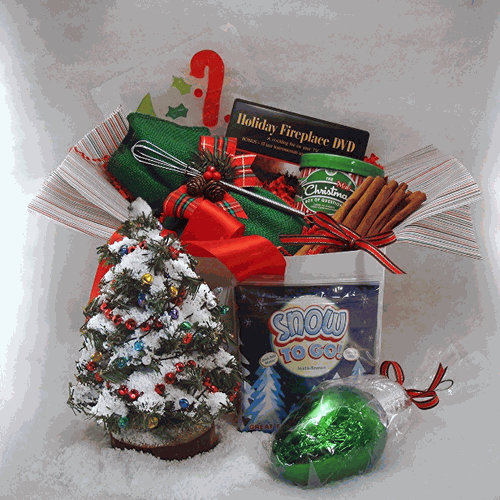 Looking for a quick, fun way to send some Christmas cheer? I found a variation on a gift basket, called Holiday in a Box, that's perfect for small spaces, like nursing homes or dorms.
The "Home for the Holidays" kit contains a mini Christmas tree, and for more decoration inspiration, instant snow and snowman gel clings for the windows. There's a bundle of delicious smelling cinnamon sticks for use in apple cider. The microwaveable fudge kit comes with a handy whisk–and only takes three minutes to make–while a chocolate Christmas-tree bulb cracks open (like a chocolate bunny) to reveal more bulb shaped mini chocolates.
My favorite touch? The holiday fireplace DVD. Your loved one can pop that sucker into the TV and cozy up with crackling images and holiday tunes. All the goodies inside are of nice quality and generous portions, and are resting on festive red crinkle paper, with striped tissue paper and tied up with a big red bow. It's seriously cute. It's $69.95 and you can order here.

The company also tells me it will be introducing Valentine's Day in a Box and Halloween in a Box, so save that link.