Inside Look: Okinawan Festival
When to go, which keiki activities to try and how to get your anadagi fix at Hawai'iʻs largest ethnic festival.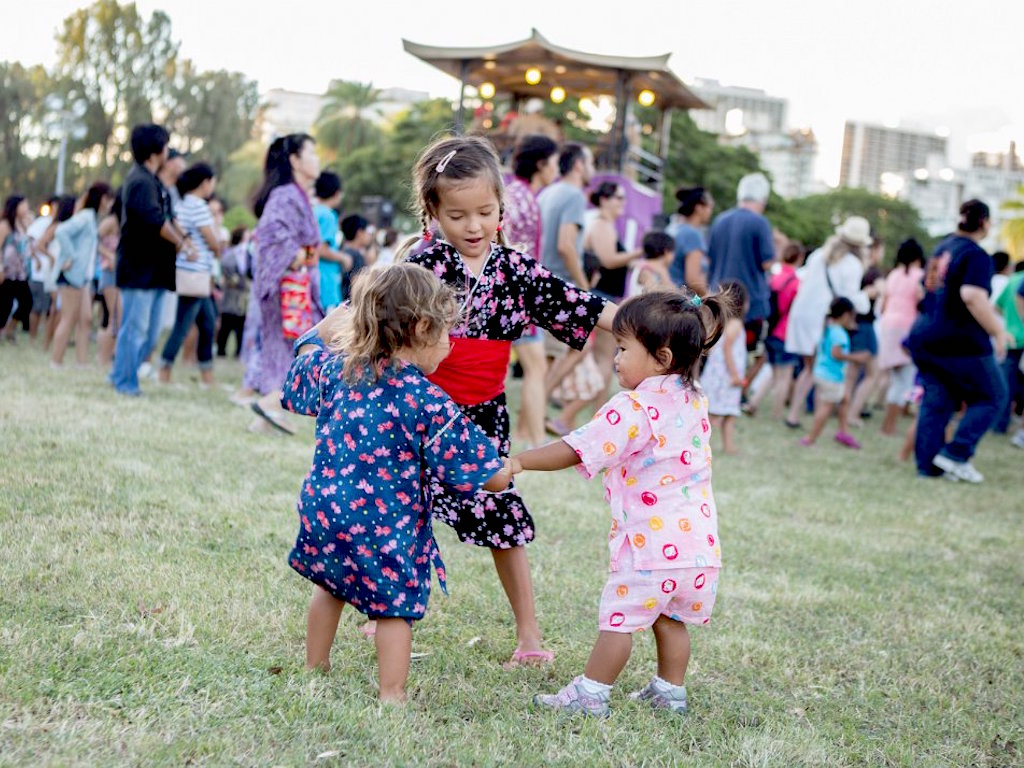 Photo: Okinawan Festival
Billed as the largest ethnic festival in Hawai'i, the Okinawan Festival is this Labor Day weekend. The huge event is held at Kapi'olani Park and this year's theme is "Sharing Uchinanchu (Okinawan peoples') Aloha." It will kick off Saturday morning with a colorful mini-parade around the bandstand and a bon dance in the evening. Both days offer cultural activities, a costume dress-up area, lion dog dances, taiko drumming and inflatables for keiki to bounce in. Try Okinawan dishes and get your andagi fix with a mobile andagi booth, an eating contest and andadogs.
We asked organizers for details on keiki activities, entertainment, food, where to park and how to avoid the crowds. (Performance times could change. Please check okinawanfestival.com for the most up-to-date schedule.)
Our Tips:
1. The busiest time is 11 a.m. to 2 p.m. on Saturday. Keep in mind that the bon dance starts at 5:30 p.m. Saturday. If you arrive at 3 or 4 p.m., you can take in the children's activities, buy dinner and then do a little dancing. Organizers say the crowd usually thins out on Sunday afternoon, but they expect it to be busy this year because of a special guest performer, contemporary Okinawan singer Rimi Natsukawa.
2. Know where to park. There is free and metered parking around Kapi'olani Park. If that fills up, you can also park for free at Kapi'olani Community College and take a shuttle. Take note that KCC could be crowded Saturday morning due to KCC's Farmer's Market. Shuttles will run to and from the event from 7 a.m. to 10:30 p.m. on Saturday and from 7 a.m. to 6 p.m. on Sunday. The shuttle to the event leaves from the city bus stop on Diamond Head Road and is free but the return shuttle from Monsarrat Avenue costs $3. Or buy a $5 Okinawan Festival Pin and ride the return shuttle for free, get $2 off a festival t-shirt and other discounts.
3. Go to the Cultural and Learning tents for hands-on keiki activities. They are located between the stage and the bon dance area. See the event map here.
Learn "How to be Okinawan" in free 30-minute mini-classes. Keiki can try out shimakutuba (talking), kachashii (dancing), singing, chanting, stretching, eating and whistling like an Okinawan.
Listen to professional storyteller Alton Chung share the Legend of Shisa (a curly-maned guardian animal that is a cross between a dog and a lion.)
Stamp an Okinawan fan for a suggested $1 donation.
Dress up in Okinawan kimonos with headdresses or as a drummer and have your picture taken. Costume photo sessions start at $45.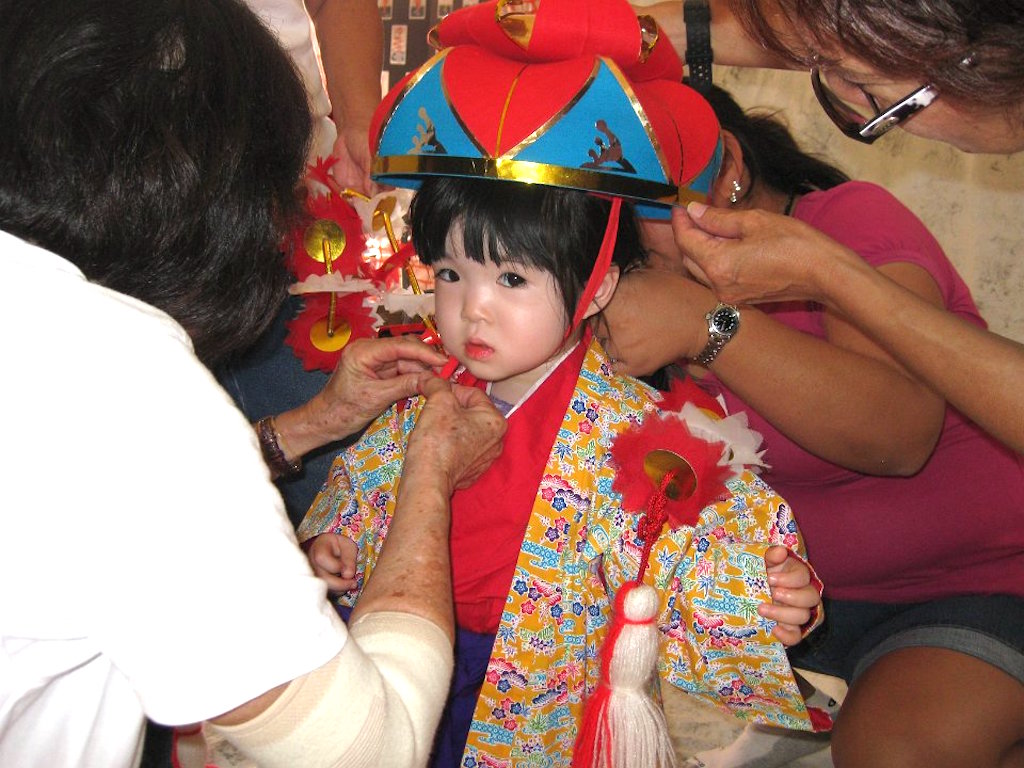 Photo: Okinawan Festival
4. Calculate how much you want to spend on inflatables. There will be seven Xtreme Fun inflatables for keiki to bounce in between 9 a.m. and 5 p.m. both days. Each bounce session costs $1 or $2 or you can buy a $20 all-day wrist band. They are located along Kalākaua Avenue.
5. Arrive early to see a lion dog dance.
The opening procession is a mini-parade featuring colorful banners, chondara (Okinawan clown/jester) and shishimai (lion dogs). The Okinawan shishimai dance is similar to a Chinese lion dance. But, the curly-maned animals are half lion and half dog and usually perform to folk music. The parade will start on Saturday at 10:20 a.m.
Eisa (Okinawan folk dances) involve lively dancing and taiko drumming. There will be several performances around mid-day Saturday and Sunday by kids and adults.
Hawai'i Okinawa Creative Arts will entertain with child performers and an Okinawan lion dog dance on Sunday at 9:50 a.m.
Watch keiki and adult Kendo martial artists show off their skills on Saturday at 3 p.m.
6. Eat dinner early. Most food booths will close at 6 p.m. on Saturday and 5 p.m. on Sunday. Child-friendly options include yakisoba (fried noodles), chicken yakitori sticks and BBQ chicken plates. On Saturday, the andagi, andadog (like a corn dog but using andagi batter), soba, sushi and shave ice booths will stay open later for the bon dance. But, you'll need to line up earlier to try these traditional Okinawan foods:
Champuru Plate: sliced vegetables, luncheon meat and deep-fried tofu stir-fried with rice, shoyu pork and andamisu (a miso sauce cooked with finely chopped pork).
Okidog: hot dog covered in chili and wrapped in a soft tortilla with shredded shoyu pork and lettuce
Ashitibichi (Pig Feet Soup). Pigs feet cooked in soup stock and garnished with konbu (seaweed), daikon (turnip), togan (squash), and mustard cabbage, served with hot rice.
Okinawa Soba (Okinawan-style soba noodles served in hot soup)
7. Look for the "Andagi Express Cart." The line to buy andagi is always the longest of all the food booths. So, watch out for the express cart. Volunteers will walk around the festival on Saturday and Sunday afternoons selling andagi from it.
8. Register early to join an Andagi-Eating Contest. Children 12 years and older, and adults, can participate in on-stage andagi-eating contests. The contests will take place on Saturday at 4 p.m. and Sunday at 2:40 p.m. Contestants must register at the Information/Manpower booth by 2 p.m. both days.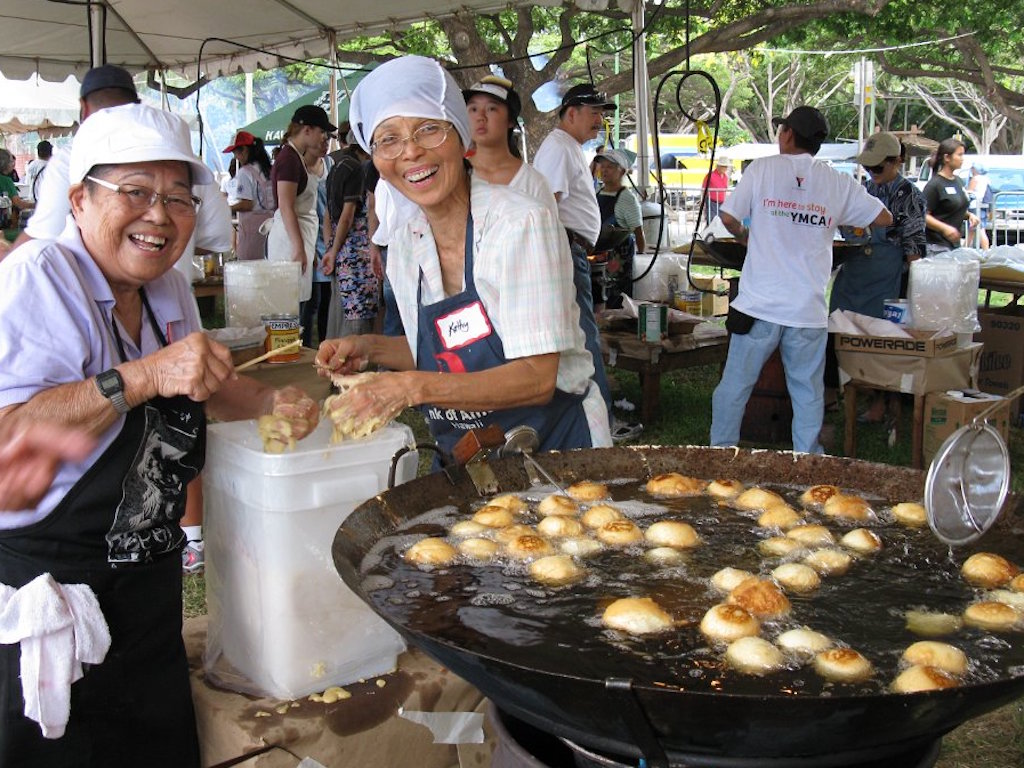 Photo: Okinawan Festival
9. Know where to shop. These tents are located behind the stage between the inflatable bouncers and the Cultural Exhibition. See the festival map here.
Heiwa Dori (named after Peace Street, a shopping area in Okinawa) will sell specialty food from Okinawa including andagi mix, kokuto (black sugar candy), shikwasa (Okinawan lemon-lime) juice, ramune drinks, cookies and candies.
Festival T-Shirt Booth sells four designs of Okinawan Festival t-shirts in child and adult sizes. Every year they feature an andagi-themed shirt and this year's is "Andagi Spinners," a play on the popular fidget spinners.
Country Store offers local snacks and treats, including Aloha Tofu's tofu mousse.
Arts and Crafts Gallery will feature about 30 vendors selling items including Okinawan-themed surf shorts and T-shirts for kids and adults.
Plant Store: Shop for orchids, houseplants and outdoor plants at the Plant Store. Don't worry about having your hands full. You can store them there and pick them up when you leave.
10. Stick around for the bon dance. It will be on Saturday, from 5:30 to 9:30 p.m. There will be five bon dance groups performing. Families are welcome to join in and follow along at any time. First time? Check out our guide to bon dances for beginners.
11. Know where to go when you have to go. The main set of portable restrooms will be near to the food booths, next to the parking lot by Monsarrat Avenue. Additional restrooms will be behind the Plant Store and Art and Crafts Gallery, near the tennis courts and exercise station along Kalākaua Avenue.
The Okinawan Festival is on Saturday, Sept. 2, from 9 a.m. to 9:30 p.m. and on Sunday, September 3, from 9 a.m. to 5 p.m., at Kapi'olani Park, 3840 Paki Ave. okinawanfestival.com.