Inside Look: Mō'ili'ili Summer Fest 2017
When to go, what to do and what's new at Honolulu's biggest Bon Dance.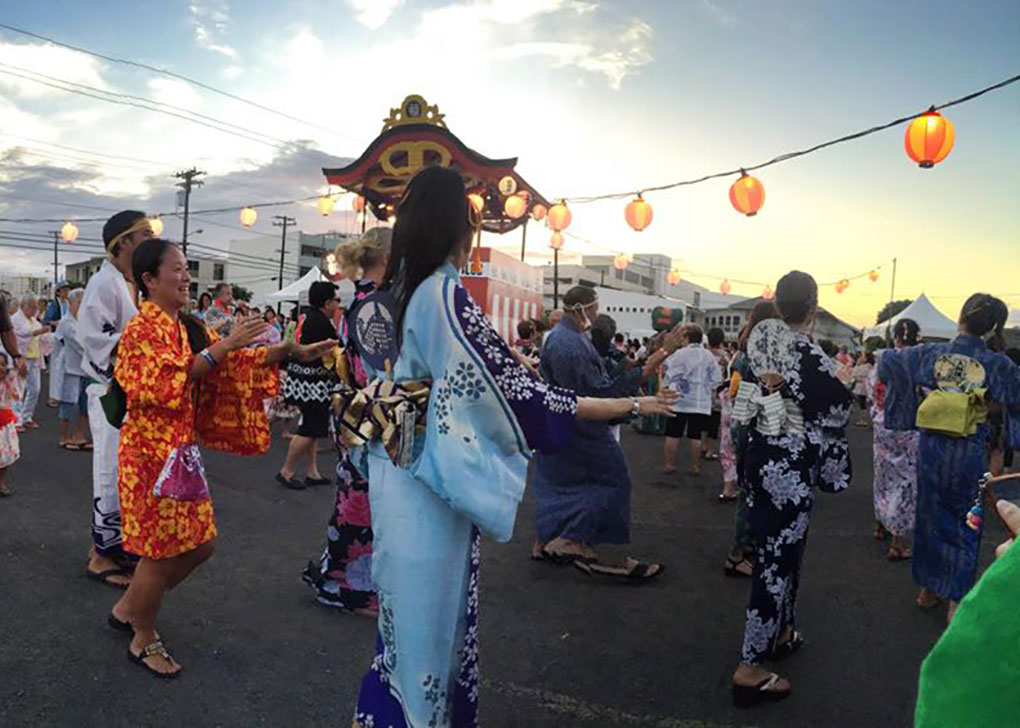 Photo: Courtesy Mō'ili'ili Summer Fest
Billed as Honolulu's biggest Bon Dance, the Mō'ili'ili Summer Fest is this weekend. Even if you're not into the traditional Japanese celebration dancing, families flood in for the food, free keiki activities and shopping. The event is put on by Kamehameha Schools, Mō'ili'ili Hongwanji Mission, Japanese Cultural Center, Mō'ili'ili Community Center and more, so it's big. Think 8,000 people big.
The Summer Fest occupies not only the old Varsity Theater area off of University Avenue, but food vendors stretch down Coyne Street as well. That's in addition to children's games, a historic look at the area by the Mō'ili'iili Community Center, and, of course, the Bon Dance.
We asked organizers for details on what's new for 2017, the free kids activities and how to avoid the crowds.
Our Tips
1. The busiest time is 6 to 8:30 p.m. Keep in mind, the very popular Bon Dance begins at 6:30 p.m. So, get there when the fest first begins at 5 p.m. to avoid crowds around the activities and longer lines for food. Free parking at UH opens at 4 p.m. so you can scope out the area and be ready to go as soon as the event begins. Enter through the Dole Street entrance and tell the gate attendant you're going to the festival. Free shuttles pick up people on Dole Street near the UH Law School with the last one leaving the fest at 10:25 p.m.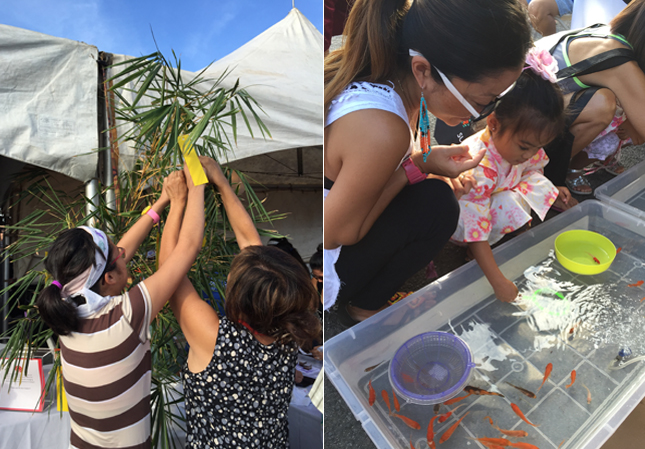 Photo: Courtesy Mō'ili'ili Summer Fest
Tanabata tanzaku(left) and kingyo sukui (right) are some of the free kids activities.
2. Prioritize the free hands-on kids activities. You can always expect free kids activities to be busy, so plan ahead. Here is a list of activities for 2017 and take a look at the map of the festival, below, so you know where to go.
Kamehameha Schools, in the center of the Varsity parking lot, will have a polymer science craft for kids, hosted by Hālau 'Inana and Chaminade University. The Summer Fest sponsor's tent will also have fresh produce and planter boxes for sale from Kawailoa Farms and Otsuji Farms.
Behind Kamehameha Schools will be the Hawaiian Humane Society with pet items for sale. Yelp usually has some interactive activity and State Farm agent Derek Sayegusa will have origami and free popcorn.
The Japanese Cultural Center of Hawai'i's booth is near the intersection of Coyne and Kaialiu streets. It will offer kids uchiwa (round fan) for decorating, kingyo sukui (a traditional goldfish scooping game) and tanabata tanzaku, where kids write wishes on paper and hang them on bamboo. Younger kids can easily do the fan decorating and write their wishes, with their parents' help. The goldfish scooping takes a little more skill and is fun for older children. It's right next to the andagi booth, so you have some way to entertain the kids while you're standing in line (see next tip).
Right next to the JCCH is The Cherry Blossom Festival and KIKU Television. The Cherry Blossom Festival will also have origami, souvenir books and a chance to meet the court. KIKU Television will have keiki games and a meet and greet with local musician JP Lam from 7 to 8 p.m.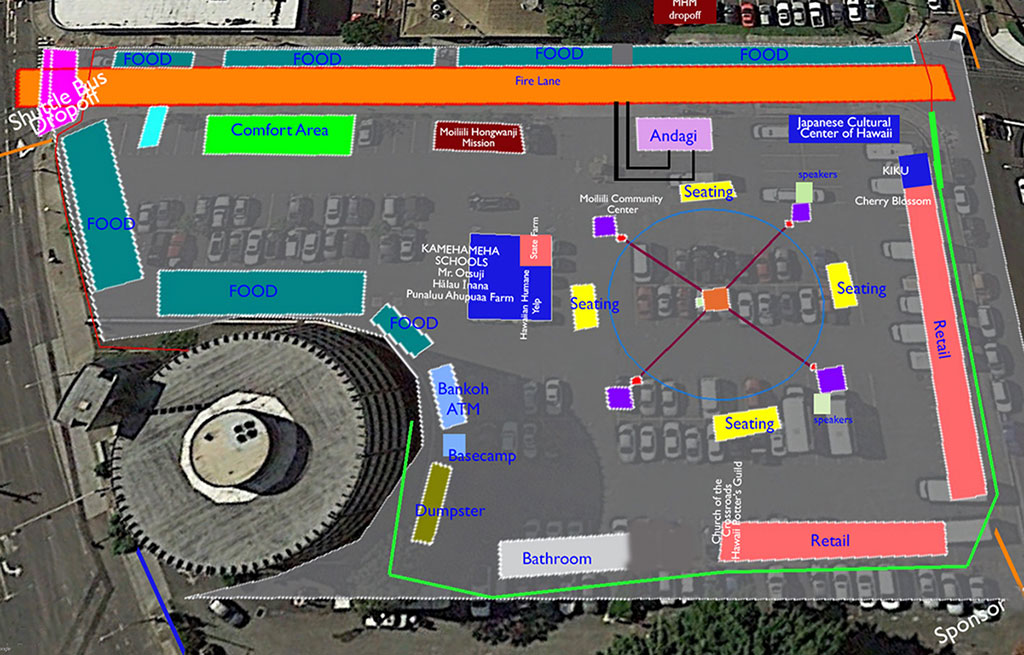 3. Head to Coyne Street for food trucks. Stay in the parking lot for Bon Dance favorites. More than 20 food vendors will be lined up on the makai side of Coyne Street including Beyond Burgers, Big Texan BBQ, Paul's Poppers, The Pig and the Lady, musubi, and lumpia. Bon Dance dishes such as shoyu pork, saimin, chili rice and bbq beef sticks will be sold in food booths near the Varsity Building. Andagi gets its own special tent adjacent to the dance pavilion.
4. Want just a few andagi? Use the Express Line. The longest line at the festival is usually for this deep-fried Okinawan donut. This year, organizers have added an Express Line for people picking up four or less. Hopefully, that will cut your wait time.
5. Don't worry if you have to go. Also new this year is the large bathroom trailer, the type you see at fairs. The Paradise Lua trailer will be on the university side of the lot with multiple stalls, lighting and a hand washing station. From what we've experienced at festivals in the past, it may be a good idea to bring extra paper towels for drying.
6. Wi-Fi is available, if you have the right service. This year, there is free Wi-Fi, but it is specifically for Time Warner customers. Otherwise, you will need to keep your cellular service on. Hashtag for the event is #MoiliiliSummerFest.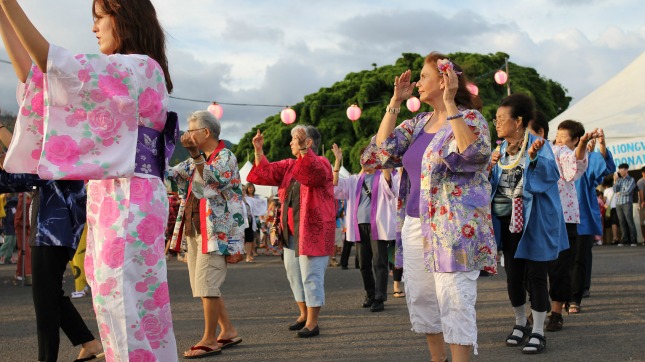 Photo: Courtesy Mō'ili'ili Summer Fest
7. Plan to dance? Watch the inner ring. The teachers will be dancing closest to the Yagura, the tall tower in the center of the dance. They will all also be wearing the same color, making it easy to identify and follow them. If you're a first timer, see our guide to Bon Dances with tips from the Japanese Cultural Center of Hawai'i.
Mō'ili'ili Summer Fest is Saturday, July 1, 5 to 10 p.m. at the Varsity Office Building, 1100 University Ave. moliiliisummerfest.com