Inside Look: Mō'ili'ili Summer Fest 2019
Where to park, what games to play and how to dance at the free July 6 summer fest.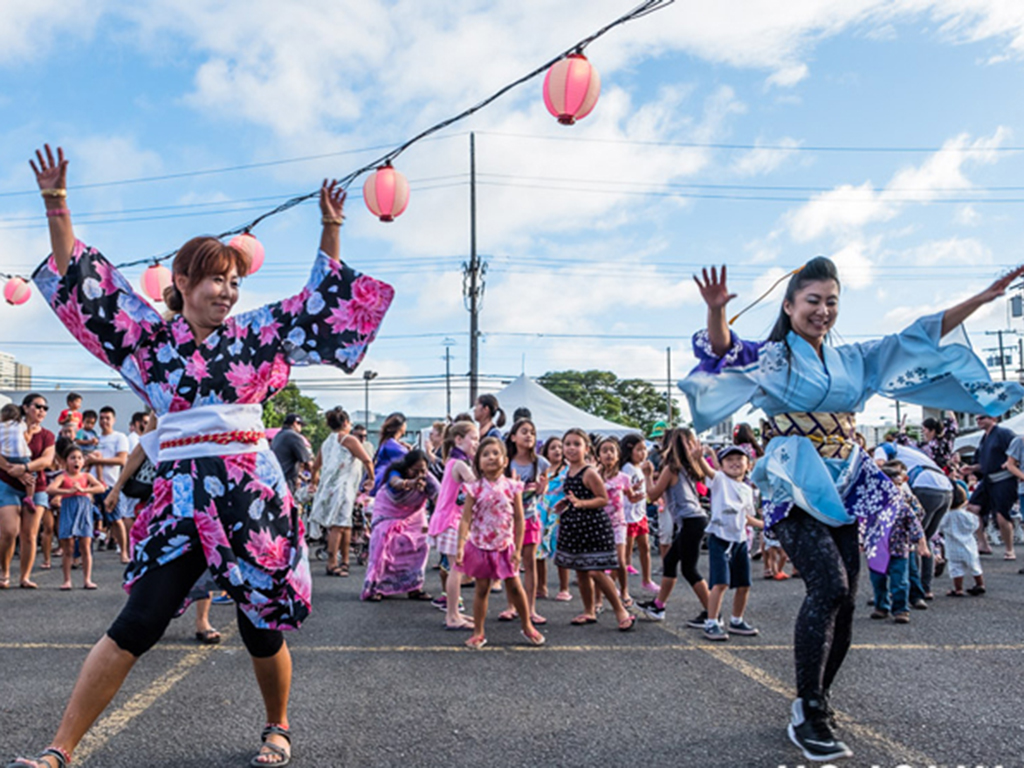 Photo: By Tien Enga for HONOLULU Magazine.
Enjoy food, bon dances and keiki games at the Mō'ili'ili Summer Fest this Saturday, July 7.
Bon season is in full swing! To participate in the Japanese tradition, bring your family to the Mō'ili'ili Summer Fest on Saturday evening, July 6, in the parking lot of the former Varsity Theater (1100 University Ave.), bordered by University Avenue, Coyne and Kaialui streets.
With an anticipated crowd of nearly 9,000 people, organizers say the free Summer Fest is the biggest bon festival on Oʻahu.
Historically, bon season is a time when Japanese honor the souls of their dead ancestors; paper lanterns strung throughout bon festivals are believed to guide deceased spirits to living family members who celebrate with food, cheer and dance.
---
SEE ALSO: Our Guide: Bon Dances for Beginners
---
Here are answers to some questions you may have about the Summer Fest this weekend:
1. When is the best time to go?
Go when the fest opens at 5 p.m., enough time to experience keiki activities and browse before the big bon dance kicks off at 6:30 p.m.
2. Where should my family park?
Free parking starting at 3:30 p.m. is available in the University of Hawai'i's Lower Campus Zone 20 parking structure. Enter through the Dole Street entrance, tell the gate attendant you're there for the summer fest, and you'll receive a parking ticket to display on your car dashboard.
To walk from the parking garage to the festival, plan about 15 minutes.
If you opt for the free shuttle, pick-up and drop-off is by the Duke Kahanamoku Pool entrance next to the Stan Sheriff Arena. There are three shuttles operating from 4 to 8 p.m., and two from 8 to 10:30 p.m. The last shuttle from the festival leaves at 10:15 p.m.
If you want to take a chance, you might find street parking on Beretania and King streets or along University Avenue.
3. What activities can my kids do?
Make a wish and find goldfish: Look for the booth operated by the Japanese Cultural Center of Hawai'i, where kids activities are popular. Kingyo sukui is a game where keiki try to scoop up a goldfish with a rice paper net before the net dissolves. Write a wish on a tanzaku, piece of paper, and hang it on a Tanabata-festival bamboo tree—Tanabata is celebrated on the seventh day of the seventh month. Uchiwa is a rounded, paper fan that kids can decorate and take home.
Fold origami with princesses: Head to the Cherry Blossom Festival booth to practice origami folding, pick up souvenir books and meet the newly crowned Cherry Blossom queen and her court.
Learn about animal rescues: The Hawaiian Humane Society, part of the Mō'ili'ili neighborhood, operates a booth selling pet supplies. You can also inquire about the Humane Society's programs for animals.
The Mō'ili'ili Community Center will have historical photos of the area while the Church of the Crossroads will sell bowls made by the Hawai'i Potter's Guild.
4. What can we eat?
So far, 23 food vendors are listed on the Mō'ili'ili Summer Fest Facebook page. We spotted The Pig & the Lady, Bao Tao'n, Otsuji Farms, Olay's Thai Food, Kamoa's Food Truck, Waiāmanalo Country Farms, Boba Bros., Aloha & Mabuhay and bon dance dishes (andagi!) from Mō'ili'ili Hongwanji Mission. You can find a full list of food and retail vendors here.
---
---
5. Where can my family use restrooms?
A trailer lavatory is available next to the University Avenue side of the festival, in between the Hongwanji Mission gift tent and the Varsity Theater. It has multiple stalls and hand-washing stations. Bring paper or cloth towels from home to dry kids' hands.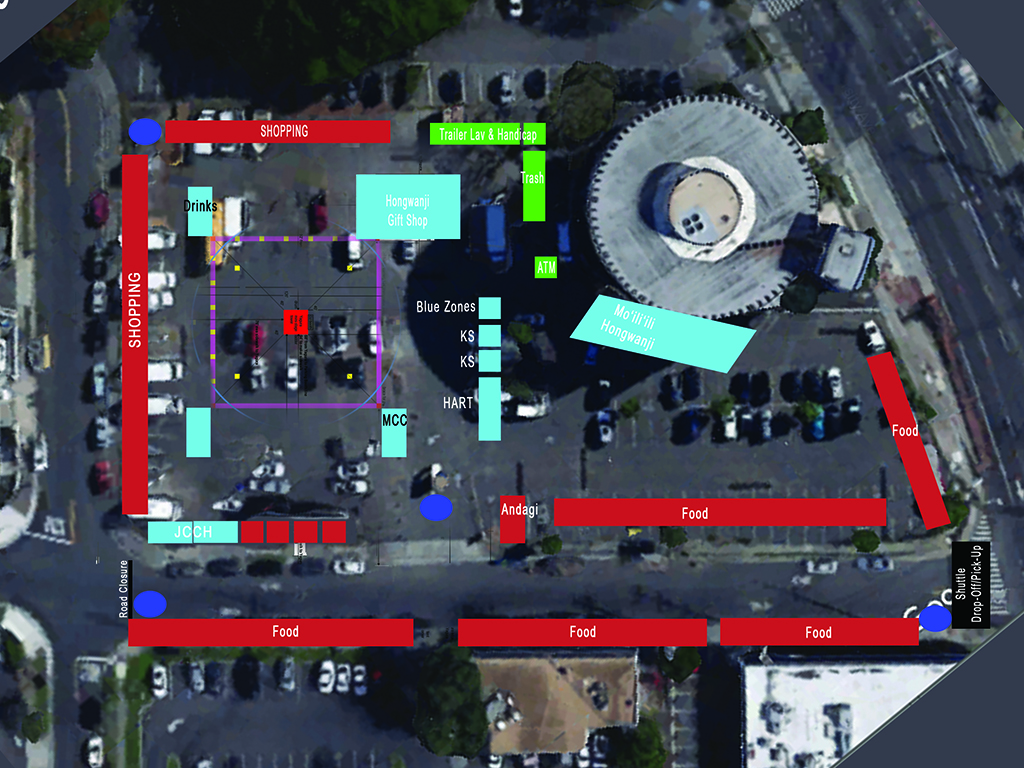 Photo: Courtesy of Mō'ili'ili Summer Fest 2018
An aerial view of the Mō'ili'ili Summer Fest 2018, located in the parking lot of the Former Varsity Theater.
6. How can we dance?
The bon dance, which starts at 6:30 p.m., welcomes dancers of all levels. Due to the fest's growing popularity, the dance area this year has been extended by another 20 feet to accommodate more people.
Look for the yagura, the tall platform in the middle of the dancing circle. This is where taiko drumming and folk music are played by live musicians. Seasoned dancers wear the same color and dance in the inner circle. Follow their hand motions, move in the same direction as they do, and have fun. Before you cut into the line, it's polite to ask the person behind you if it's OK.
7. Who organizes the annual Summer Fest?
It is a group effort by the Mō'ili'ili Hongwanji Mission, Kamehameha Schools, Mō'ili'ili Community Center and the University of Hawai'i.
Mō'ili'ili Summer Fest 2019 is from 5 to 10 p.m., Saturday, July 6, in the parking lot of the Varsity Office Building, 1100 University Ave. moiliilisummerfest.com