Inside Look: Honolulu City Lights 2019
Our 11 tips for beating the crowds, free parking, finding Santa and what to eat, ride and buy.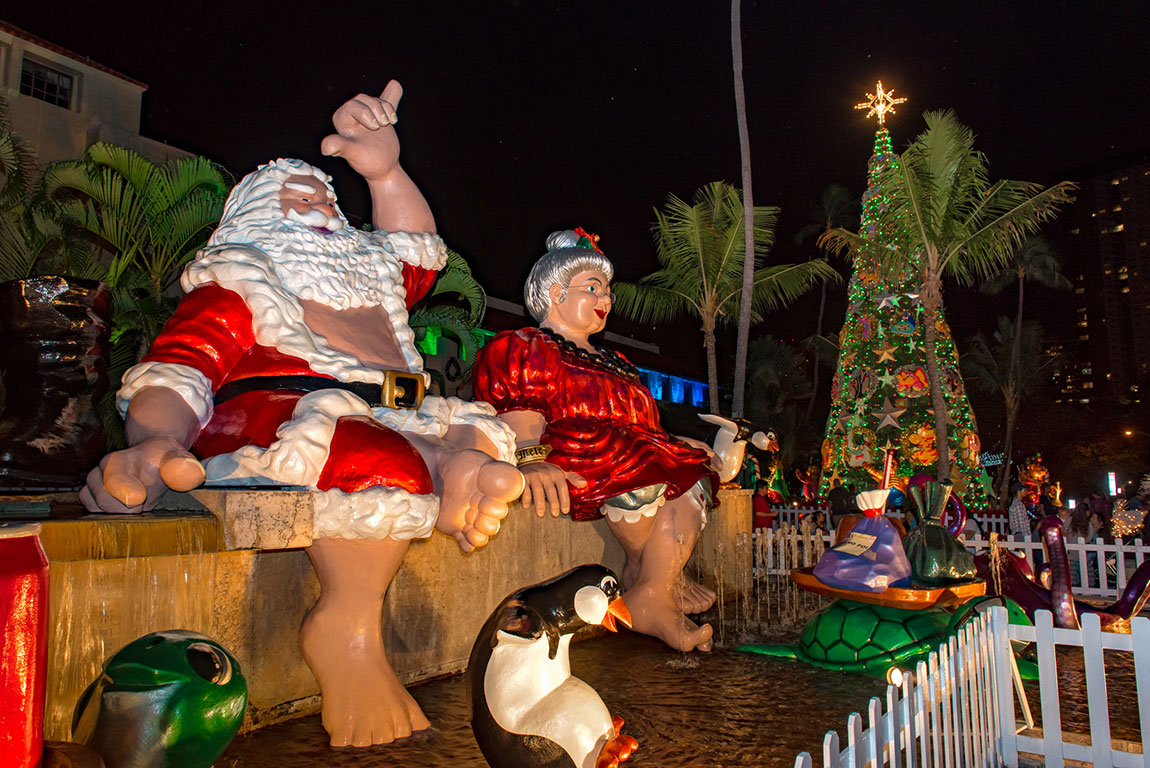 Photo: Ron Slauson courtesy of the City & County of Honolulu
Shaka Santa has been at Honolulu Hale since 1989. Tūtū Mele joined him in 1994.
Shaka Santa had a bit of a run-in on the way to Honolulu Hale this year. An encounter with a low-hanging branch knocked off his foot but it was quickly repaired. During the year, Santa, Tūtū Mele and about 50 other sculptures are maintained and kept in a Pearl City warehouse. For many of us, when they make the trek to town, it is the first official sign of the season.
Here are our tips for avoiding the crowds at opening night, where to find the shorter line for the bathrooms, when to visit for special events and more.
---
Watch this time lapse of Santa making his way to Honolulu Hale. Courtesy of the City & County of Honolulu.
---
Our 11 Tips
1. Arrive around 4 p.m. for the opening night festivities. Mayor Kirk Caldwell will kick off the tree lighting ceremony at 6 p.m. on Saturday, Dec. 7, but you'll need to be quick to snap up a free parking space and claim a spot to watch the parade. This year, food vendors will line the 'Ewa side of Punchbowl Street (it was on the Diamond Head side in 2018) for the block party. That's where you'll find Bao Tao'n and Brazilian cheese-bread-seller Nosh along with others offering garlic shrimp, hamburgers, Thai food, lechon, poi mochi, shave ice and more will open at 4 p.m., so you can grab dinner before the event. Keiki rides will also open at that time so children can take a whirl before sitting down for the parade. The Electric Lights Parade will make its way from River Street to Honolulu Hale. The free municipal parking lot is located off Beretania Street near the intersection with Alapaʻi Street.
One note: Xtreme Fun Rides will be open on Saturday, Dec. 7, closed on Dec. 8 then reopen on Dec. 9. We just wanted to mention that for parents who want their kids to ride (and those who want to avoid the fight over why their keiki can't. 😊)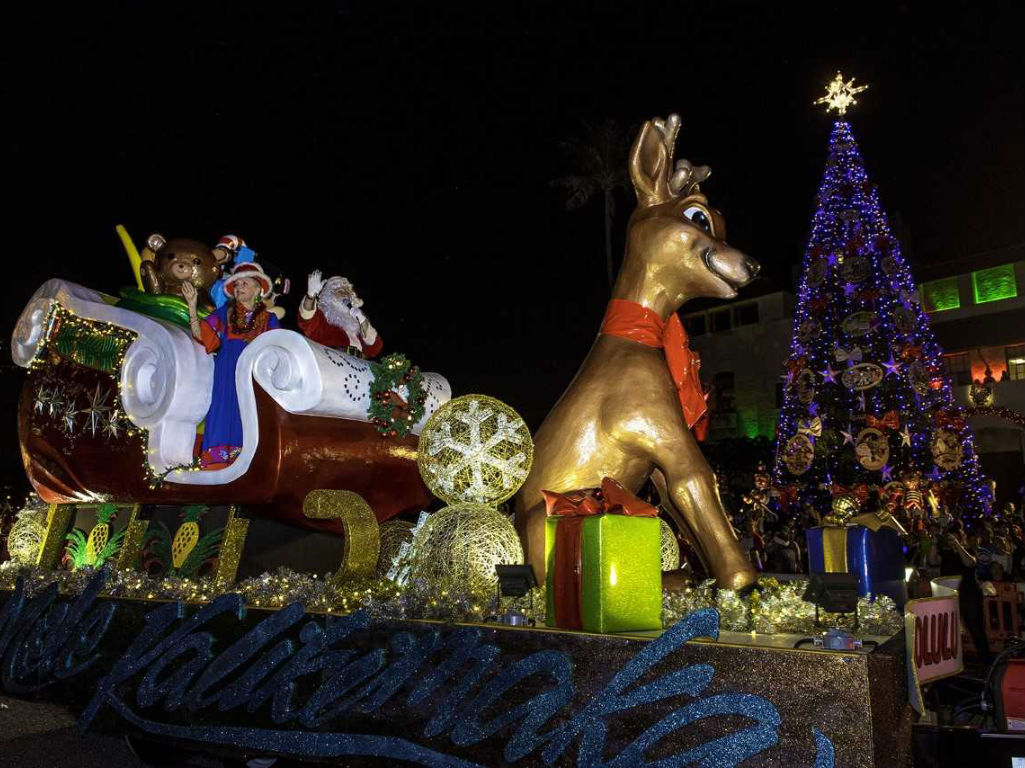 Photo: Friends of Honolulu City Lights – Ron Slauson
2. Head downtown for the best parade view. The crowd is usually around 10 people deep by Honolulu Hale, but only three people deep at Tamarind Park, by Bishop and King streets. So, for the best view of the floats and marching bands, skip the tree-lighting ceremony and grab a spot several blocks away. After the procession, head back to Sky Gate for a free concert and free photos with Santa in the Mission Memorial Auditorium inside Honolulu Hale starting at 7:30 p.m. Festivities end at 10 p.m.
---
🎄SEE ALSO: Family Holiday Events in Hawai'i–2019
---
3. Go with the flow on opening night. On that first night, the lines to see the Christmas trees at Honolulu Hale are the longest when Honolulu Hale first opens at 6:30 p.m. Know that during that time, crowds will be directed through a path that is one way in, one way out. The city says traffic ebbs a bit after 8 p.m.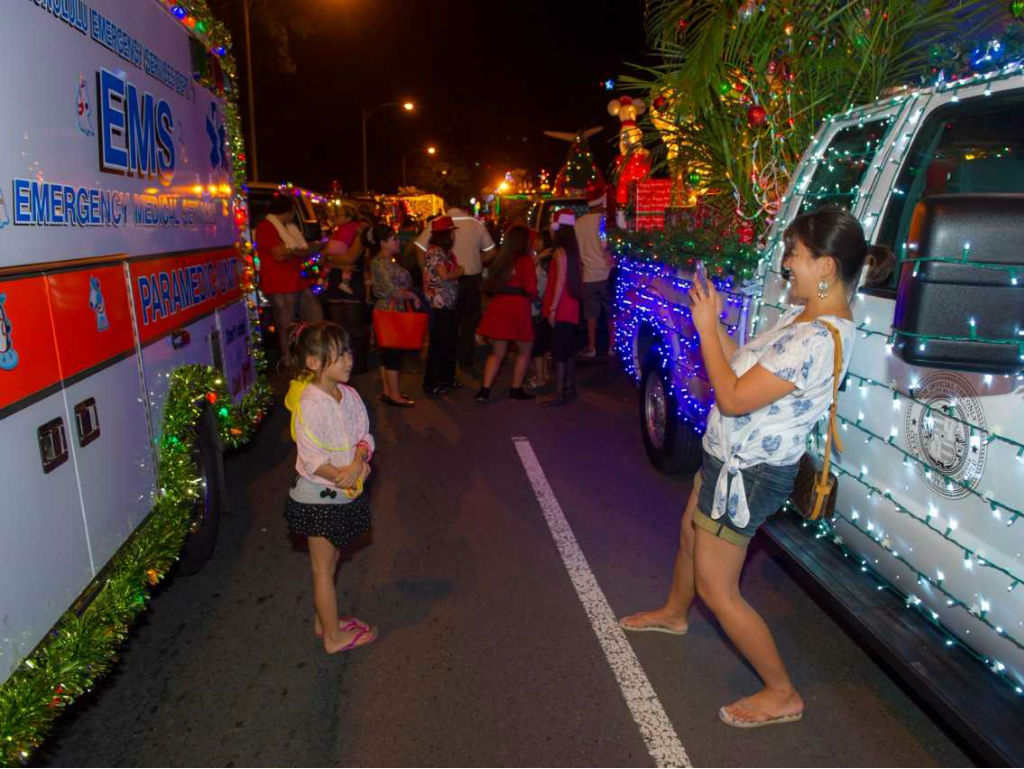 Photo: Friends of Honolulu City Lights – Ron Slauson
See the parade floats and city vehicles up close after the parade.
4. Snap photos with the floats between 7:30 and 8:30 p.m. While you wait for your trip through Honolulu Hale, take advantage of the photo ops with decorated city vehicles. The parade floats will be parked between Honolulu Hale and Alapaʻi and South streets. Keiki can get up close and may even be able to go inside some of the vehicles and meet city workers.
5. Visit on a weekday evening. The busiest time is Saturday night. Friday and Sunday evenings are also packed with people. Also, the closer it gets to Christmas and New Year, the more crowded it becomes. Foot traffic is light during the day, the display is open from 8 a.m. to 11 p.m. daily through Dec. 29.
6. Bring a jacket if you want to see The Grinch. The free movie this year will be The Grinch, scheduled for Dec. 14 at 7 p.m. Although we live in balmy Hawai'i, we suggest bringing a jacket or sweater for the evening event. It has gotten breezy and chilly in the past. Don't forget your blanket, low-back beach chairs and glow sticks, if you want to avoid buying pricier toys from those tempting vendors. Celtic Pipes & Drums of Hawai'i will perform at 7 p.m. on Dec. 11 and Dec. 21 is free milk and cookie night from 6 to 8 p.m. Clowns of Aloha and the Polynesian Underground will also be there from 6 to 9 p.m.
---
SEE ALSO: How to make Grinch kabobs in "Make It: 3 Cute Holiday Lunch Box Treats"
---
7. If you're not coming on opening night, don't forget your camera for photos with Santa. On Dec. 7, Santa will visit with the kids in the Mission Memorial Auditorium from 7:30 to 9 p.m. Hawaiian Telcom will sponsor picture taking that night. After that, keiki can visit with Santa at the Gingerbread House in the Honolulu Hale Courtyard from 7 to 9 p.m. nightly through Monday, Dec. 24. But, no professional photo packages will be offered, so make sure you have something with you to snap your own photos.
Photo: Ron Slauson, courtesy of Friends of Honolulu City Lights
Keiki rides are open every evening.
8. Visit between 6 and 10 p.m. if you want to go on keiki rides, eat or or purchase novelty items. Keiki can take their pick of a variety of Xtreme Fun rides for about $2 and $4. On opening night, rides and food booths will open at 4 p.m. instead of 6 p.m. and there will be many more food booths to choose from. Here is the schedule:
Opening night (booths open at 4 p.m.): Bao Tao'n, Burgers & Burritos, Da Grinds and Things, Dick's Lechon, Hawaiian Honey Cones, Lasoon, Island's Finest Shave Ice, Mahoe's Hawaiian Delights, Nosh, Olay's Thai Food Express, 'Ono Kettle Korn, Osoyami Bar & Grill, Shaka Shrimp, Uncle Lani's Poi Mochi, Waimānalo Country Farms, Zach's Event Catering
Dec. 2–29 (open 6 to 9 p.m.): Leonard's Bakery
Dec. 8–18 (open 6 to 9 p.m.): Filipino Fusion, Jen's Catering and Perefoti Island Fixx
Dec. 19–29 (open 6 to 9 p.m.): 'Ahi Assassins, Dia De Los Tacos, Kettle Corn Hawai'i
9. Find the shortest bathroom line. The restroom inside Honolulu Hale often has a long line on crowded evenings. On opening night, there will also be a mobile restroom on the Civic Center grounds behind the Mission Memorial Auditorium. It should have a shorter line and opens at 4 p.m. The one in Honolulu Hale will open at 6:30 p.m. that night.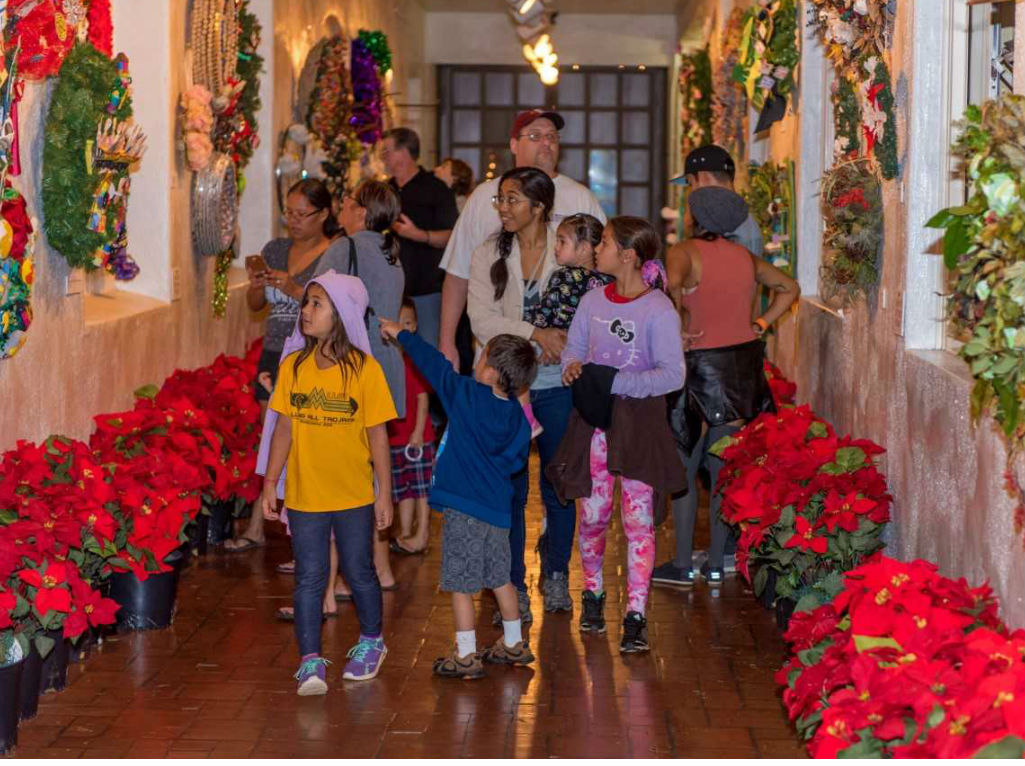 Photo: Ron Slauson, courtesy of Friends of Honolulu City Lights
Don't miss the wreath display inside Honolulu Hale.
10. Don't forget the wreaths. Many families wander through the lights outside, stop in to see the Christmas trees and leave. But in the back hallway, near the bathrooms and door heading out into the grassy area, is the wreath competition exhibit. It's always fun to see the creative work that adults and kids come up with for this annual competition.
---
SEE ALSO: Christmas and Holiday Parades in Honolulu–2019
---
11. Canʻt make it to the parade? Watch it at home. Saturdayʻs parade will be broadcast live on 'Olelo, channel 53. You can also see it three more times in rebroadcast. KHON will show the parade only on Saturday, Dec. 21 at 9 p.m. and again on Christmas Day at 9 a.m.
Honolulu City Lights opens Saturday, Dec. 7 at 6 p.m. It will run daily through Dec 29, 8 a.m. to 11 p.m. at the Frank Fasi Civic Center Grounds, 530 S. King St. honolulucitylights.org.