Inside Look: Honolulu City Lights 2018
Our tips for beating the crowds, free parking, finding Santa and what to eat, ride and buy.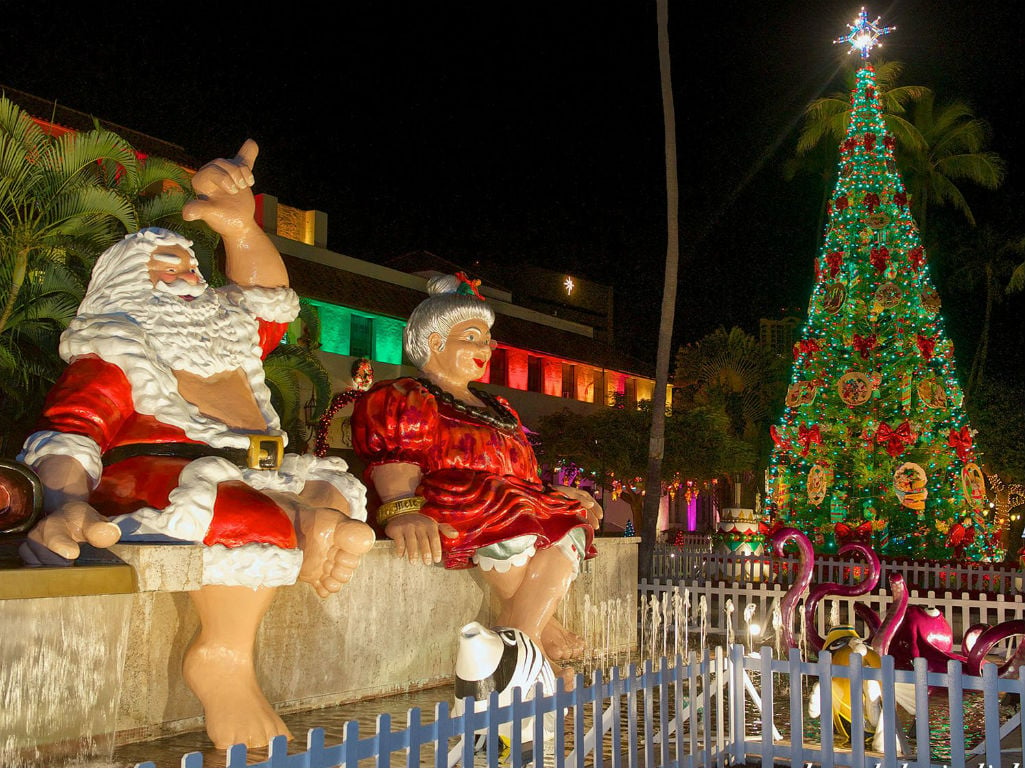 Photo: Ron Slauson, courtesy of Friends of Honolulu City Lights
The holiday season wouldn't be complete without a family trip to see the Honolulu City Lights, Shaka Santa, Mrs. Claus and the Christmas trees at Honolulu Hale. We asked the organizers for the inside scoop on all the rides, food, entertainment and special events going on this winter. Read on to find out how to avoid the worst crowds, when to find Santa and one area we say not to forget.
Our 10 Tips
1. Arrive around 4 p.m. for the opening night festivities. Mayor Kirk Caldwell will kick off the tree lighting ceremony at 6 p.m. on Saturday, Dec. 1, but you'll need to be quick to snap up a free parking space and claim a spot to watch the parade. Food booths selling garlic shrimp, hamburgers, hot dogs, pizza, Thai food, poi mochi, shave ice and more will open at 4 p.m., so you can grab dinner before the event. Keiki rides will also open at that time so children can take a whirl before sitting down for the parade. The Electric Lights Parade will make its way from River Street to Honolulu Hale. The free municipal parking lot is located off Beretania Street near the intersection with Alapaʻi Street.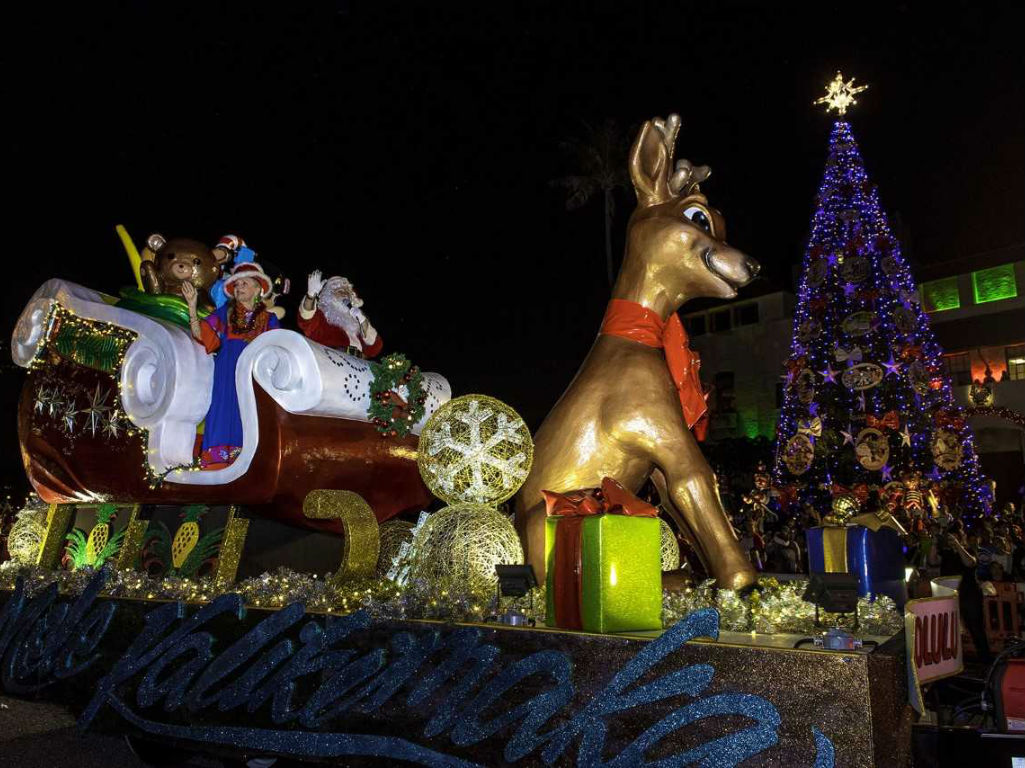 Photo: Friends of Honolulu City Lights – Ron Slauson
2. Head downtown for the best parade view. The crowd is usually around 10 people deep by Honolulu Hale, but only three people deep at Tamarind Park, by Bishop and King streets. So, for the best view of the floats and marching bands, skip the tree-lighting ceremony and grab a spot several blocks away. After the procession, head back to Sky Gate for a free concert featuring local entertainers including Taimane, Nathan Aweau and more. Also, Santa will be available for photo ops in the Mission Memorial Auditorium inside Honolulu Hale from 7:30 p.m. Festivities end at 11 p.m.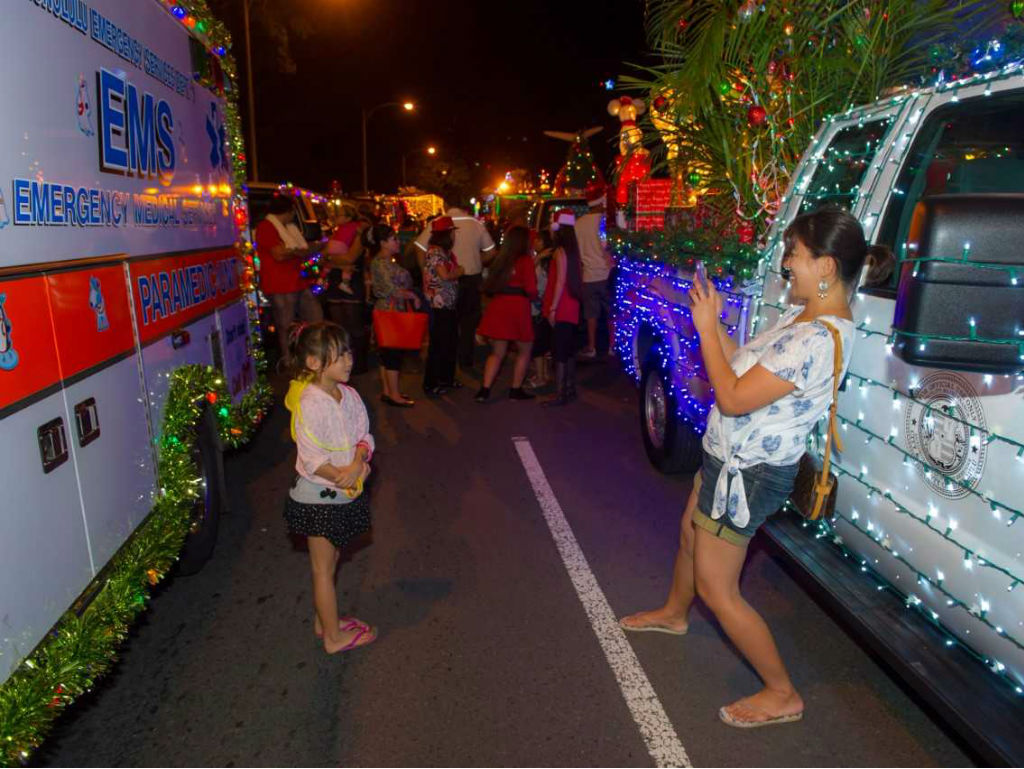 Photo: Friends of Honolulu City Lights – Ron Slauson
See the parade floats and city vehicles up close after the parade.
3. Snap photos with the floats between 7:30 and 8:30 p.m. After the opening night parade, the decorated city vehicles will be parked between Honolulu Hale and Alapaʻi and South Streets. Families can get a close-up look and even go inside some of the vehicles as well as meet city workers. Plus, if you spend some time outside, you can avoid the worst of the crowds inside Honolulu Hale. The city says most people pile in to see the Christmas trees right when it opens at 6:30 p.m. Wander in after 8 p.m. and it is typically not as crowded.
4. Visit on a weekday evening. The busiest time is Saturday night. Friday and Sunday evenings are also packed with people. Also, the closer it gets to Christmas and New Year, the more crowded it becomes. If you can only work it into your weekend, you might want to plan around the special events. We have the full list here.
5. If you're not coming on opening night, don't forget your camera for photos with Santa. On Dec. 1, Santa will visit with the kids in the Mission Memorial Auditorium from 7:30 to 9 p.m. Hawaiian Telcom will sponsor picture taking that night. After that, keiki can visit with Santa at the Gingerbread House in the Honolulu Hale Courtyard from 7 to 9 p.m. nightly through Monday, Dec. 24. But, no professional photo packages will be offered, so make sure you have something with you to snap your own photos.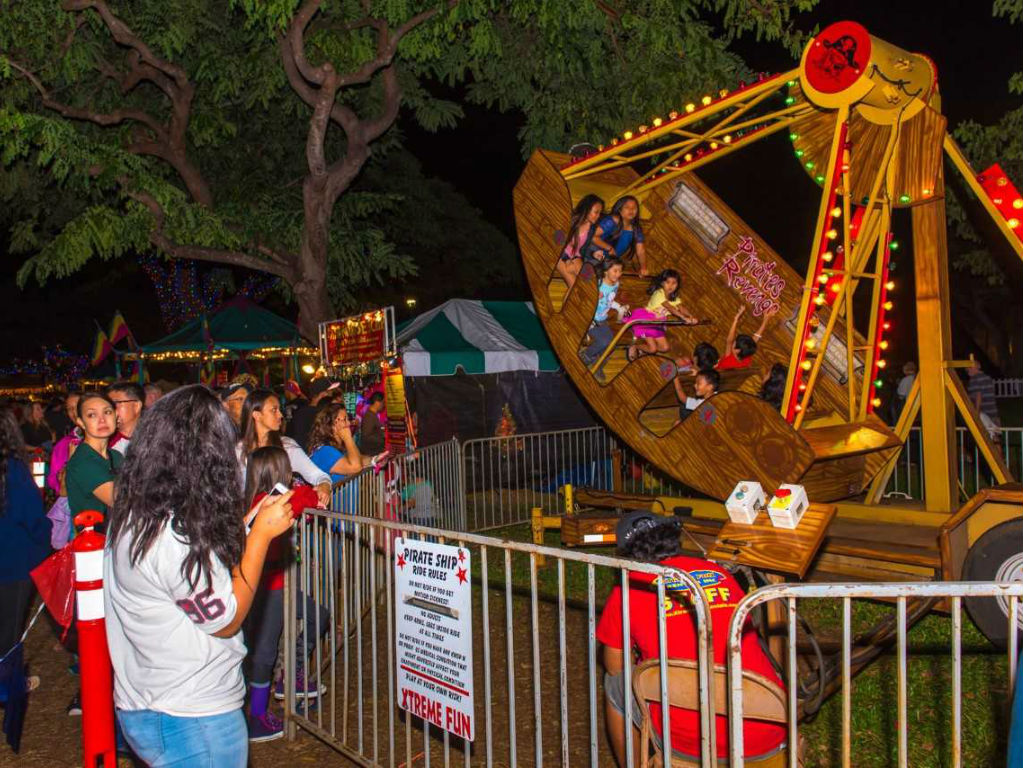 Photo: Ron Slauson, courtesy of Friends of Honolulu City Lights
Keiki rides are open every evening.
6. Visit between 6 and 10 p.m. if you want to go on keiki rides, eat or or purchase novelty items. Keiki can take their pick of a variety of Xtreme Fun rides. Each costs between $2 and $4. On opening night, rides and food booths will open at 4 p.m. instead of 6 p.m. and there will be many more food booths to choose from. See the full list of food vendors here.
7. Find the shortest bathroom line. The restroom inside Honolulu Hale often has a long line on crowded evenings. On opening night, there will also be a mobile restroom on the Civic Center grounds behind the Mission Memorial Auditorium. It should have a shorter line and opens at 4 p.m. The one in Honolulu Hale will open at 6:30 p.m. that night.
8. Know your trivia. Sound smart by explaining to your keiki where the centerpiece tree came from. And if you have a large tree, could it the next Christmas tree? We have the answers in "The Story Behind Honolulu City Light's Giant Christmas Tree."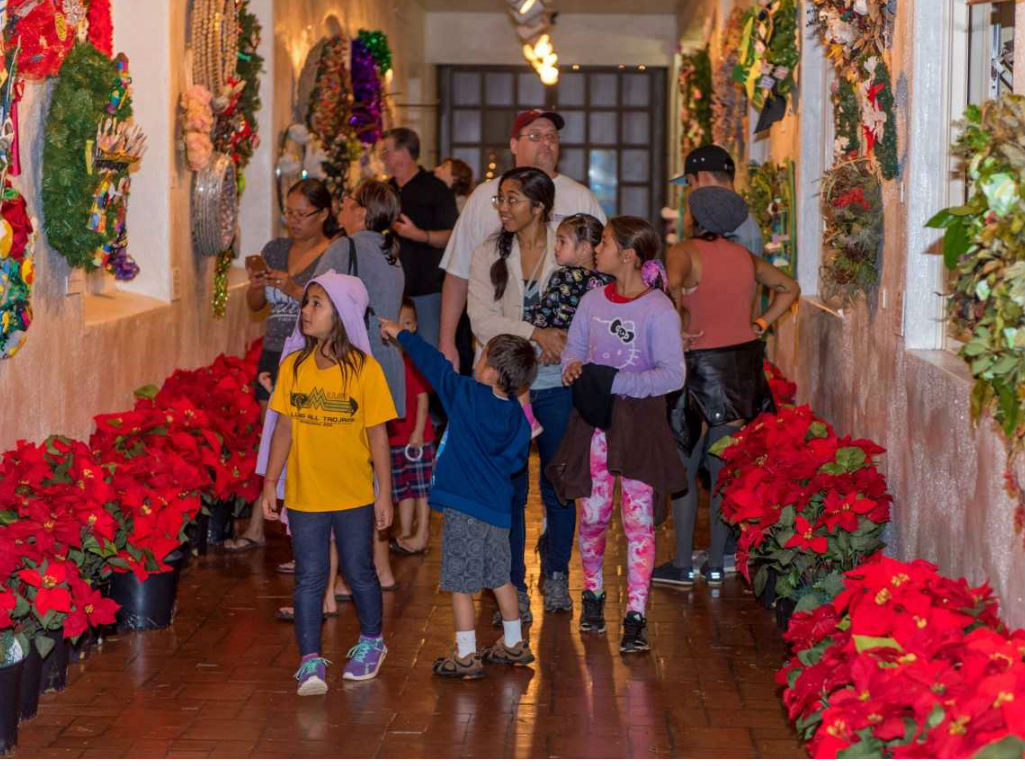 Photo: Ron Slauson, courtesy of Friends of Honolulu City Lights
Don't miss the wreath display inside Honolulu Hale.
9. Don't forget the wreaths. Many families wander through the lights outside, stop in to see the Christmas trees and leave. But in the back hallway, near the bathrooms and door heading out into the grassy area, is the wreath competition exhibit. It's always fun to see the creative work that adults and kids come up with for this annual competition.
10. Canʻt make it to the parade? Watch it at home. Saturdayʻs parade will be broadcast live on ʻŌlelo Channel 53. It will be rebroadcast on ʻŌlelo Channel 53 on Sunday, Dec. 16 at 8 p.m., Monday, Dec. 17 at 4 p.m., Monday, Dec. 24 at 10:30 p.m. and on Christmas Day at 3:30 p.m.
Or you can watch a one-hour special about the parade on Saturday, Dec. 22 at 7 p.m. on KHON2 or on Sunday, Dec. 23 at 6 p.m. on Hawaiʻi's CW (Spectrum Digital 93). It will be rebroadcast on Saturday, Dec. 23 at 4 p.m. on KHON2 and on Tuesday, Dec. 25 at 9 p.m. on CW.
Honolulu City Lights opens Saturday, Dec. 1 at 6 p.m. It will run daily through Jan. 1, 8 a.m. to 11 p.m. Frank Fasi Civic Center Grounds, 530 S. King St. honolulucitylights.org.