Honolulu Night Market: White Party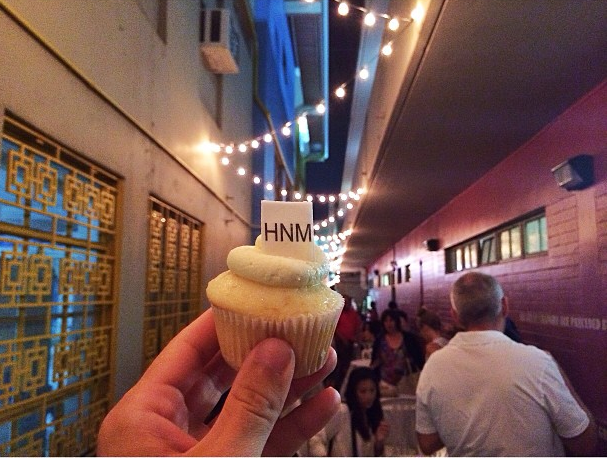 Honolulu Night Market celebrated its first anniversary on the streets of Kaka'ako Saturday night with a white theme. As in white bobbing lanterns, white decor, white cupcakes for the first 300 people to show up dressed in white. Parkour demos made their first appearance, adding to the mix of street performers and live art, and a German wurst truck debuted with brats and sauerkraut across Keawe Street from Whole Ox Deli, which closed its doors for good last night.
Your Instagrams lit up Honolulu's stream, with more than 200 photos using the #ourkakaako hashtag and thus being entered in our IG contest. We looked through all the fun photos and named @nrhphotos the winner, with his well-composed shot of the Honolulu Night Market's special white cupcakes (given to the first 300 arrivals wearing white) against a cool Harry's Alley background. @nrhphotos receives our grand prize, a $50 gift card to Bevy, a $15 gift card to Hank's Haute Dogs and a $20 gift card to Quince home accessories store. Congrats!
@nrhphotos (Our Instagram contest winner)
Picture 1 of 35
Honolulu Night Market. A event that happens ever third Saturday of each month. The event mainly consist of food truck vendors both sweet and savory. There is also some entertainment by young up and coming bands and sometimes fashion shows. Support our kakaako. #ourkakaako @ourkakaako @nonstophonolulu
A few more party pics by Tracy Chan: