Guide to Honolulu Night + Market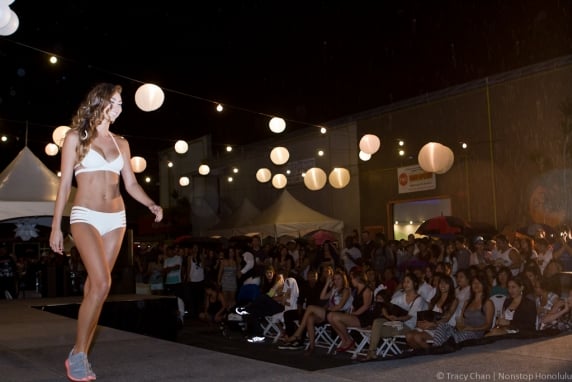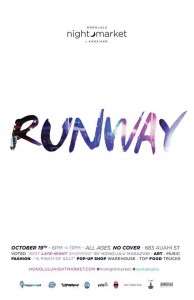 Fashion is the focus of this month's Honolulu Night + Market, a fitting theme to coincide with Hawaii Fashion Month. Honolulu Magazine and Honolulu Shops fashion editors Stacey Makiya and Brie Thalmann are the featured stylists for Saturday's fashion show; they'll be showcasing looks for the fall/winter 2013 season.
We'll also be having an Instagram contest. To enter, just Instagram shots from Night Market, and we'll be awarding our favorite fashion-oriented snap with a $40 gift card, as long as its tagged with #ourkakaako.
So come out for great food, entertainment, art, shopping and of course, to see the newest styles on the runway.
What: Honolulu Night + Market
When: Saturday, Oct. 19 from 6 to 11 p.m.
Where: Auahi Street between Keawe Street and Lana Lane
Admission: FREE
Parking: On-site and street parking, including Eat the Street lot one block away at 555 South St.
Connect: #ourkakaako #hnlnightmarket @ourkakaako (Instagram)
Here's a rundown of the food, retail, fashion and entertainment.
The fashion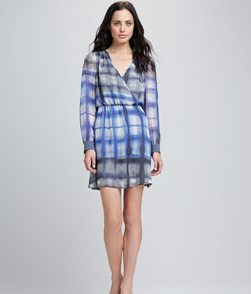 This month's fashion show, running from 8-8:30 p.m. on the main stage, will be styled by Honolulu Magazine and Honolulu Shops Fashion Editors Stacey Makiya and Brie Thalmann, who will be bringing forth Fall/Winter 2013 looks that include mix-and-match prints from T By Alexander Wang, 3.1 by Phillip Lim, Marc by Marc Jacobs and Alexander McQueen.
The featured retailer is CUSP, a new contemporary concept by Neiman Marcus that offers a curated selection of fashion-forward styles from top designers and rising stars. This store-within-a-store is already in select Neiman Marcus locations, including the Ala Moana store, and will eventually be rolled out at all Neiman Marcus shops.
The entertainment
Entertainment lineup on the Main Stage:
7-8 p.m. – Izik performs
8-8:30 p.m. – Fashion show styled by Brie Thalmann and Stacey Makiya of Honolulu Magazine and Honolulu Shops
8:40-9:25 p.m. – Jenna performs
9:30-10:30 p.m. – Retro 5-0 performs
Other entertainment
• Smoke– DJs and hookah and cigar bar at CoXist Studios (331 Keawe St.).
• Juxtapose pre-party Thursday, Oct. 17 from 6-11 p.m., grand opening at Night Market, Saturday, Oct. 19, 6-11 p.m. 

This month, CoXist introduces Juxtapose, an art, fashion and new cinema exhibition about urban transformations, featuring submissions of wearable art made from urban materials from 10 different artists. (There are no restrictions on the material used to create the garment or accessory.) The event also will showcase a crazy new 3D cinema projection by local artist Aisis Chen and a custom installation by innovative sculptor/designer Robert Reed. All the different parts of the exhibition will play off each other and the theme of fashion, perhaps in some unexpected ways.
• Art by The Art Truck, Brandt Fuse, Two Crows, Carlos Mozo, Joseph Harris, ii's Gallery, Etching in Echoes (solo exhibition of recent ceramic works by sculptor Charlton Kupa'a Hee), Mahoa Gallery, Maka Exhibit (series of new work by Carl F. K. Pao) and CoXist Studio
• Street performers: Island Oasis Middle Eastern Dance, Badra Belly Dance and Spatial Sculptors
• Lana Lane Studios: Open Studio night with members and artists displaying works and opening their studios to the public.They will also have musicians performing on the stage.
• Highlights from previous Night Market fashion shows will be projected onto the walls
The food
AND …
Kava Kine: Kava drinks
Life is Sweet: Hawaiian-style Italian sodas; fresh gingerale float with dragonfruit, lilikoi, pineapple sorbets, Hawaiian vanilla cream, pineapple and more
Miso & Ale at Taste: TBA
Soul Patrol: Chicken and waffles, feta mac 'n cheese, soul food
The Hopper: Poke bowls, spicy tuna bowls
Waiola Coconut Water: Rapid hydration from naturally sourced young coconuts
Pinch of Salt shopping: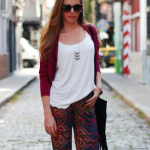 Fighting Eel's TeeTee Bar (women's clothes)
FM Boutique (women's clothing, accessories)
Florencia Arias (women's clothing)
Fluro Swimwear (women's bikinis)
Flutter Lashes
Gaya
Indah (women's swimsuits)
Lane Tanner Designs (handmade jewelry)
Lei Chic Vendor: LOVE + MONSTERS
Lil Coconut Hawaii (handmade clutches)
Little Dew Drops (hand-painted infant & children's clothes)
Maya Bella Boutique (children's clothing)
Mikinola (women's fashion & accessories)
Monkeypod Jam (Artisinal jams made from local ingredients)
Nicole Kay Designs (handmade gemstone jewelry)
noRep Boardshorts (men's originally designed boardshorts)
Xoelle (handmade bow ties and journals)