Our Family Guide: Punahou Carnival 2020 in Honolulu
How to find the shortest line for scrip, the prices for almost everything and a quiet place to picnic at this annual tradition.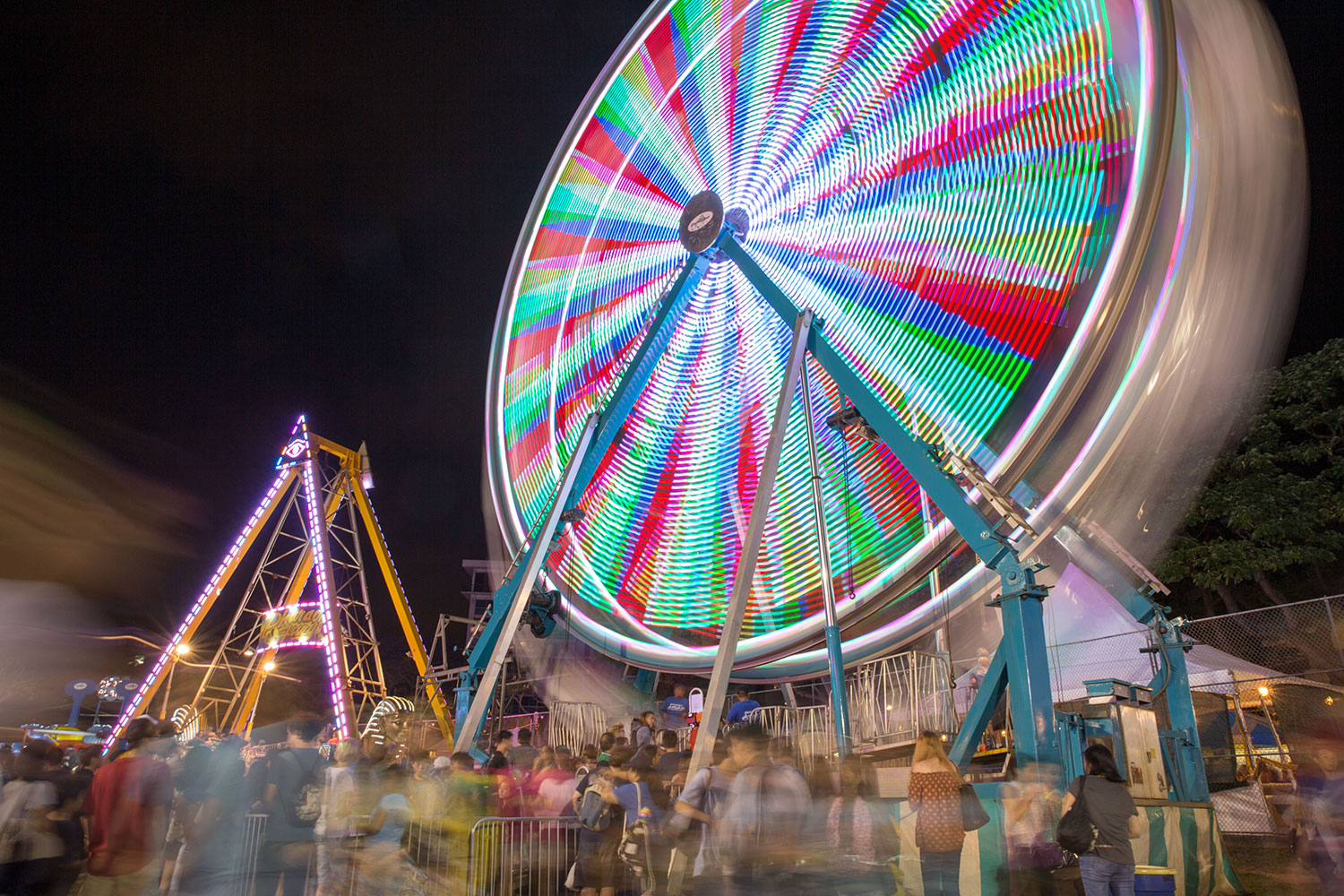 Courtesy: Punahou School
On O'ahu, the first weekend in February usually brings a town tradition of O-shaped malassadas, Portuguese bean soup, rides and shopping. The Punahou Carnival is Feb. 7 and Feb. 8 this year with the theme "Music Through the Ages: A Chart-Topping Carnival," which means you'll likely hear everything from doo-wop to '80s one-hit wonders providing the soundtrack for the fun on Punahou Street.
Most locals know to bring a jacket (the weekend of the carnival is notoriously always rainy) and are ready to drive around for quite awhile if you don't want to pay for parking. Otherwise, we polled the regulars we know for their tips for the carnival.
Our 10 Tips
1. Plot your path before you go. Punahou Carnival's detailed map shows exactly where you can get your saimin and gyros, where the body painting tent is and, most importantly, exactly which booths and games take the E.K. Fernandez Fun Pass and which ones require Punahou scrip, which is most games and food. Don't forget to check the White Elephant tent where you can usually find a large bunch of children's books and toys for sale. Of course, the first battle you'll fight is to find parking. Prices range from $3 for two hours to $50. You can find a details on the lots, including the price to park, on punahou.edu, just click on parking information to see the drop down list.
2. The best time to hit the kiddie rides and games is after dinner, NOT when the carnival opens. Give your kids a nap and take them after dark when the rides and game booths slow down. Just bring a jacket, it gets cool and, of course, an umbrella. The ride discount time, this year, is Friday, 11 a.m. to 3 p.m. when all 40-credit rides are 35 credits and the more expensive attractions, including the Wave Swinger and Seven Seas, are discounted to 46 credits. That's also one of the least busy times.
---
SEE ALSO: How to Spend Every Credit on Your Carnival Fun Pass
---
3. Don't buy your scrip when you first walk in. The booth near the main gate is usually packed while the booths in the center of the carnival by Dillingham Hall and near the White Elephant tent always have shorter lines.
4. Take a look at the price list. Punahou publishes the price of all food and Punahou-run games, so you can estimate how much scrip you'll need for the evening. The art sale, silent auction, produce and flower booths, as well as the Hawaiian plate, will take cash. The art sale and silent auction will also accept credit cards.
5. Look for more than one line. Do a survey around the food booths before you wait. Many offer two lines and often the crowd misses the shorter one, converging on the line they see first. Sometimes workers even reconfigure them, so be aware.
6. Not a fan of porta potties? There are actual restrooms in Mamiya Science Center and Dole Hall.
7. Kids melting down and you've still got scrip? Pick up Portuguese bean soup or hulihuli chicken (just the chicken) for dinner that night or the next day. But, one of our carnival goers says check to make sure there is enough Portuguese bean soup to go around before you hop in line. When it runs out, the wait for a new batch can take awhile.
8. Another use-your-scrip trick? Malassadas cost one scrip each. Split up your family, hand them each three scrip and they can stand in the short line to buy up to three malassadas. That line goes much faster.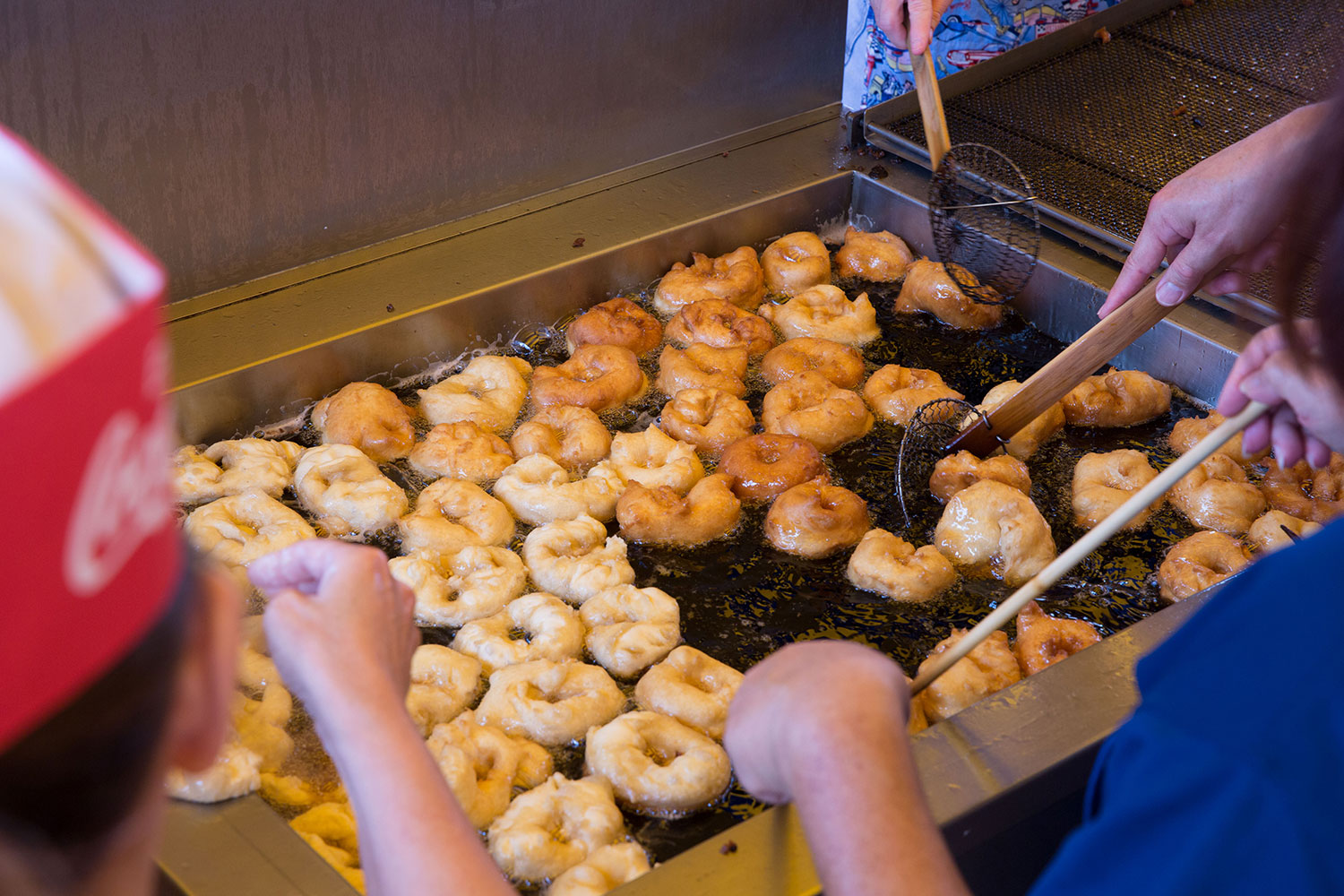 Photo: Courtesy of Punahou School
Punahou Carnival malassadas have a signature shape.
9. If you're taking the treats home, ask for your malassadas without the sugar on them. That way you can reheat then roll them in sugar at home for that fresh malassada taste.
10. Designate a meeting spot in case you get lost. The sound booth announces for lost (and found!) children for free.
11. Head to upper campus for more space. If your kids need to run around and burn off some energy during meal time, get your food and go to quiet spots on the upper campus to eat. You don't have to stay on the midway.
Check out the free entertainment (and tables) at Dole Hall, home of Hawaiian Plate, where you can enjoy a lineup that includes George Kuo, Aaron Mahi and Keith Cockett, ManoaDNA and Pomaika'i Lyman. Find the full schedule on the website and select the drop down menu.
The 2020 Punahou Carnival is Friday, Feb. 7 and Saturday, Feb. 8 from 11 a.m.—11 p.m. 1601 Punahou St. Find all the details at punahou.edu