Guide: Honolulu Night + Market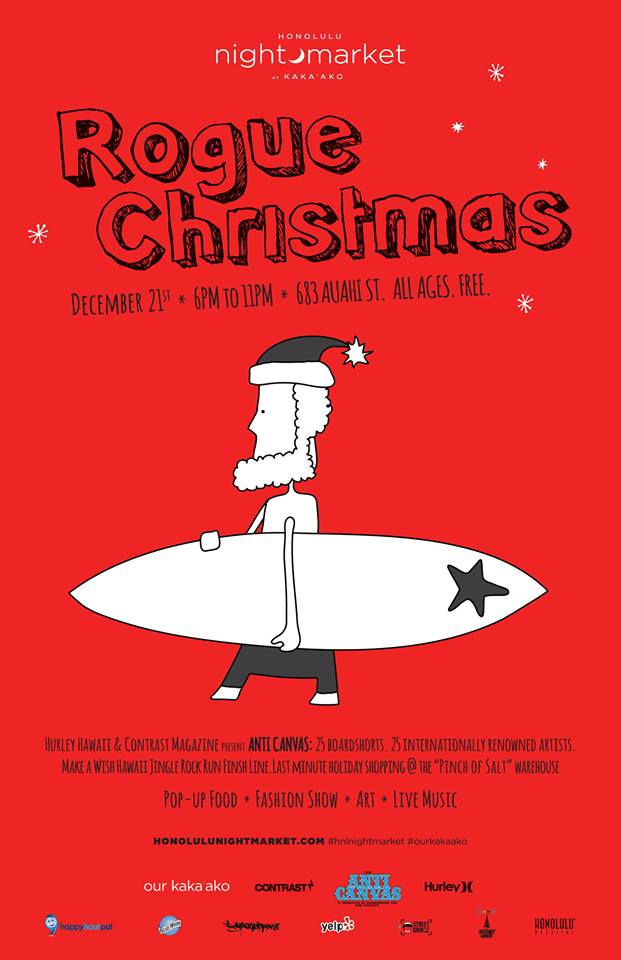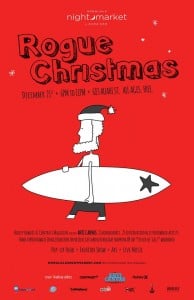 It's gonna be a Rogue Christmas in Kaka'ako, as Honolulu Night + Market caps the year with a festive lineup. The monthly streetfest once again will be the place to be for entertainment, fashion, shopping, art and food.
If you haven't signed up already, consider taking part in Make-a-Wish Hawaii's Jingle Rock Run, a 5K race and Keiki Sprint (ages 12 and under) to help grant the wishes of children with life-threatening medical conditions. The fun run will take runners and walkers through Kaka'ako, Downtown, and then back to Honolulu Night Market. Festive attire is encouraged, and strollers and pets are welcome. All proceeds benefit Make-A-Wish Hawaii. If you'd like to take part in the event, register now at raceroster.com
If you'll be participating in the event, be sure to email a photo of yourself, keiki, pet(s) and anyone else who'll be running/walking with you. (Please email photos to editor@nonstophonolulu.com and include your name, phone number with subject line of "Jingle Rock Run") The photo can be sent before the race, during the race, or even right after. We'll be posting a gallery later this week of the photos, and giving out a $50 Hank's Haute Dogs gift card to the person who sends our favorite photo. Contest ends at 11 p.m. on Saturday, Dec. 21.
And don't forget to like the Our Kaka'ako Facebook page. Those who "like" the page between now and the end of Saturday's Night Market will be eligible to win a $100 gift card from Highway Inn Kaka'ako.
What: Honolulu Night + Market
When: Saturday, Dec. 21 from 6 to 11 p.m.
Where: Auahi Street between Keawe Street and Lana Lane
Admission: FREE
Parking: On-site and street parking, including Eat the Street lot one block away at 555 South St.
Connect: #ourkakaako #hnlnightmarket @ourkakaako (Instagram)
Here's a rundown of the food, retail and entertainment.
The entertainment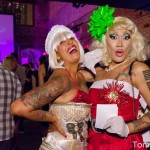 Entertainment lineup on the Main Stage:
6 p.m. – An acoustic act (TBA)
7 p.m. – Drag Queen Ms. Rhonda Corner performing 12 Days of Christmas
8 p.m. – Fashion show styled by Salt + Sand owners Kerrie and Jasmine
9:30-10:30 p.m. – Alt-rock band Above Reproach
Anti-Canvas Art Show – starts at 6 p.m.
The fifth annual event, previously held in Chinatown, showcases art on board shorts from 25 local and international artists, including John John Florence, Clark Little, C.R. Stecyk III, Tim Hendricks, Keoni Payton, Aaron Kai, Carl Pao, Aly Ishikuni, Remi Mead and Dana Paresa. Proceeds from sales of the boardshorts will benefit Hawaii Foodbank and Waves For Water's campaign to help victims of Typhoon Haiyan.
Bids will be accepted for all boardshorts and sold by silent auction.
Pinch of Salt shopping:
Alohilani Boutique (women's clothing, swimwear)
Armed & Dangerous
Bamboo Sky (shoes, accessories)
Cottage By The Sea (women's clothes, accessories)
Happy Fish Hawaii (shirts with smiling fish)
House of Aria (women's clothes, accessories)
Imi Jewelry (shoes, accessories)
Jewelry by Justine (handmade jewelry)
Kane Clothing Company (tshirts, etc. for men)
Lei Chic vendor: Hawaii Doggie Bakery (dog treats)
Loveburd Denim (hand-decorated women's denim shorts)
Mojo Barbershop (men's grooming products)
Nomads Hawaii (cultural gifts)
Noteworthy (men's clothes, accessories)
Oopsy Daze (children's clothing)
Shaneila Designs
Tiare Hawaii (women's clothes)
UDown (shirts, hats, slippers, more)
Yellow Bird Bohemia (hand-painted trucker hats)
The food
AND …
Flavors of the World: TBA
Impressed Juice: TBA
Kaukau Grill: TBA
Life is Sweet:Hawaiian-style Italian sodas and ginger soda floats with sorbets
Momo Burger: TBA
Otsuji Farms: TBA
Soul Patrol: Chicken and waffles, feta mac 'n cheese, soul food
Waialua Sweets: TBA