Our Guide: The 50th State Fair 2016
Our 9 Tips to Navigating This Year's Fair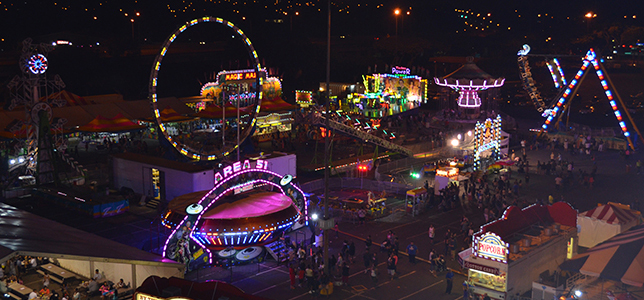 The 50th State Fair is a staple of summer fun in Hawaii. Every year, my entire extended family descends on Aloha Stadium for games, a whirl on the rides, live performances and, of course, funnel cake.
Cassera has been eagerly awaiting the start of the 50th State Fair so she can unleash her inner wild child, as much as she can on rides for kids 40 inches and shorter.
We got in touch with EK Fernandez to get the scoops on what's new this year. Plus, we offer a few tips from our own experiences at Hawaii's biggest fair.
Tip 1: Understand the New Fun Pass System
Remember standing in one line for ride coupons and another (usually longer one) for food scrip? No more. Starting in 2016, EK Fernandez is introducing the Fun Pass as the main way to pay your way through the fair. One bonus, besides eliminating two different forms of tickets, is that you can use a credit card to pay for your fair fun.
Here's how it works: Stop by the bank of kiosks near the entrance to buy a card charged with anything from 50 to 1,000 credits. It roughly breaks down to about 10 cents a credit. Swipe the card to pay for admission, rides, food and some games. You can recharge it or check the balance at other kiosks throughout the fair. Bring some cash, however, as some games won't have the swipe technology ready yet. The petting zoo also will take money.
One more note, the fun pass also means the popular 10-ride wristband will no longer be sold.
Tip 2: Go Against the Crowds
The busiest times are Saturday nights, 7-9:30 p.m. When our group of 18 went (four families, eight kids) at 4 p.m. on a Saturday, we dealt with very few lines.
Ride with the longest line: Zipper. This is mainly because each car take time to load and only accomodates two passengers.
Ride with the shortest line: The Magic Maze, aka the fun house.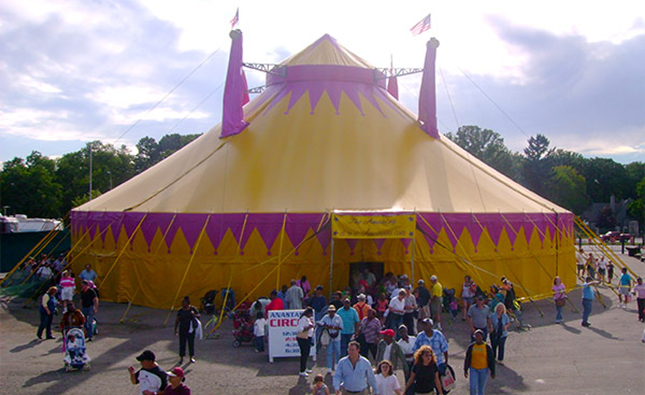 Tip 3: Know The Show
This year, there is just one free show at the fair, and it's a big one. The Anastasini Circus will perform in a 40-foot-tall tent, that's almost twice as tall as the tents in the past. With that, comes a new high wire act and aerial stunts that couldn't be done before.
The show will change. The first three weeks will feature magic, illusions, the aerial and high wire acts. The last two weeks of the state fair, families won't see the magician, but dancing dogs, a pony act and the Russian Swing will debut under the really big top. Organizers were not sure if there is audience participation involved in the circus, but people are welcome to take photos with the performers after the show.
What are the best seats? That's up to you. new tent can accomodate 900 people. Whether you want to sit front and center for the best view or by the entrance for the easiest exit (especially for those with small bladders), we suggest arriving about 20 minutes early to secure your spot, especially if you have a big group.
Tip 4: Park Closer to the Entrance.
Skip those empty stalls when you first drive in. The spaces along Salt Lake Boulevard are closer to the main entrance, so you can avoid a three-minute walk toting tired kids, prizes, half-finished drinks and bags back to the car.
Remember, parking is $7 for each car. You can get a cheaper rate on Sundays when the swap meet is open. Arrive before 3 p.m. to pay $1 a person, with kids 11 years and younger going in for free.
Tip 5: Visit the Bathrooms in the Front.
The trailers located just off the entrance were usually less busy and a little cleaner than the ones back by the performance stages. Here's another note: Bring your own paper towels, those tend to run out quickly.
Tip 6: See the Babies.
The Hendricks Petting Zoo arrived on Oahu with a new arrival. A baby goat was born just hours before the ship docked. Donna Smith of EK Fernandez tells us it probably won't be the only little one. The zoo believes about 12 babies will be born during its month in the islands. For three dollars, kids can touch alpacas, goats, sheep, ponies, pigs, a turkey and cows. If you want to feed them, it will cost extra.
Tip 7: Note What's New
The Zipper and Ferris Wheel are always favorites. But you'll find the new Equinox ride only at the 50th State Fair.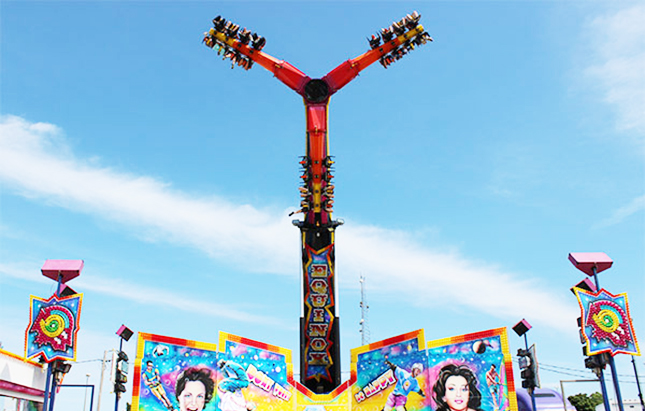 Photo:EK Fernandez
This stomach-turning ride takes people 75 feet up into the air, flipping them while it rotates. It's not really for younger kids, the minimum height requirement is 55 inches. The Equinox will cost 70 credits and is not included in discount days.
Also new this year are two food vendors. Dick's Lechon will sell its freshly roasted pork belly with super crispy skin. Chamorro Grindz dishes out Guamanian food. To be honest, we know little about Guam dishes, but we spotted shrimp patties, Chamorro empanadas, red rice and a chicken, coconut milk and toasted ground rice soup called Chalakiles.
Tip 8: Pay Attention to Discount Days
Certain discount days can save you cash on group outings. In general, admission is $3 Sunday afternoons and Saturdays in the early evenings. It will go up to $5 at 6 p.m. Kids under 40 inches are always free.
May 30-Military Appreciation Day. Free admission for active duty and retired military personnel and dependents, courtesy of Pasha Hawaii.
30 credit ride days-May 29 and 30, June 5 and 12, noon to 6 p.m. June 9 and 17, 6 p.m. to closing-All rides, except the Equinox, will be 30 credits (about $3). 

20/20 Special, June 19, noon to 6 p.m. June 26, noon to closing-Admission and rides will be 20 credits (about $2), except the Equinox.
To put these discounts in perspective, during regular days, the bigger rides range between 40 and 60 credits.
Tip 9: Go in a Group
The party package that was a Best of HONOLULU Family winner has also changed this year. It is still an easy way to save money and gain some convenient perks. All you need is 10 people (your kids and their besties, the soccer team, the cousins) and for $30 a person, each will receive:
• 360 credits, a $36 value. However, you do have to pay $1 a person for the card itself, so it's really like a bonus $5 to spend. However, if you use this on one of the 20 credit days (see above) you can really save cash.
• A reserved table. We found this spot was handy for parking water bottles, prizes and as a meet-up point throughout the night.
Please note, the party packages require reservations in advance and are only available on Saturdays, Sundays and Memorial Day. Groups bigger than 50 can get a better deal with the Corporate Party Packages which includes 600 credits, a $60 value, for $50 a person, plus that $1 a card charge. You can reserve these parties any day of the week and also receive use of a stage and sound system.
The 50th State Fair opens Friday, May 27 and runs every weekend through June 26. Go to ekfernandez.com for the complete schedule or call 682-5767 for more information.