5 Fin-tastic Activities To Get Your Keiki Excited for Baby Shark Live in Hawai'i
We found Baby Shark cereal, costumes and more!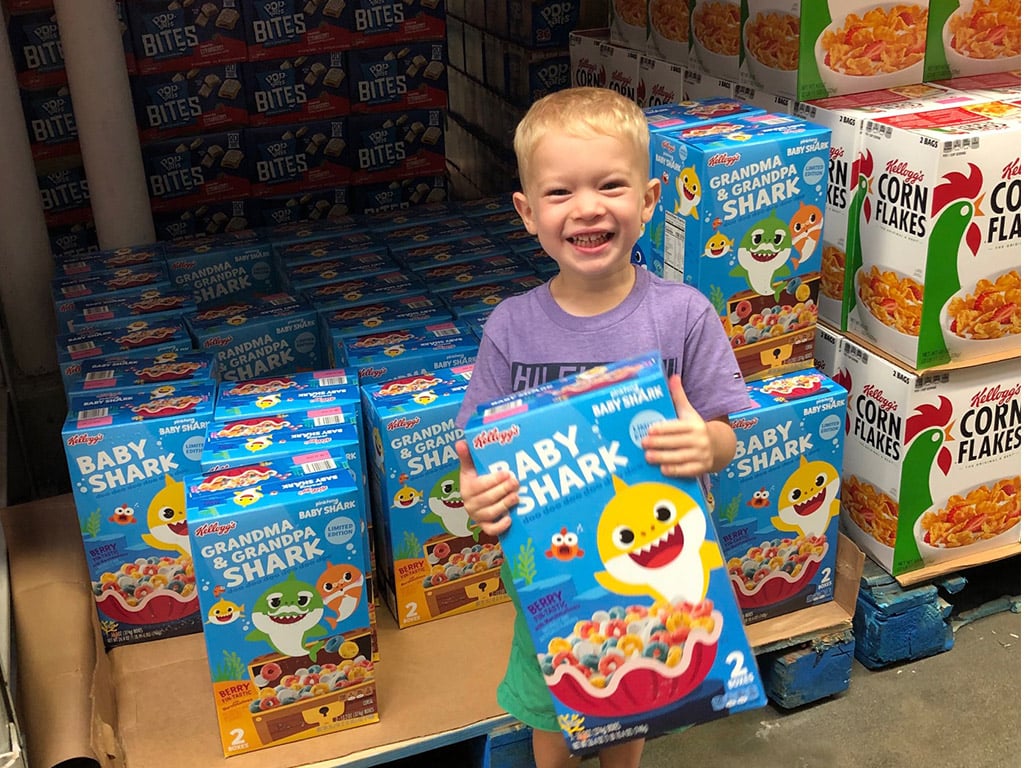 Photo: Laura Dornbush
We found Baby Shark cereal at Sam's Club in Honolulu.
Since HONOLULU Family announced that the Baby Shark show is coming to Honolulu in November, my toddler's obsession of the song, characters and sharks in general has exploded. Duke, my 2-year-old son, grabs my iPhone from the kitchen counter and asks Siri to play the tune over and over.
I must admit the song is catchy, and I'm dumbfounded (and in awe) at how Pinkfong has made a terrifying predator cute and cuddly. Its marketing genius has our family wrapped around its tail, for sure.
Ride the wave of Baby Shark madness with us and check out these activities before the big event next month!
1. Learn a lesson from a shark.
One of Duke's favorite book series of late is Clark the Shark written by Bruce Hale and illustrated by Guy Francis. Clark is a likable juvenile shark who navigates the hard lessons of growing up by creating rhymes to repeat to himself. The picture book series tackles relatable concepts like sharing, fear of the dark and playing nicely with others. Duke loves the catchy character names, like Clark's best friend "Joey Mackerel," and the rhyming lines.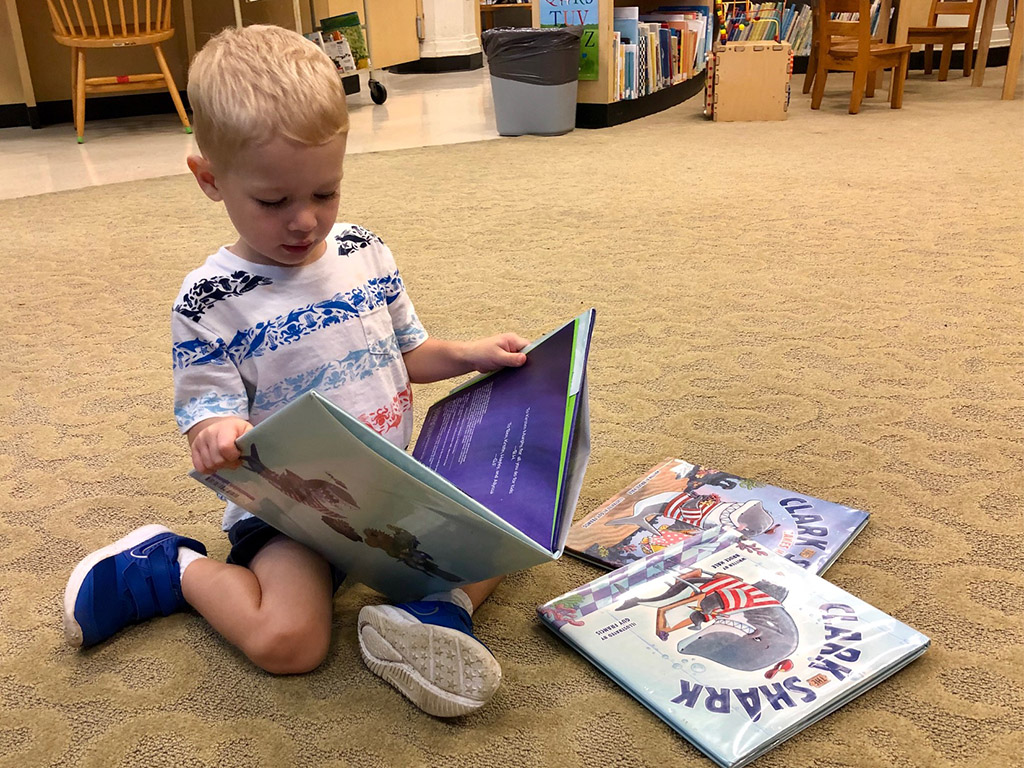 Photo: Laura Dornbush
Find copies of Clark the Shark books at your local public library.
Tip: Use the Libraries Hawai'i app to find the books at a public library branch near you. Place a hold on them so you can run in to pick them up at the circulation desk. No hunting in the shelves!
---
Looking for tickets to the Baby Shark Live show? The best selection of seats is available for the Saturday, Nov. 23 performance at 5 p.m. There are just a few tickets left for the other shows. Buy them now at ticketmaster.com.
---
2. Chomp on cereal.
Kellogg's Pinkfong Baby Shark Limited Edition Breakfast Cereal is available at Sam's Club locations now and was expected at Walmart by the end of September. As of this posting, it hasn't arrived at O'ahu Walmart stores. We picked up our twin-pack catch at Sam's Club. Duke was so excited when he saw the cereal that he begged to get down out of the cart and fish for the box himself. The eye-catching artwork on the packaging kept him busy for the remainder of the shopping trip while he identified "Baby Shark, Mommy Shark and Daddy Shark."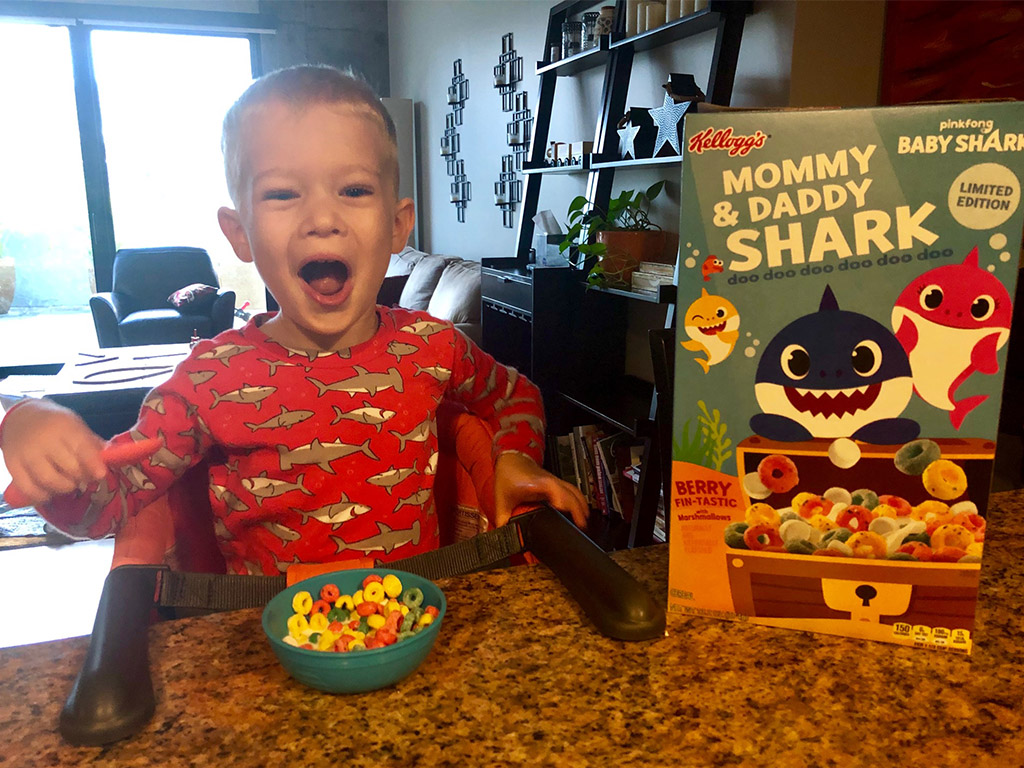 Photo: Laura Dornbush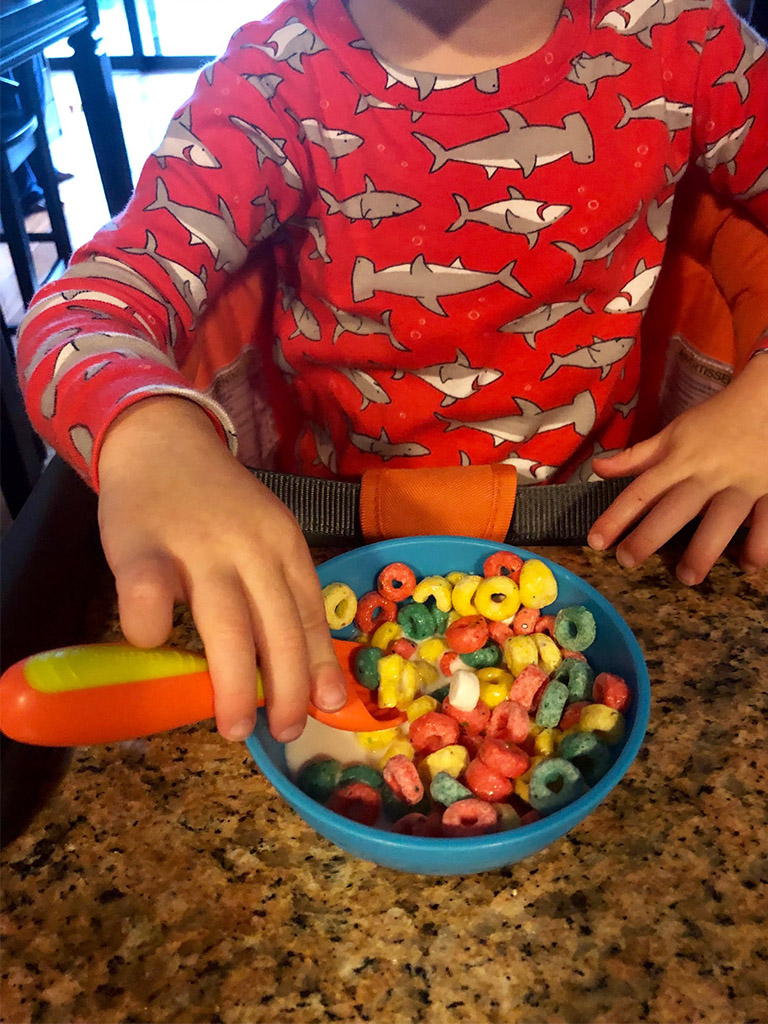 Photo: Laura Dornbush
While Duke gave it an "A" for presentation and sweet taste, this Mommy Shark gave it a doo doo "D" for its un-imaginative berry fin-tastic loops with marshmallows (that aren't shaped like sharks), high sugar content (15g per serving!) and use of artificial food dyes (red 40, blue 1, yellow 6, yellow 5 and red 3). We'll savor it as a treat for the day of the show but won't be making it a daily morning ritual.
Tip: Skip the long checkout lines at Sam's Club by using the Scan & Go feature on the store's app. Just scan your items with your phone, pay via the app and show your receipt as you exit. We made a fast, clean getaway!
3. Watch sharks chow down.
There is something about seeing these animals eat that gets kids so excited. Perhaps it's the chance to catch a glimpse of a shark tooth or that they can relate to enjoying a meal. Both the Waikīkī Aquarium and Sea Life Park Hawai'i invite you to observe shark feedings. Visit Sea Life Park daily at 1:10 p.m. (except Tuesdays) for a Shark Cave Feeding and Trainer Talk.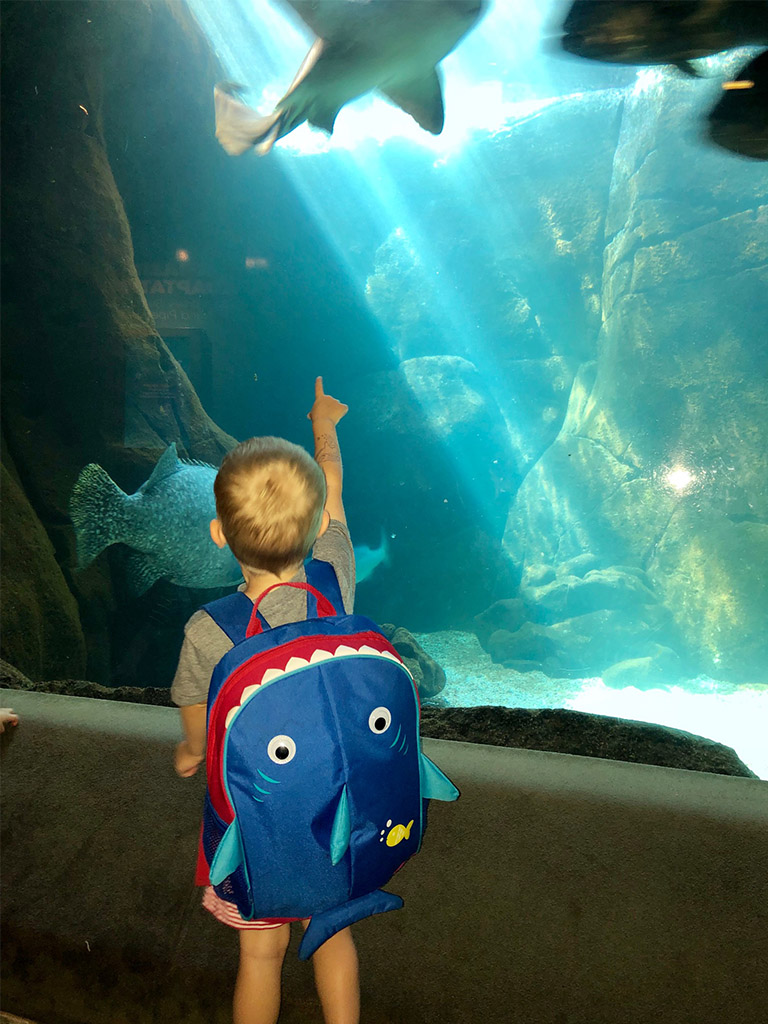 Photo: Laura Dornbush
Catch the shark action at Waikīkī Aquarium!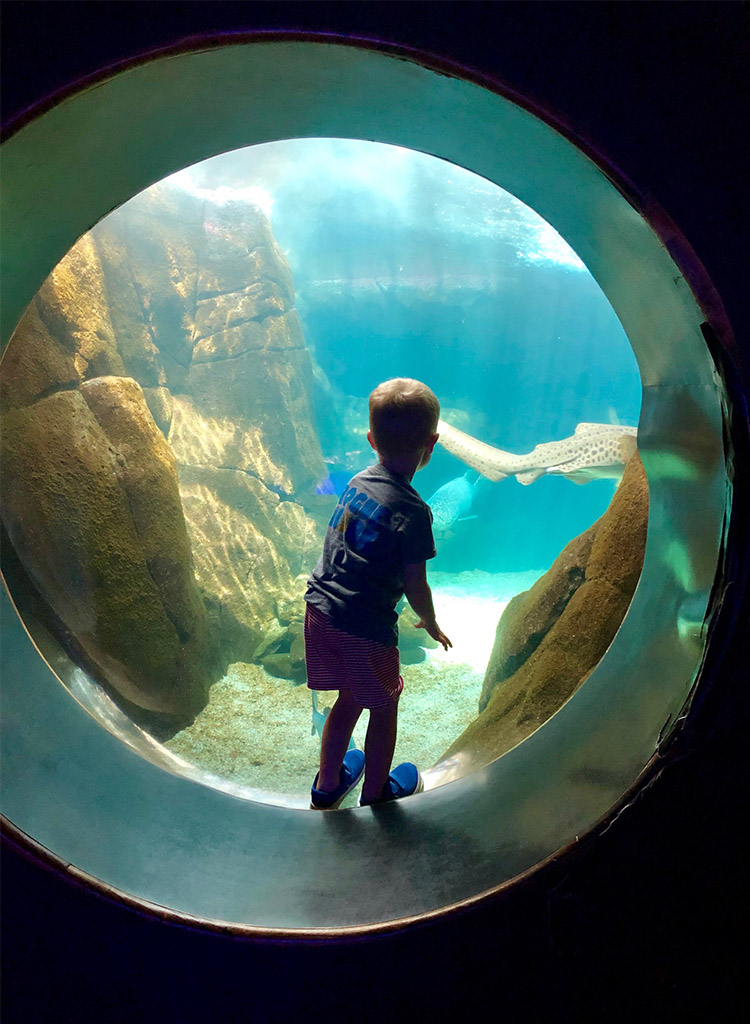 Photo: Laura Dornbush
Keiki can get their shark fix at Waikīkī Aquarium.
Duke enjoys eating his morning snack during the Shark Cave Show, and I'm relieved to escape into the shade for a while. The Waikīkī Aquarium offers a Shark Feeding Viewing and Trainer Talk on Thursdays at 11:30 a.m. No food (for the humans, at least!) is allowed inside, so plan your snack schedule accordingly.
Tip: Listen to the Waikīkī Aquarium Audio Guide via your smart phone while you tour the facility. There is a channel specifically tailored for keiki. Don't miss exhibits 14, 29, 31 and 32, which are all about sharks!
4. Play a game.
Download the State of Hawai'i's Division of Aquatic Resources' Reef Defender game for free on your desktop or tablet to learn about the connection between land and sea. The shark, the protagonist in this game, boots harmful items out of the ocean before the water gets too murky. I like the short-but-sweet lesson at the beginning about how ancient Hawaiians recognized the importance of stewardship. It's a quick, rudimentary game that can be played by anyone from toddlers to adults.
Photo: Laura Dornbush
Tip: The tablet version (Android or iOS) of the game uses either touch or accelerometer (movement of the tablet) to play, while the desktop version uses the arrow and space bar keys. The tablet touch version was the most successful for Duke's toddler hands to navigate.
5. Become a shark.
I saved the best for last. The ultimate experience is to actually transform into a shark for Halloween. With baby, toddler, adult and even dog sizes available, the whole family can get in on the hunt (for candy, of course). Duke and I stalked the halls of Target wearing some wallet-friendly generic shark costumes.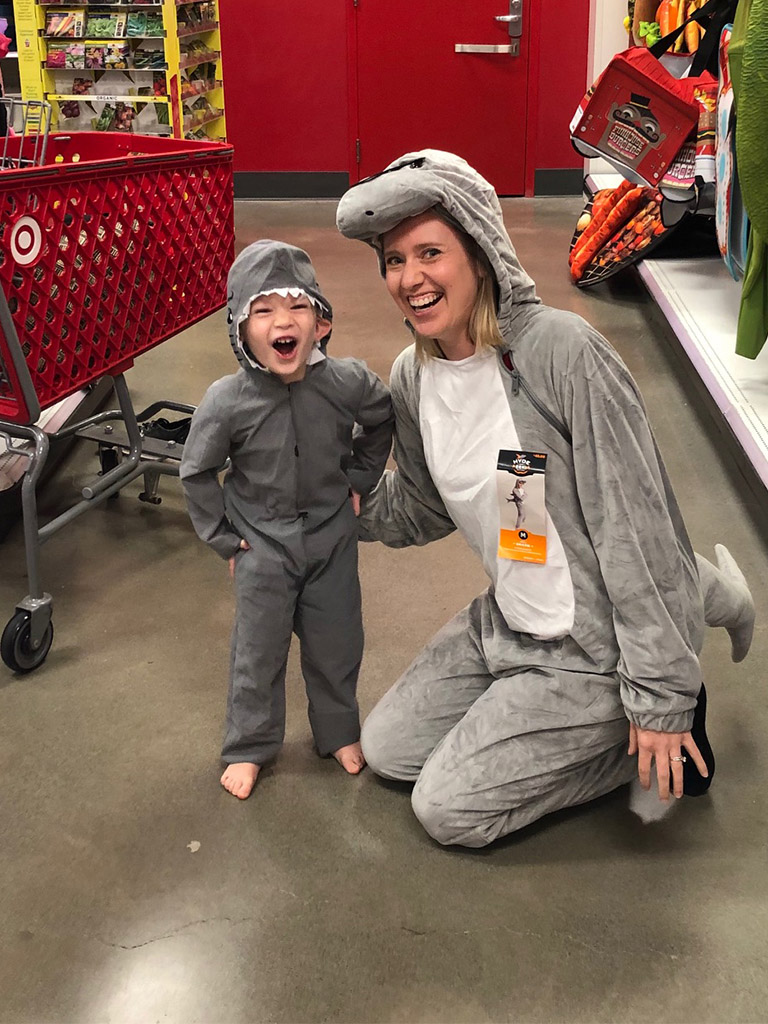 Photo: Laura Dornbush
Mommy Shark and Baby Shark go hunting at Target.
If you want to go all-out, Party City carries the official Pinkfong toddler costume, which sings the Baby Shark song. The official Pinkfong adult costume and dog costume are available for pre-order online now. Or, if you are just looking for the perfect shirt for your Baby Shark to wear to the November show, check out the locally made Baby Shark onesies and T-shirts (3-6 months to 6T) by am BABY at Hopscotch Honolulu in Ward Centre.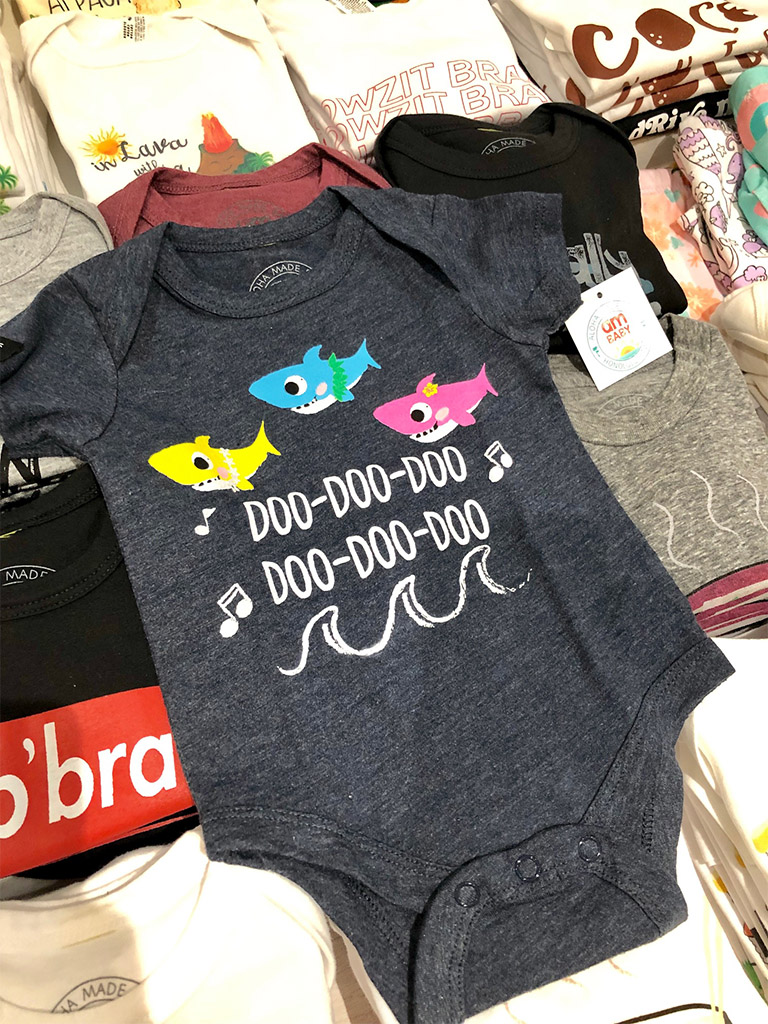 Photo: Laura Dornbush
Tip: Unfortunately, most of the shark costumes we encountered have long sleeves and long pants, which will leave your family hot and sweaty on Halloween night here in Hawai'i. Consider opting for just the hood portion of the costume paired with a gray t-shirt and shorts, or cut the sleeves and pants with sharp scissors to create a jagged edge that resembles a shark bite.
---
The Baby Shark with Max & Ruby Mini Show will hit the stage at the Neal Blaisdell Concert Hall on Nov. 23 and 24. Prices start at $15 for balcony seats and $25 for floor seats. Kids younger than 2 are free. Tickets are on sale now through Ticketmaster. Mahalo to Hawa'i State Federal Credit, Aloha Island Mart, Hawai'i Dental Service and The Surfjack Hotel & Swim Club.