Events: Eat the Street: Pork, Okinawan Festival, Antica and Antinori wine dinner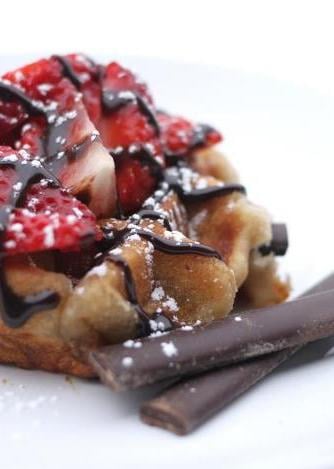 This month's Eat the Street theme is pork, so pig out on dishes like stuffed pork chops from Cooking Fresh for You, and treats such as bacon macaroons from Cake Works, Eat Honolulu's chocolate dipped sugar spice bacon strips that we featured in Sweet Treats, maple bacon gelato from Il Gelato, and a peanut butter and candied bacon pop from OnoPops. Even Leonard's is joining the fray with a pork and beans cupcake (what!?). I'm particularly excited about Wow Wow Waffles, offering Belgian Liege waffles, a treat made from yeasted dough, making it more like a sweet, chewy-crisp bread than a typical waffle. I'm not waffling; I'll be there!
Friday, August 31, 4 to 9 p.m., 555 South St.
30th Okinawan Festival: Okinawans have one of the longest life expectancies in the world, but you wouldn't attribute it to diet, based on the food offerings at the Okinawan Festival: andagi, anda pops (andagi dipped in chocolate), andadogs (andagi-battered hot dog), oki dog (hot dog, Zippy's chili and shredded shoyu pork wrapped in a tortilla) and pigs feet soup. A touch healthier is Aloha Tofu's tofu mousse (trust me, it tastes better than it sounds) in flavors of chocolate, strawberry, pineapple, and cheesecake. The Okinawan Festival is one of the largest cultural events in Hawaii, attracting over 50,000 people. It sells more than 120,000 andagi over the weekend, perhaps making this the second largest fried dough fest in Honolulu (second to Punahou Carnival and its record 172,000 malassadas). Life if short (or long, if you're Okinawan): eat andagi.
Sept 1-2, Kapiolani Park, okinawanfestival.com
The Beachhouse at the Moana offers an Old World, New World wine dinner with Glenn Salva, Antica's wine estate manager, in attendance. The four-course dinner, featuring Antica and Antinori wines, includes hors d'oeuvres of veal sweetbread karaage, an appetizer of confit pulpo (octopus), crab hushpuppy and prawn with uni butter; Hawaiian Bistecca paired with a 2008 Antinori Tignanello; and a kabocha budino to finish. In addition to being an opportunity to try new wines, it's also a chance to taste chef de cuisine William Chen's food outside of the usual Beachhouse menu. Chen, who was the sous chef of the Beachhouse opening team in 2007, left to helm Makana Terrace at the St. Regis Princeville, and returned early this year to the Beachhouse.
$135, 6:30pm, Tuesday, September 5, 923-2816