Mother's Day 2018: Five Things To Do With Your Family
From horseback rides to water slides, moms receive special discounts this weekend.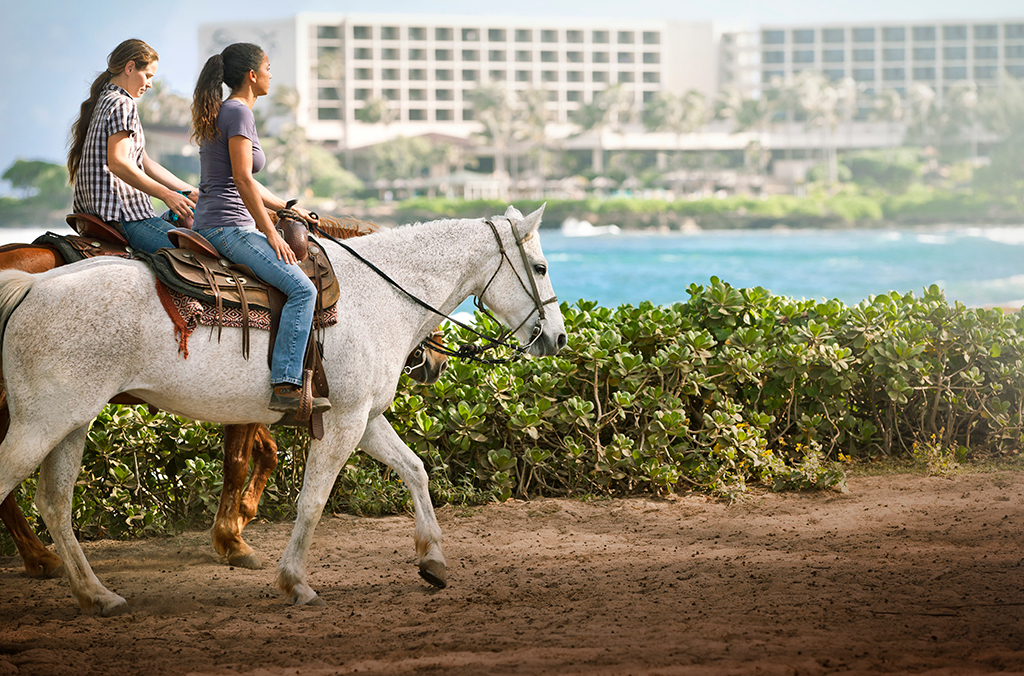 Photo: Courtesy of Turtle Bay Resort
Turtle Bay Resort Horseback Ride
Mother's Day is this Sunday. What are your plans? Here are five fun activities that moms can do with their families over the weekend.
1. Mother's Day At Turtle Bay
When: Saturday and Sunday, May 12-13. Times vary.
Where: Turtle Bay Resort, 57-091 Kamehameha Highway, Kahuku
At Turtle Bay Resort, moms can ride horses with their families for free and receive "moms-only" discounts of 50 percent off tee times and kayak rides. Kayaking takes place all weekend in Kawela Bay, past marine life and World War II wreckage. Tee times are applicable from 7 a.m. to 4:30 p.m. daily between now and May 14. For free horseback rides, moms must book reservations with a regular-priced adult for this Saturday or Sunday, 8:30 a.m., 9:30 a.m. or 10:30 a.m. Click here for details.
2. Beauty Day and Pop-Up Market
When: Saturday, May 12. 11 a.m. to 5:30 p.m.
Where: International Market Place, 2330 Kalākaua Ave.
shopinternationalmarketplace.com
Moms, send your kids to Anthrolopogie's card-making station for kids, while you shop for home decor, skincare and jewelry at the store's pop-up market from 11 a.m. to 3 p.m. Light refreshments and complimentary candy bites from Sugarfina will be provided. Then from 1 to 5:30 p.m., Queen's Court on level 1 will host a "Beauty Day," featuring live demonstrations, free samples and beauty tips for the season. Snap photos at the booth–with your kids–to celebrate your mommy makeover.
3. Jake Shimabukuro Concert
When: Friday to Sunday, May 11-13. 6:30 p.m. and 9 p.m.
Where: Blue Note Hawai'i, 2335 Kalākaua Ave.
Jake Shimabukuro–'ukulele artist and a father of two kids–is still in town and will perform two nightly shows this weekend at Blue Note Hawai'i. The 6:30 p.m. early show is recommended for families, so keiki can get home and into bed on time. Seating is first-come, first-served and includes a $10 food or beverage minimum per person once seated. Keiki-friendly menu items include burgers, rotisserie chicken and rice, fries, salmon, sandwiches and fountain drinks. Click here for tickets.
4. Na Mele O Ko Olina
When: Saturday, May 12, 9 a.m. to 5 p.m.
Where: Lagoon 3, Marriott Ko Olina Beach Club, 92-161 Waipahe Place, Kapolei
While their families play on the beach, Moms can browse Na Mele Ko Olina, an arts-and-crafts event featuring more than 40 local artists from the Handcrafters and Artisans Alliance. Available for sale are jewelry, hats and clothing, fabrics, woodwork, paintings and other locally made items. From 10 a.m. to 5 p.m., Hawaiian-music artists Kawika Kahiapo, Kalei Gamiao and Kula Abiva and others are scheduled to perform on the Great Lawn outside Marriott Ko Olina Beach Club.
5. Mother's Appreciation Day at Wet 'n' Wild
When: Saturday, May 12. 10:30 a.m. to 4 p.m.
Where: Wet 'n' Wild Hawai'i, 400 Farrington Highway, Kapolei
Spiral down a 130-foot water tunnel or challenge the kids to a four-lane water slide race at "Mother's Appreciation Day" at Wet 'n' Wild Hawai'i. Discounted admission tickets will be $9.99 for mothers only, and $25 per person. Click here to print out the coupon. Digital copies will not be accepted. For the preferred seating section along the Hawaiian Waters Wave Pool, we suggest reserving a space ahead of time. The park will give away prizes throughout the day, and the first 100 moms through the gate before 11 a.m. will receive free sunscreen by Ocean Potion Hawai'i. Other perks: $5 mimosa or Cape Cod cocktails; activities from Orangetheory Fitness and gift cards from European Wax Center. Read our guide to Wet 'n' Wild.
---
Looking for more Mother's Day events? Check out HONOLULU Magazine's "19 Special Mother's Day Menus."