Chinatown's Smith & Kings Has a Worthy Weekend Bar Brunch
With dishes like biscuits and gravy, fish and grits and strawberry shortcake, this neighborhood spot is more than just a bar.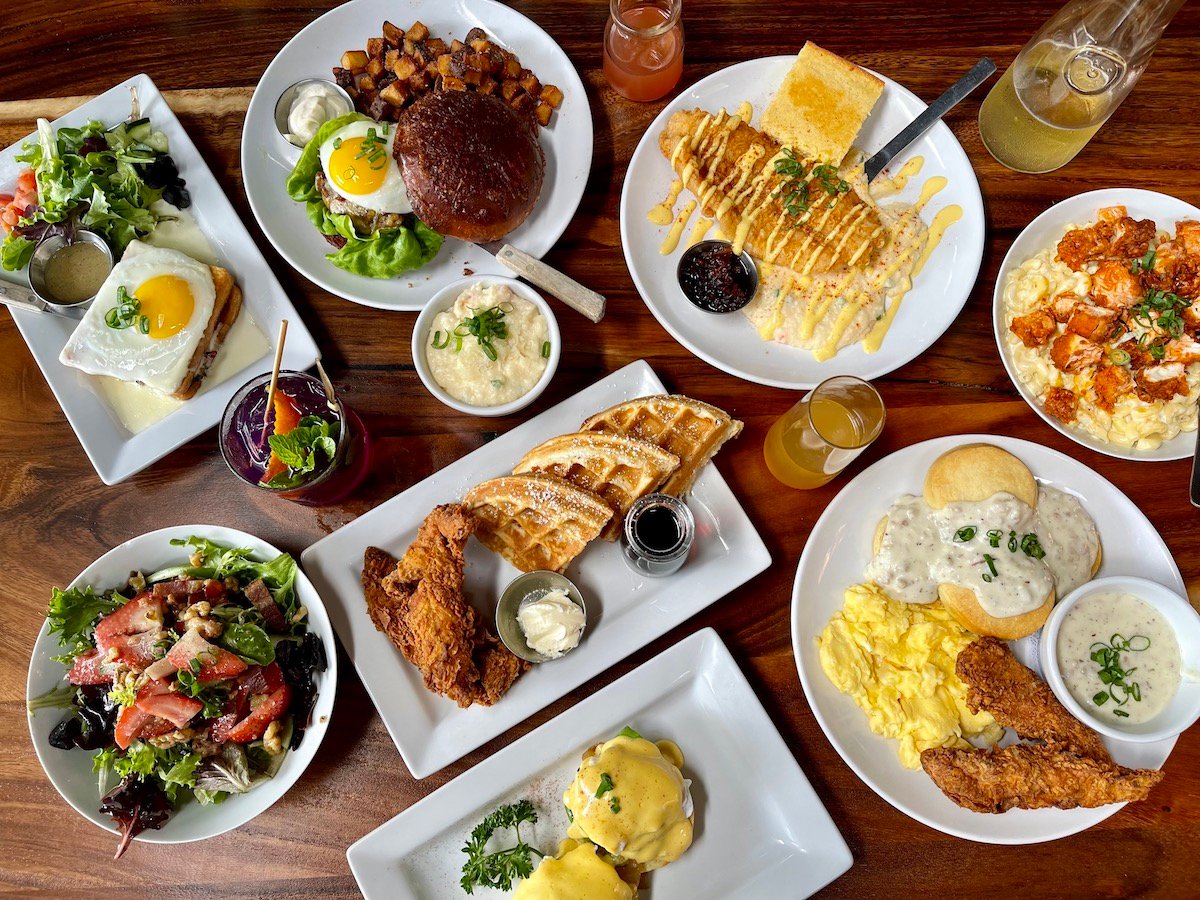 Whenever I hear about a bar that serves brunch, I can't lie—I always wonder if that brunch is worth going to sober. It's rare to find a balance between a true bar atmosphere and a fun, casual late morning meal in a clean and comfortable setting. So when I stopped by Smith & Kings to do some research for our recent roundup of new brunches in Downtown and Chinatown, I was pleasantly surprised.
Smith & Kings is one of Honolulu's only female-owned bars. Opened in 2015 by New Yorker Samantha Moore and her family, it serves up beer, craft cocktails and hearty East Coast-style fare. Moore closed the neighborhood bar when the building underwent renovations in December 2020 and reopened last November, bringing back the popular weekend brunch. After my initial visit, Moore invited me back to try a wider selection of brunch plates and drinks.
But first, mimosas, am I right? Our server brings a carafe of sparkling wine along with nine fruit juice options including freshly squeezed strawberry guava, liliko'i and even banana. My friend orders the King Iced Coffee made with whiskey, creme de cacao, Thai coffee and cayenne. It's lighter than you might expect, balanced and not too sweet with a formidable kick of caffeine. The bloody mary, which I tried on my first visit, is thick and spicy and comes with a slice of bacon. There's a brunch shot if you're feeling frisky, and our server drops off a gorgeous butterfly pea mocktail. The vibrant colors whet our appetites as we prepare to eat.
---
SEE ALSO: But First, Brunch: 4 New Brunches to Check Out in Downtown Honolulu/Chinatown
---
The brunch menu is extensive, with nine house special dishes plus a benedict selection, small plates and a few desserts. My friend and I are hungry enough to sample a wide swath of the menu: The brunch burger ($19), croque madame ($19), cajun fish and grits ($19), strawberry and walnuts salad (from the dinner menu, $14), country benedict ($15), chicken and waffles ($18), biscuits and gravy ($18) and The Mac Daddy ($16).
I walked in craving biscuits and gravy and this dish really hit the spot. You can choose fried chicken, house-made sausage or both (ahem, duh); these come with eggs your way, buttermilk biscuits and sausage gravy. Which, by the way, is creamy, peppery and slathered over the fluffy biscuits. The boneless fried chicken tenderloins are fried crispy and seasoned confidently. The sausage is on the salty side but makes sense when eaten with the biscuit and gravy. And there's a small bowl of extra gravy—bonus points for mind reading.
For sake of this post not turning into a novel I'll keep my other favorites short. The Cajun fish and grits is a texture and flavor fest, a thin filet of cornmeal-crusted white fish on a pile of house-made grits rife with peppers and Southern spices. While the bacon jam that comes with it is tasty, I would love a lighter sauce with a pop of acid to lift up the rich flavors instead. But I would order this again in a heartbeat. The croque madam, my friend's favorite, has a creamy mornay sauce that conceals thick smoked bacon and a sunny side up egg on white bread, with a salad on the side.
---
SEE ALSO: Hook'd Pan Roast Is Serving Up the Vegas-Style Bowls on Kapiolani
---
My ultimate favorite of the morning is The Mac Daddy, which I find out is also Moore's favorite dish: a pile of mac and cheese covered with chopped fried chicken that's been tossed in Frank's RedHot. It sounds simple, and almost not like brunch, but the combination of flavors and textures is so good. The mac and cheese is rich but not too rich, the tangy buffalo sauce filling crevices of the chicken and mingling with luscious, stretchy mozzarella. This is the Sunday brunch cheat day craving you didn't know you needed.
For dessert, we go for the strawberry shortcake and don't regret it. Pillowy angel food cake is torn and topped with fresh whipped cream and strawberries—simple and not too sweet, a perfect way to end a hefty brunch.
---
SEE ALSO: Find Tlaxcalli's Homestyle Mexican Fare in the Heart of Chinatown
---
The ambience at Smith & Kings leaves an impression—Moore has struck the balance I talked about. The space is clean and smells not like a bar. High ceilings create an airy feeling while sunlight coming through the Diamond Head side windows warms a stretch of burled wood tables. Big parties on this day have filled the bar with laughter and banter as brunchers play the Giant Uno games available for all. The service is thoughtful but chill. This is not a pinkies up place. On a Sunday morning, it feels welcoming and joyful. Even when you're sober.
Brunch on Saturday and Sunday from 9 a.m. to 3 p.m. 69 N. King St., (808) 744-5772, thesmithandkings.com, @smithandkings