Calling all Hawaiiana Collectors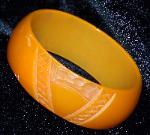 Tin Can Mailman, a beloved collectibles and antiques store on Kauai, is pulling up stakes and relocating to Oahu. The new store, slated to open November 6, will be at 1026 Nuuanu Ave., in the space that previously held Bonnie's Closet.
Tin Can Mailman specializes in vintage Hawaiiana paper, such as sheet music, ads from 1920s, '30s and '40s, pineapple labels, postcards and movie posters. "I have a lot of clients on Oahu already," notes co-owner Christopher Oswalt.
I'm excited about the store's large selection of vintage jewelry, including Bakelite and Ming's, as well as the tiki collectibles. If you're interested in vintage aloha shirts from the 1940s to 1970s, you'll find them as well.
Prices at Tin Can Mailman run from as little as $10 to $2,500. One note for previous fans of the store: Oswalt says he plans to no longer carry old books in general, only books that deal with the Pacific and Hawaii, particularly rare ones.
Store hours will be 10 to 6 p.m., Monday through Friday, and "will be a bit hit-and-miss the first few weeks," says Oswalt. He expects to have new inventory arrive every week.