20 new and coming restaurants in June 2020: Foodmap
From Kapolei to Hawaii Kai to Kailua, new eateries are popping up across Oahu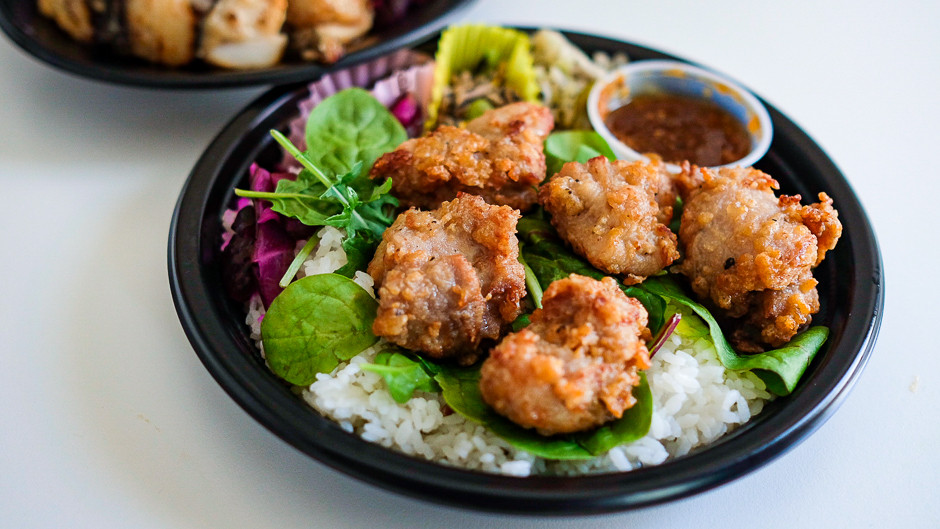 Not to jinx things, but at a time when we thought we would be covering more closures, we're seeing instead signs of confidence in brave restaurateurs. At least 20 new restaurants have opened in recent weeks or plan to open soon. It's more important than ever to support our local eateries any way we possibly can, so these glimmers of hope become enduring beacons for the future of our restaurant industry.
808 Bunsik
In Korea, you'll see bunsik street snacks everywhere, often consumed by children on their way home from school. Bunsik includes bowls of instant ramyun, tteokbokki rice cakes in a spicy-sweet sauce, kimbap sushi rolls and more. 808 Bunsik is an offshoot of 808 Toast, a Korean toast sandwich truck in Waikele, and aims to cure midafternoon cravings. The menu sounds fun with staples like cheesy tteokbokki and a spin on Korean fried chicken wings.
1273 S. King St. • Makiki • Opened in June
Agnes' Bake Shop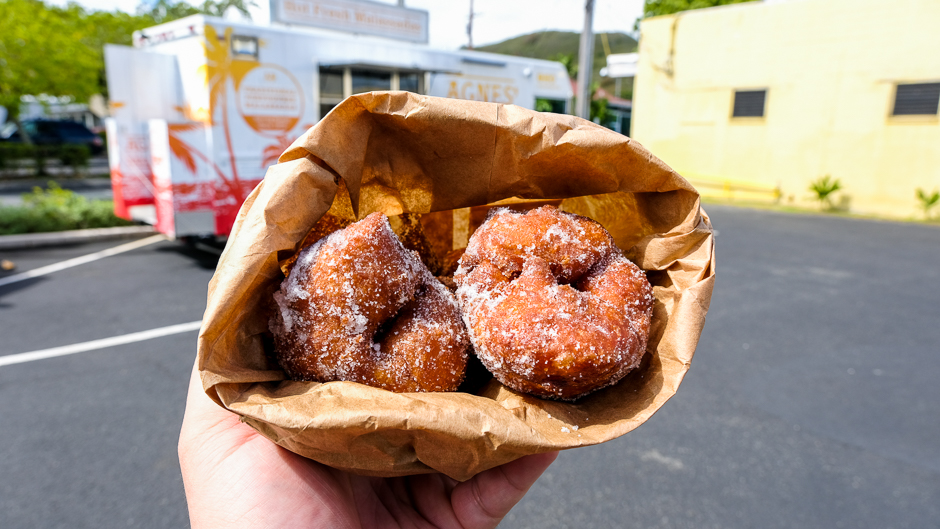 Agnes' Bake Shop set up a new malassada truck in the parking lot of Manuhealii in Kailua, just down the street from where Agnes' Portuguese Bake Shop had a storefront for nearly half a century. These freshly fried, crispy, slightly chewy morsels have been absent from the Windward side since Agnes closed in January 2018, so there's a lot of excitement about this little truck. A grand opening is slated for July with expanded hours and new roving locations across Oahu … it is a truck after all!
Manuhealii parking lot • 5 Hoolai St. • Kailua • Opened late May
See also: Sweet alert: Agnes' malassadas are back in Kailua
Chef's Poke & Roll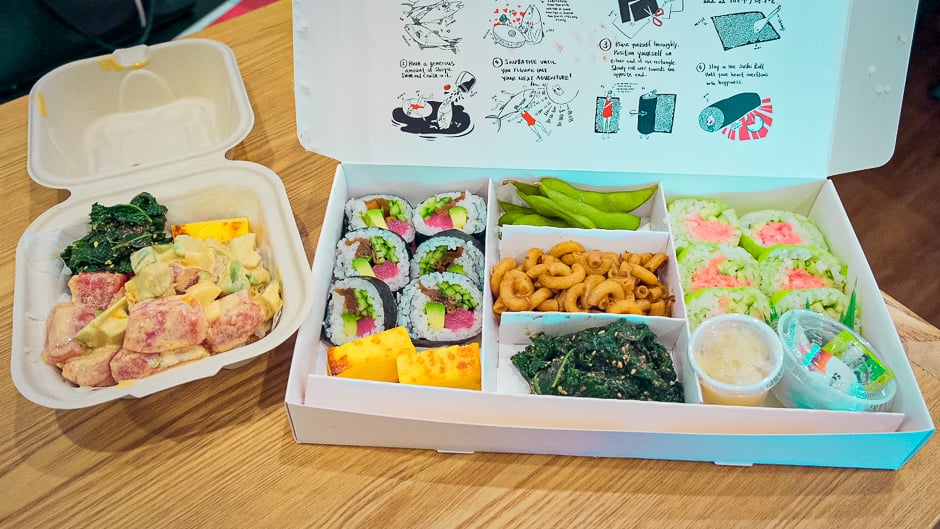 Sushi chef Hidefumi Sueyoshi of Michelin one-star Maruya in San Francisco crafts a casual menu of poke bowls and sushi rolls presented in a kawaii format. The flavors are light, suited for the Japanese palate, but ingredients are local when possible. It's a cool option if you're looking for an alternative to bring to a picnic at the beach. Just mind the pricepoint, which seems steep for a casual eatery: It's $8.50 for a 4-ounce poke bowl, and $19 for a two-roll combo box with three sides (both pictured).
611 Kapahulu Ave. • Kapahulu • Opened in June
Fooki
Fooki is a new noodle bar in Pearl Kai from the team behind Egghead Cafe. From what I can glean from Instagram, Fooki will deliver Asian comfort dishes in a very LA fashion. Neon characters signs, iconic melamine bowls and signature boba tea? I'm lining up to see what it's all about.
Pearl Kai Shopping Center • 98-199 Kamehameha Hwy Suite G-02 • Pearl Kai • Soft-opens July 3
Guieb Cafe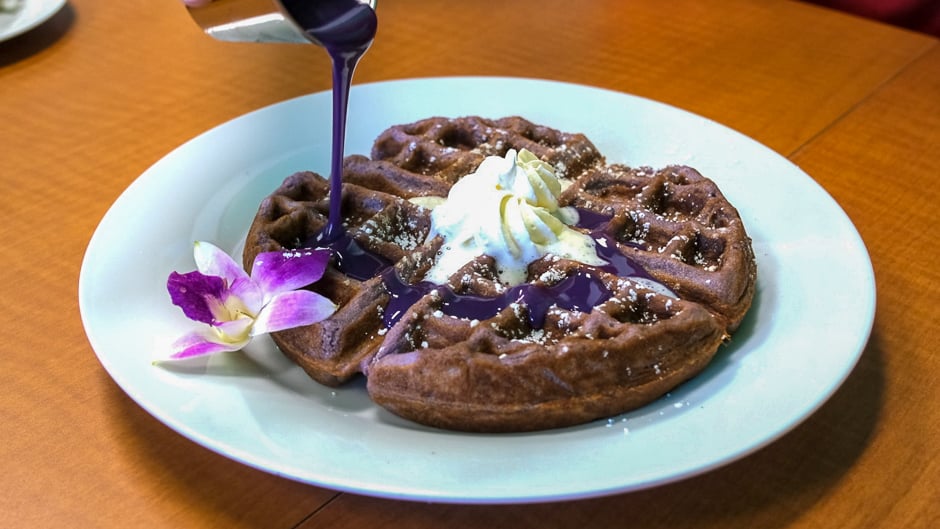 Ernesto and Maria Guieb started their namesake catering business in Waipahu in 2006. Now they've opened a restaurant in Kalihi where they've transformed their popular buffet catering options into a two-page menu with just about everything you can imagine. Other than at a Vegas buffet, where else can you get Nutella french toast, crab legs, prime rib, pie, omelets, fried chicken and sweet potato waffles with purple ooze sauce at the same time? Prices are almost too good to be true: Nothing is more than $15, including the oxtail soup and two sets of crab legs loaded with garlic butter.
1311 N. King St. Suite F06 • Kapalama Kai • Opened in June
Higoto Japanese Eatery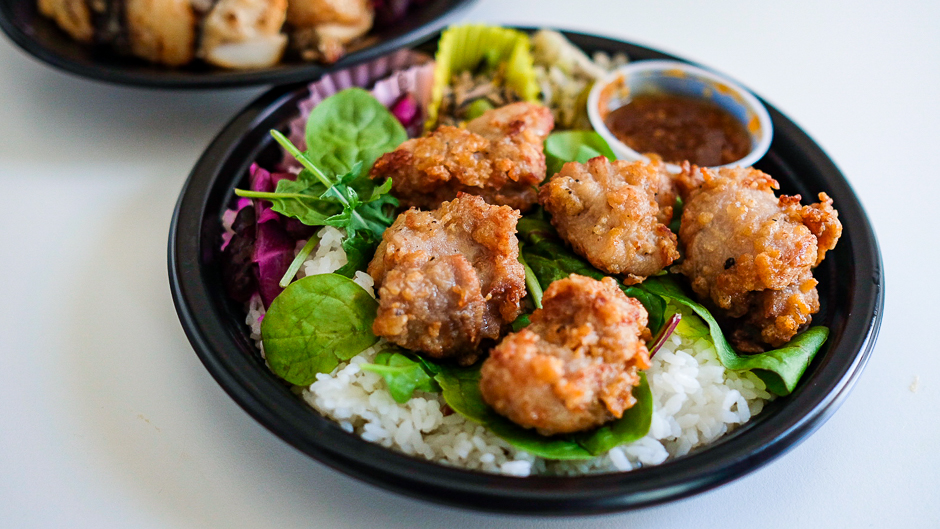 The new Higoto sushi and musubi takeout sits between Hawaii Sushi at Market City and Musubi Cafe Iyasume at Kahala Mall. Like them, it offers small, medium and full-meal choices for all appetites. It's easy to see stopping in for a quick snack or takeout meal after grocery shopping or an appointment. And especially given the relative scarcity of Japanese eateries and restaurants in general at this end of Waialae Avenue, Higoto is a welcome add to the Kaimuki food scene.
See also: Higoto brings elevated bento, musubi to Kaimuki
Kaimuki Shopping Center • 3221 Waialae Ave. A4 • Kaimuki • Opened mid-May
H Mart Market Eatery Food Hall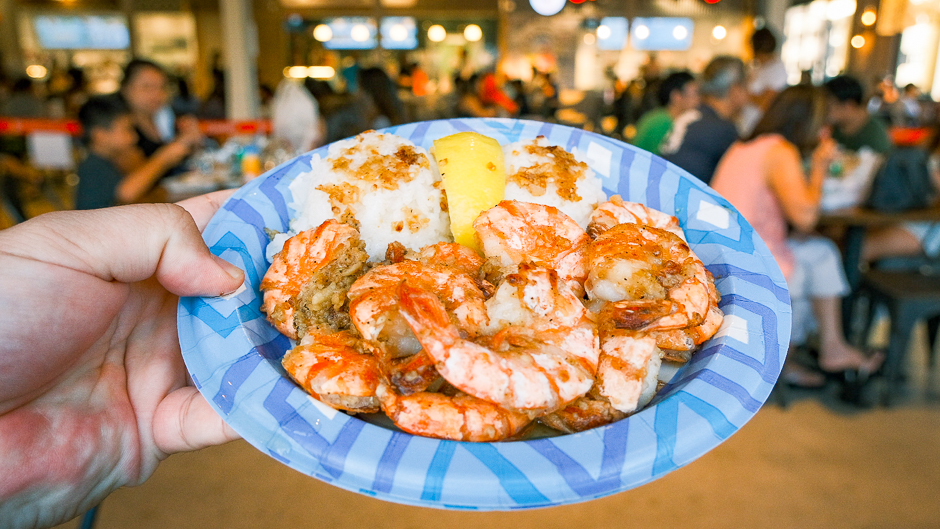 Eight local vendors including Kahuku's famous Giovanni's Shrimp and Waipio's Black Sheep Cream Co. have debuted their Honolulu locations upstairs from the city's newest Korean grocery. The beer bar, which most recently opened, boasts some of the coldest beers on tap with kegs located directly behind the wall.
H Mart • 458 Keawe St. • Kakaako • Opened late May
See also: H Mart soft-opens first Hawaii store and food hall
I-Naba Koko Marina
Finally! Authentic soba, tempura and sushi are coming to Hawaii Kai. I-naba's original King Street location is staying put, so this expansion adds to that and its four branches in the Los Angeles South Bay area. No date has been announced for the opening, but it can't come soon enough for those craving legit Japanese in East Honolulu.
Koko Marina Center • 7912 Kalanianaole Hwy • Hawaii Kai • Opening soon
Istanbul Restaurant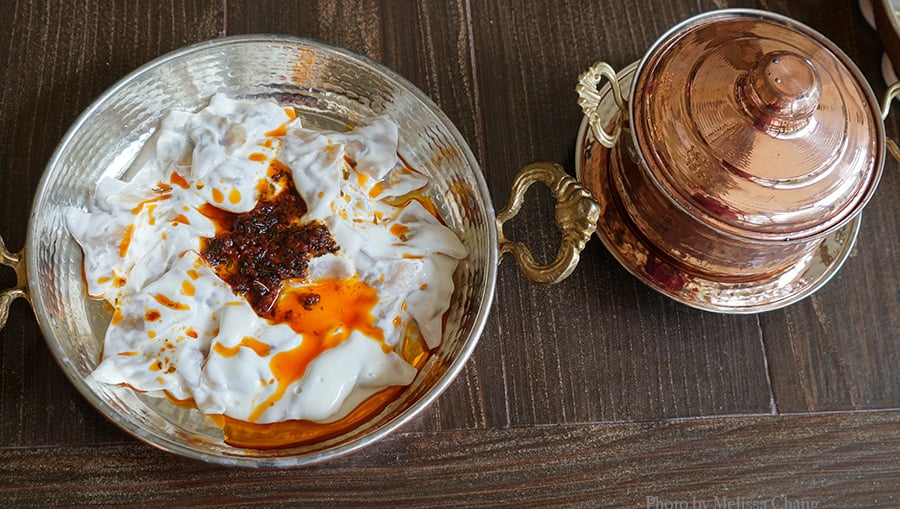 Istanbul has blossomed from a pop-up at farmers markets into a full-fledged restaurant on the ground floor of a swanky Ward Village condo. Talk about a major glow-up. Ahu Hettema's new restaurant will wow your palate with flavors of the Silk Road, the Mediterranean and beyond. Read the highlighted preview below and you'll understand why my mouth couldn't stop watering over the manti dumplings and baklava with Turkish pulled ice cream.
1108 Auahi St. • Kakaako • Opens late June
See also: Istanbul Restaurant brings unique Mediterranean flavors to Hawaii
Islander Sake Bar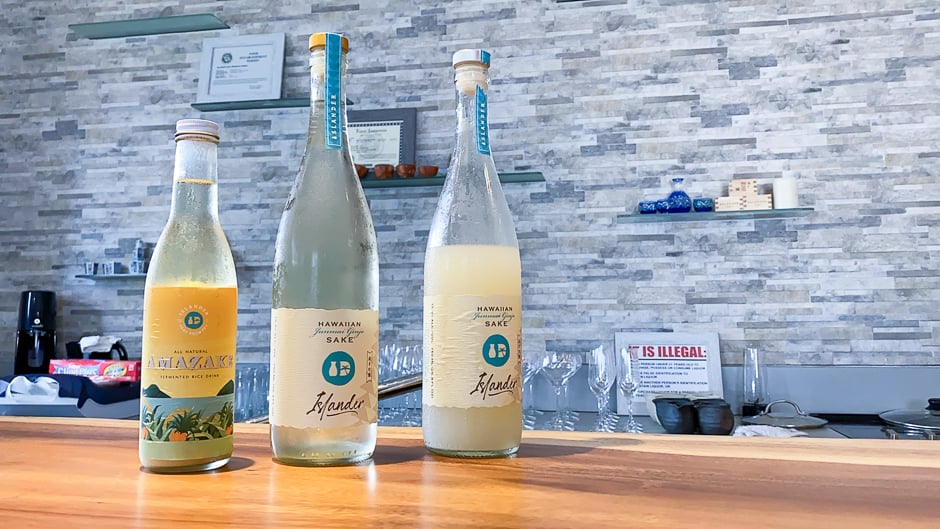 As a fan of sake, I sought out Islander's delicious amazake smoothie drinks at the Kakaako farmers market and made plans to visit their brand new tasting room. But in a stroke of terrible luck, it opened on the very day bars in Honolulu were ordered to close. Today the sake bar is open and serving Islander's deliciously bold nama sake paired with a smattering of dishes and small snacks, depending on the day you go.
753 Queen St. • Kakaako • Opened June
See also: Islander Sake is making Hawaii's first sake in three decades
J & S Lumpia Spot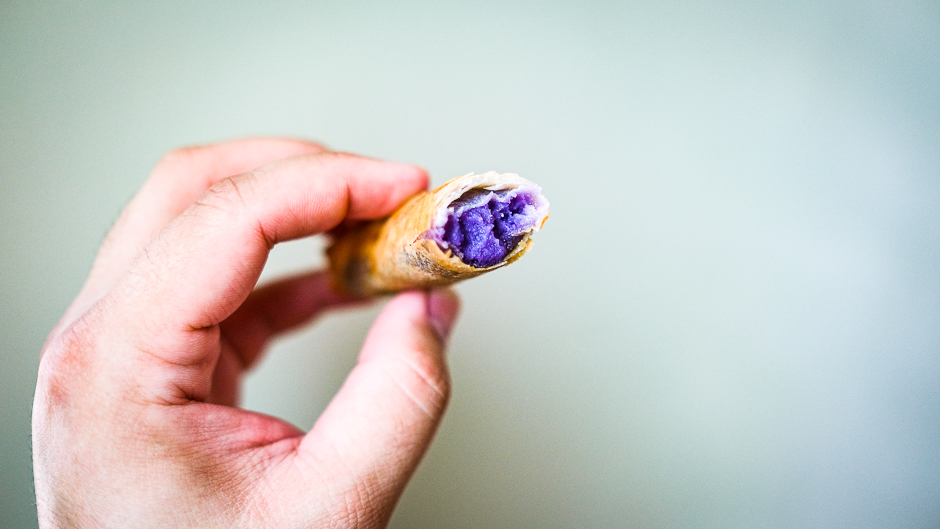 Located on the Ewa-makai corner of Liliha Street and Vineyard Boulevard, J & S Lumpia Spot is Honolulu's new takeout lumpia spot. You can call in your order or show up at the window; either way, your lumpia is fried fresh to order. Savory options include Shanghai and pork and veggie lumpia; sweet ones include Okinawan sweet potato and the classic banana lumpia.
517 N. Vineyard Blvd. • Liliha • Opened in May
See also: Sweet and savory lumpia from a new spot is just what we need
Mahiai Table
After a three-month delay, Foodland's first full-service in-store restaurant will open in Ka Makana Alii with farm-to-table eats and a bar. An early peek reveals things like chia seed pudding and an English muffin with kalua pork, soft egg and luau sauce on a fast-casual breakfast menu. Lunch and dinner will have dishes like a bowl of hand-cut pasta with pork ragu, beef luau soup, lemon garlic chicken wings, sandwiches, big salads and pizzas. For dessert, things like malassada crullers and ube pie with ginger-coconut whipped cream. We're so ono for all of it right now.
The Grove at Ka Makana Alii • 91-5431 Kapolei Pkwy • Kapolei • Opens July 15
See also: Foodland Farms' first in-store restaurant is going to Kapolei
Midnight Hi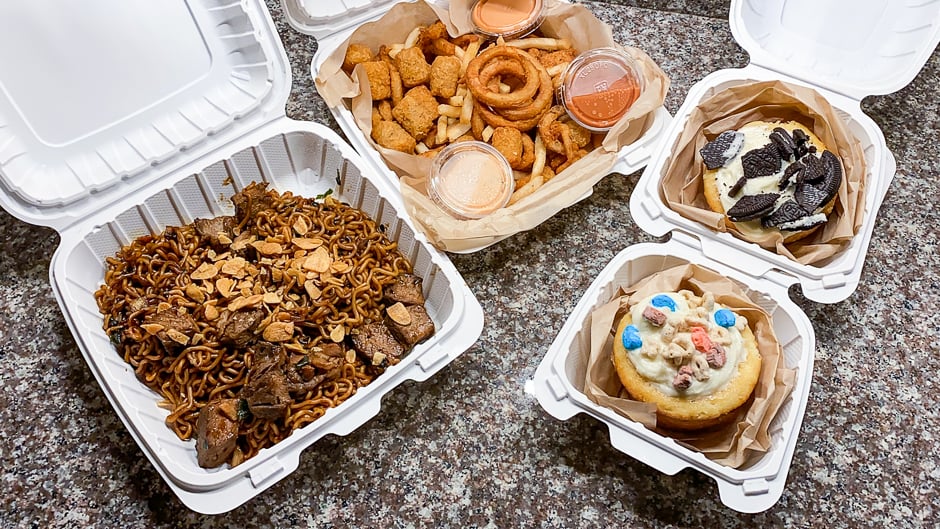 Midnight munchies have you craving something really bad? Midnight Hi is there from 7 p.m. to 3 a.m. Wednesday through Sunday to make sure you never go to bed hungry. The menu is hilarious (there's a chicken salad called WTF is This) and often psychedelic, and items like Kim Jong Ramdon noodles with steak ("Fit for any dictator") and Sriracha mac and cheese tater tots are crave-worthy. Don't even get us started on those bigger-than-your-head Stretchmark Cookies.
midnighthi.com • Kakaako • Opened in May
See also: New Midnight Hi delivers midnight munchies
Miro Kaimuki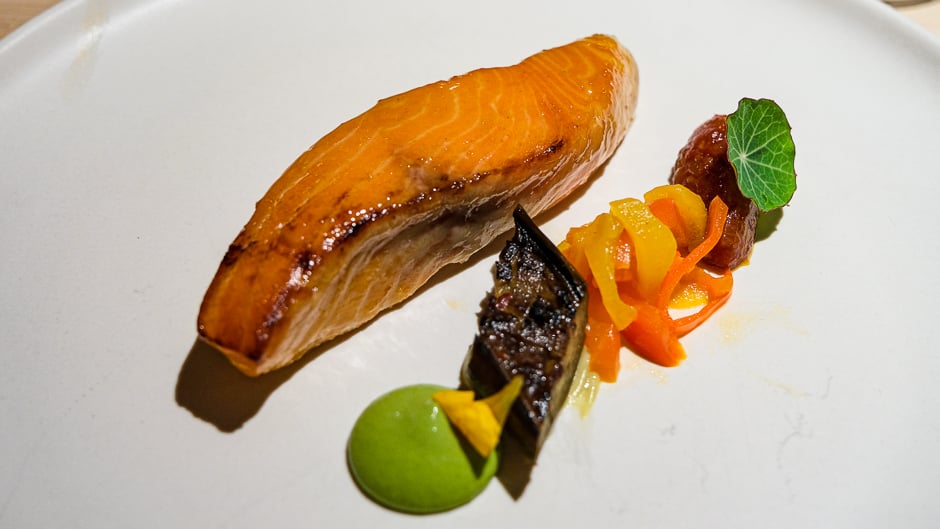 Kaimuki's longtime Japanese-French Cafe Miro garnered national attention when San Francisco Michelin-star chef Mourad Lahlou partnered with former protege/James Beard Award finalist Chris Kajioka to give it a rebirth. Miro is a fabulous display of technique, and its juxtaposition of French, Asian and Moroccan flavors is unrivaled. I've been twice and am still craving more. Trevor Webb, formerly of Kismet in Los Angeles and a Kajioka protege from Vintage Cave, is chef de cuisine and the cocktail program is led by Justin Park and Tom Park of Bar Leather Apron and the forthcoming Bar Maze.
3446 Waialae Ave. • Kaimuki • Opened April, dine-in from early June
See also: Chris Kajioka's stylish Miro opens in Kaimuki
Noods Ramen Bar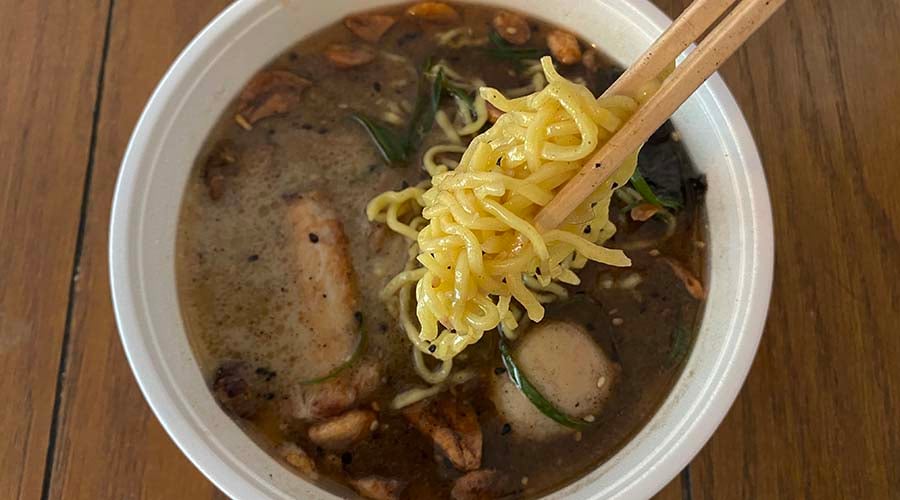 Formerly a weekend pop-up at Osoyami, Noods Ramen Bar opened in late April next to Broken Rice on Waialae Avenue. It's a good add in a foodie neighborhood with multiple options for pho and dessert, but no standalone ramen restaurant except for Hokkaido Ramen. While ramen is the specialty, sides include kimchi potstickers, poke bowls and a killer garlic fried rice.
3611 Waialae Ave. • Kaimuki • Opened late April
See also: A new ramen restaurant just opened in Kaimuki
Raising Cane's Chicken Fingers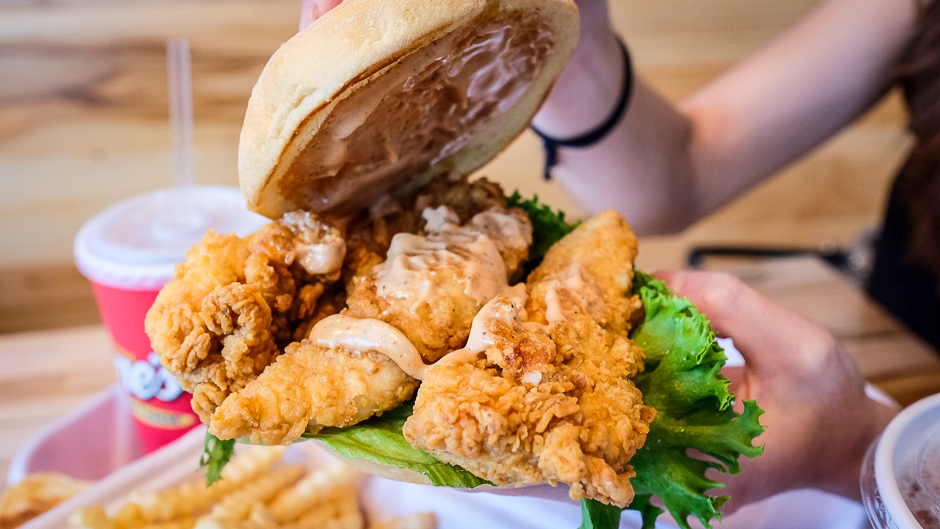 Raising Cane's, the chain from Louisiana known for its chicken fingers and crinkle-cut fries, opened to long lines of cars in Hawaii Kai and Mililani just a week apart. Construction has begun on yet another location near Kapolei High School. If you've never been, we recommend getting as much sauce as you can because that's what sets these fried chicken fingers apart.
Hawaii Kai Towne Center • 333 Keahole St. • Hawaii Kai • Opened June 7
Mililani Town Center • 95-1245 Meheula Pkwy • Mililani • Opened June 14
717 Kunehi St. • Kapolei • Under construction
See also: Raising Cane's first Hawaii location now open near UH Manoa
Sarithra South Indian Restaurant
Sarithra takes over the former Yacchaba space across from the Hawaii Convention Center. The old izakaya's design features are still prominent but the menu is completely South Indian. The diversity of Southern Indian cuisine could take eons to discuss, inspired by the hot, humid climate and abundance of rain and waterways, with vegetarian specialties, fiery stews and curries. I can't wait to try this with someone who loves spice.
1718 Kapiolani Blvd. • Ala Moana • Opened May
Shay's Kakaako
Shay's has brought its signature pork adobo pizzas and loaded sisig fries to the former Fish Honolulu space at Salt. In an area devoid of anything Filipino, this is a huge new dimension. I was a fan of Shay's original Waipio location; I hope they're just as good in town.
Salt • 691 Auahi St. • Kakaako • Opened May
Tanaka Ramen & Izakaya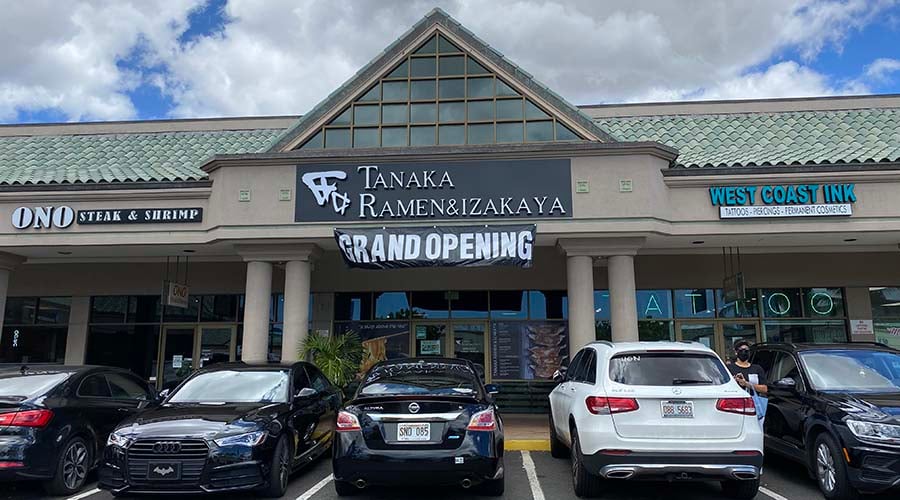 Although it sounds local, Tanaka Ramen & Izakaya is a mainland chain with locations in Chicago, Atlanta and College Station, Texas. It's sometimes confused with Tanaka Saimin, so "izakaya" was added to the name to emphasize the restaurant's small plate offerings. The menu boasts more than 10 ramen bowls with vegetarian, vegan and cold noodle options, donburi (rice bowls) and smaller items like takoyaki, pork gyoza and tempura brussels sprouts.
Kapolei Marketplace • 1590 Farrington Hwy • Kapolei • Opened June
See also: Kapolei gets a new ramen and izakaya spot
Taqueria el Ranchero Kapolei
If you've been to Taqueria el Ranchero in Wahiawa, you know this is one of the legit spots on Oahu for Mexican fare. El Ranchero announced on its Facebook page that Ka Makana Alii will become the restaurant's second home. West siders should consider themselves very lucky.
Ka Makana Alii • 91-5431 Kapolei Pkwy • Kapolei • Opening soon