20 new and coming restaurants for 2020: Foodmap
A new year in a new decade with at least 20 new places to try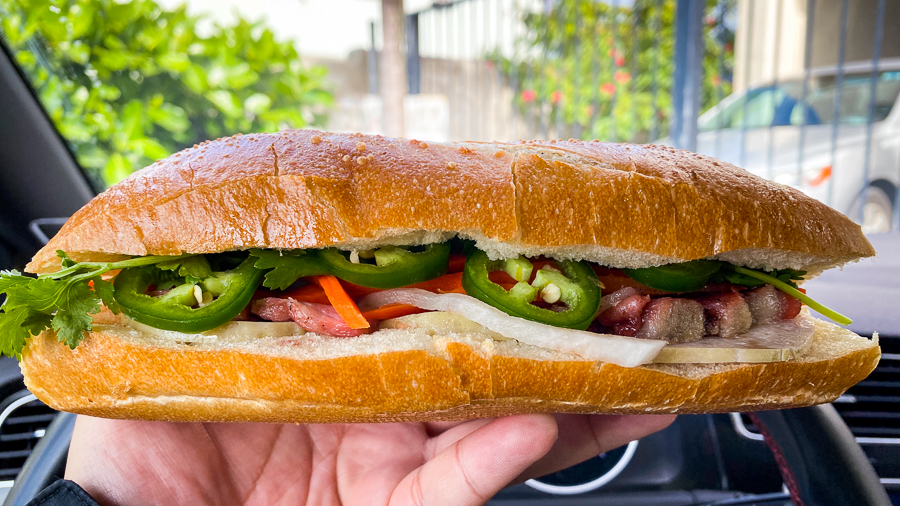 It's only Day 2 of the new decade and Oahu's food scene is already off to an exciting start. The mix is literally all over the map with Vietnamese sandwiches, Salvadoran pupusas and Taiwanese dumplings scattered across the island. Here are 20 new and coming restaurants to bookmark for your dining adventures.
Ahi Assassins at Hawaii's Favorite Kitchens
Viral poke purveyors Ahi Assassins now sets up at Hawaii's Favorite Kitchens in the space that Poke Stop recently vacated. This is their second location and like the flagship in Moiliili, it sells unique varieties of fresh ahi poke.
Hawaii's Favorite Kitchens • 3111 Castle St. • Kapahulu • opened in December
See also: Something new: Ahi Assassins
Bar Maze
When Chris Kajioka of Senia combines his culinary prowess with the cocktail magic of Justin Park and Tom Park of Bar Leather Apron, there's cause for excitement. Bar Maze (ma-ze is Japanese for mix) will be a welcome addition to the emerging Kakaako scene. No word yet on the opening date.
The Collection • 600 Ala Moana Blvd.• Kakaako
Bella Banh Mi Cafe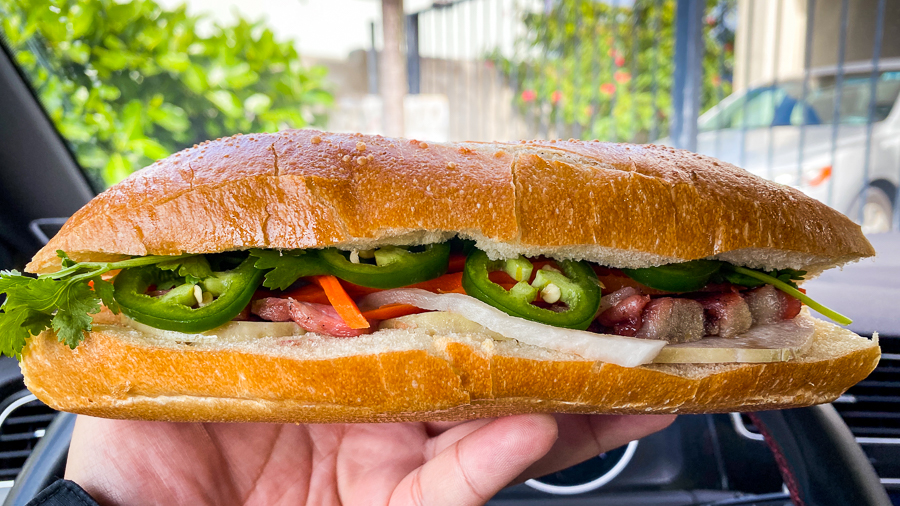 A new banh mi shop opened on Liliha Street in mid-November with a selection of sandwiches, summer rolls, cold noodle bun bowls and Vietnamese drinks. The cozy cafe has a homey vibe and the food is pretty good and affordable. All banh mi are $6.50 and come with all the fixings on crunchy baguettes; spring rolls and bun bowls are around $5 or more. The mung bean milk and rainbow che hot luu or sweetened coconut milk with pandan jellies and other chewy bits are deliciously refreshing.
1630 Liliha St. • Liliha • 218-3274 • opened in November
Brick Fire Tavern Kaimuki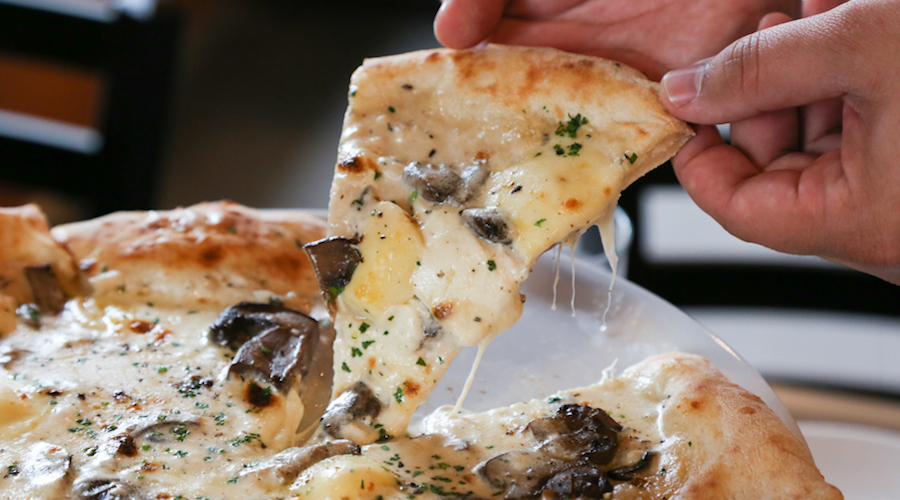 Following the success of Brick Fire Tavern in Chinatown, Matthew Resich will open a second location in Kaimuki early this year. Known as the first certified Vera Pizza Napoletana pizzeria in Hawaii, Brick Fire serves up some of the best Neapolitan-style pizzas I've had and will be in great company with Brew'd, Town and Mud Hen Water nearby.
3447 Waialae Ave. • Kaimuki • opening soon
See also: Something new: Brick Fire Tavern
Chopchop Rotisserie
Kaimuki's Kevin Hanney is hard at work on a new project: He's opening a casual chophouse concept in the former Da Smoke House space in Eaton Square. If the new place is true to his approach at 12th Avenue Grill and Koko Head Cafe, it'll be another great spot for locavores.
Eaton Square • 438 Hobron Lane #H-3 • Waikiki • opening January
Cloud Nine Cafe

The brown sugar boba souffle pancakes caught my attention; the milk tea and Taiwanese home-style cooking kept me wanting more. Anna Tam, the former manager of Tim Ho Wan in Waikiki, now has her own cafe in the former Dragon Tea at Market City. Hand-folded dumplings, lou rou fan or Taiwanese braised pork over rice, and cold sesame noodles pair well with the strongly brewed milk teas. Order the pancakes ahead of time — they take about 20 minutes to make.
Market City Shopping Center • 2919 Kapiolani Blvd. • Kapiolani 739-9988 • opened in November
Hana Koa Brewing Co.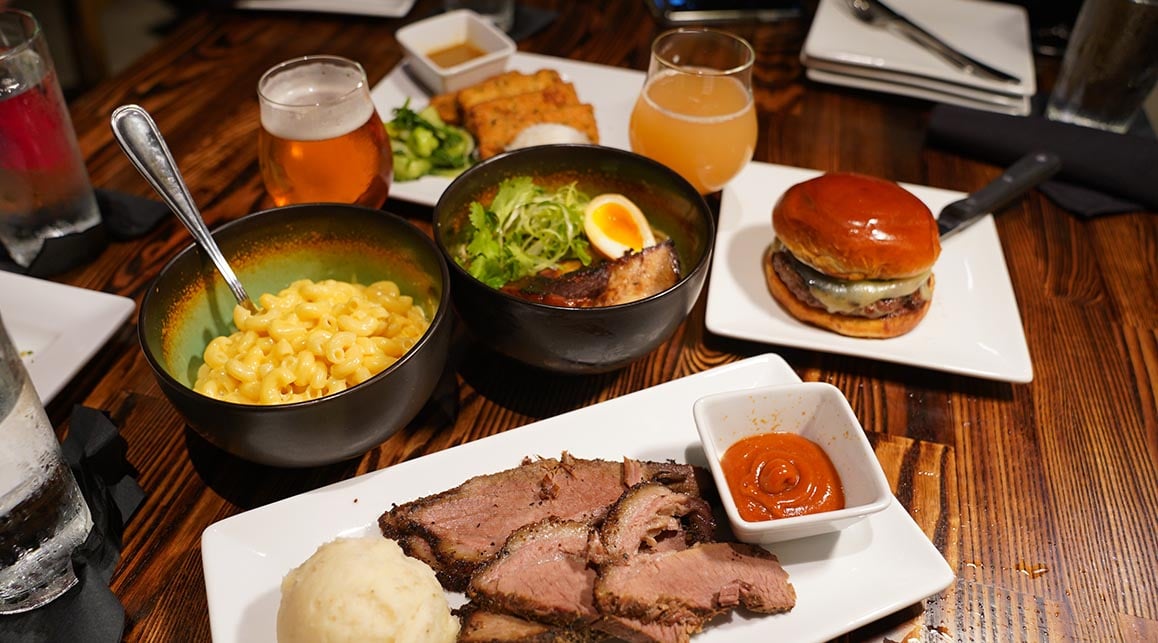 Kakaako's newest brewery is inside a former Coca-Cola syrup plant on Kawaiahao Street. The space is grand with two floors of seating in various configurations and two bars to service them. The food is a little bit of everything, but the highlights are the pickled onion rings, smoked ahi dip and most surprisingly, the tonkotsu ramen.
962 Kawaiahao St. • Kakaako • 591-2337 • opened in November
See also: New Hana Koa Brewing busts onto Kakaako's beer scene
HeyDay
Fete's husband-and-wife duo of Chuck Bussler and Robynne Maii are bringing back the heyday of Waikiki with a mid-century-inspired tiki bar and restaurant in the renovated White Sands Hotel. It's very campy but so on-trend right now. I'm told there will be a resident bartender program that will host world-renowned mixologists who will create fabulous cocktails for guests.
White Sands Hotel • 431 Nohonani St • Waikiki • opening early 2020
Izakaya Kawagoe pop-up
A new pop-up izakaya by the guys behind Vein Kakaako has taken over the former Kaiwa space in Waikiki Beach Walk. Kawagoe's highlights include sushi rolls and super juicy karaage chicken with Hawaiian salt, pineapple pepper or shoyu seasonings.
Waikiki Beach Walk • 227 Lewers St. #150 • Waikiki • opened in December
Kapiolani Spaghetti House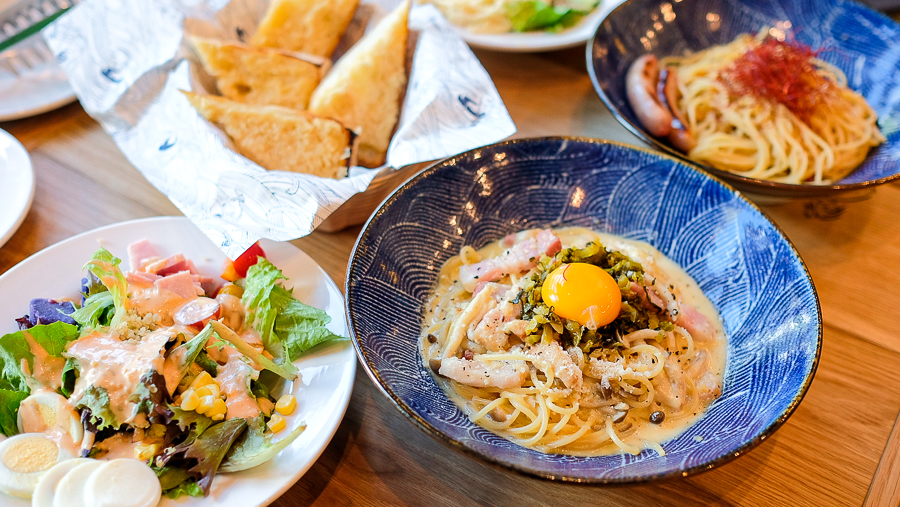 Japanese-inflected pasta is back in the one-time Pietro's space on Kapiolani. Large portions, fair pricing and an all-you-can-eat salad bar are the hallmarks here and they're quickly catching on with the mall crowd. I recommend the torikara fried chicken and the carbonara and tarako (salted cod roe) spaghettis.
Ala Moana Pacific Center • 1586 Kapiolani Blvd. • Ala Moana • 949-3430 • opened in December
See also: Kapiolani Spaghetti House just opened near Ala Moana
Kinship Waikiki
Lauded Washington, D.C. chef Eric Ziebold is launching a westward expansion with a Waikiki branch of his modern American Kinship restaurant in the former Ralph Lauren store at DFS Galleria. Japan is his latest muse and this restaurant will be his testing ground with new ideas and inspiration from the Land of the Rising Sun, using locally sourced ingredients.
DFS Galleria • 330 Royal Hawaiian Ave. • Waikiki • opening March 2020
La Casita Restaurant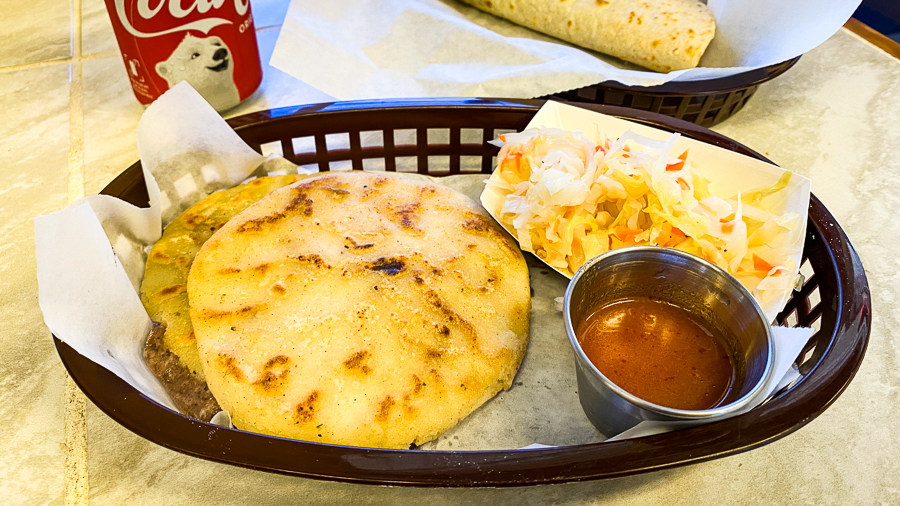 The last time I had Salvadoran food was when I lived in Los Angeles. Now it's finally crossed the Pacific to a small spot in Waipahu called La Casita. Walking in, you'll hear the slap-slap of handmade tortillas and pupusa being made in the back. The unmistakable scent of masa corn dough hitting the plancha wafts through the restaurant. The pupusas ($3 each) are sizable and filled with cheese and choices of carnitas pork and beans. Pickled cabbage made with red wine vinegar is the ideal pairing.
94-801 Farrington Hwy • Waipahu • 676-6987 • opened in December
Mad Bene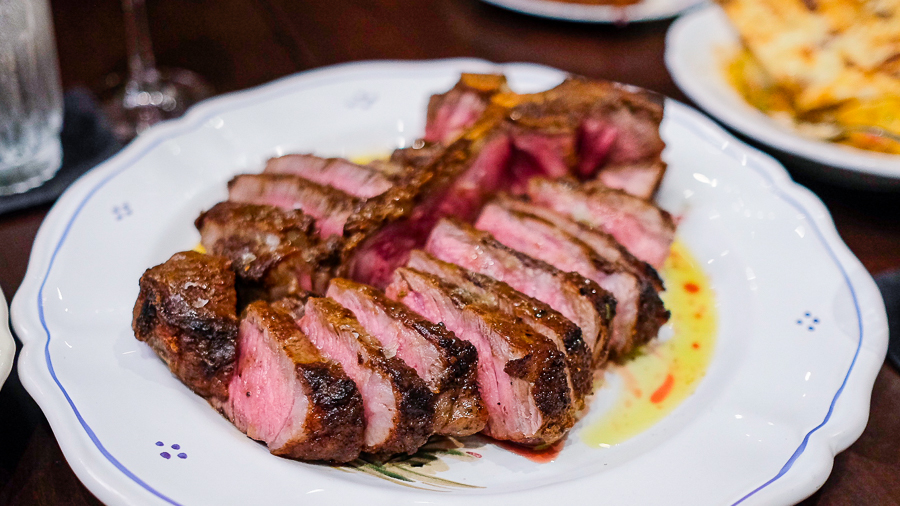 Mad Bene may have opened just weeks ago, but it is by far my favorite new restaurant of 2019. It took Bao Tran and his team six months to source the ingredients and equipment including fruity olive oil from Sicily, Ezzo pepperoni from Ohio and a two-stage water filtration system to soften the water to New York standards, which makes all the difference in the pasta and pizza dough.
Kapolei Commons near Regal Theaters • Kapolei Pkwy • Kapolei • 744-7400 • opened in December
See also: Mad Bene's legit East Coast Italian is the best thing in Kapolei
McCully Buffet
Camellia is now under new ownership as McCully Buffet in the small center behind Chef Mavro. It's from the same folks as Ahi & Vegetable with all-you-can-eat sushi, poke, seafood and Korean barbecue under one roof for $38.95.
930 McCully St. • McCully • 951-0511 • opened in December
Mother Bakeshop
Kailua's getting a new bakeshop in the former Buona Sera on Hekili Street. Slated to open Jan. 15, the bakeshop will be run by husband and wife Josh Stewart and Kristina Swenson-Stewart, who met working at a diner in New Jersey and shared a dream of opening a bakery. Sourdough will be the focus with doughnuts, malassadas, cakes and sandwiches to complement espresso drinks.
131 Hekili St. #101 • Kailua • opening January
Mugen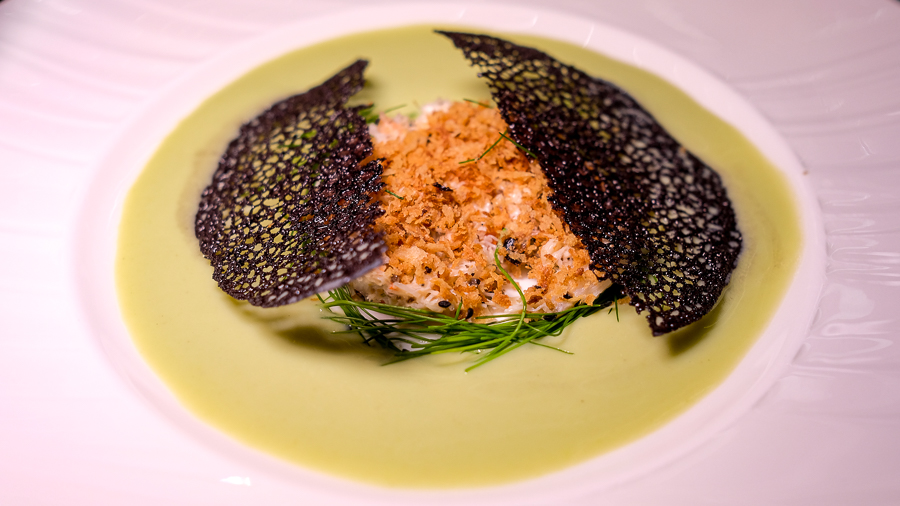 Jason Yamaguchi elevates the French-Japanese kaiseki experience without going overboard. Presentations of ingredients from around the world are impeccable and the dinner menu changes almost daily. The restaurant recently launched a lunch menu with a chicken katsu sandwich and other intriguing items that are luxe but within reach.
See more: Here's a taste of Waikiki's luxe new French-Japanese eatery
The Espacio Waikiki • 2452 Kalakaua Ave. • Waikiki • 377-2247 • opened in November
Podmore
Restaurant Senia's Anthony Rush and wife-partner Katherine Nomura are working hard to breathe new life into the historic Joseph C. Podmore building on the corner of Merchant and Alakea streets. It will eventually be home to the namesake Podmore, a restaurant that will serve brunch in the morning and craft cocktails at night.
206 Merchant St. • Downtown • opening 2020
Redfish Poke Bar by Foodland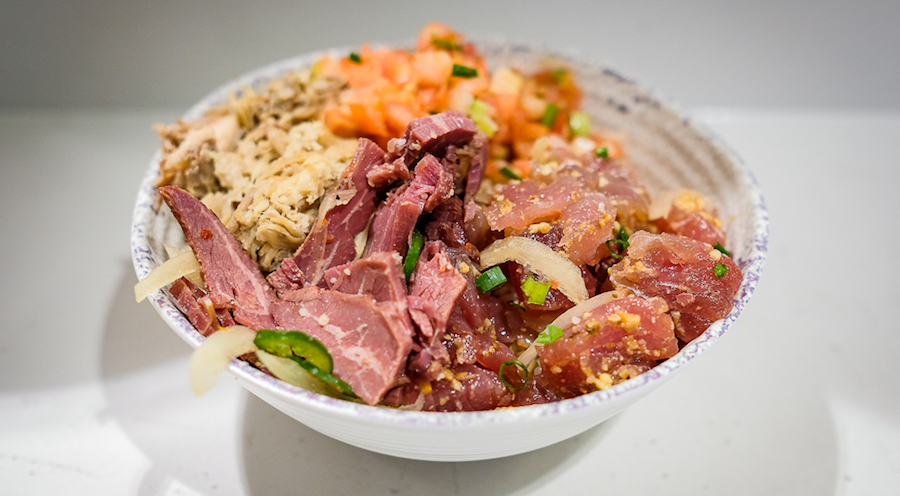 Foodland's first foray into restaurants opened with great fanfare in December. It's a fusion showcase of the supermarket chain's prowess in crafting delicious local dishes. Choose build-your-own poke bowls with fresh ahi and hamachi at the counter or head to the back for a lively cocktail bar with seriously good grinds.
Salt at Our Kakaako • 691 Auahi St. • Kakaako • 532-6420 • opened in December
See also: Poke and pupus: Foodland's new restaurant is a good catch
Waikiki Food Hall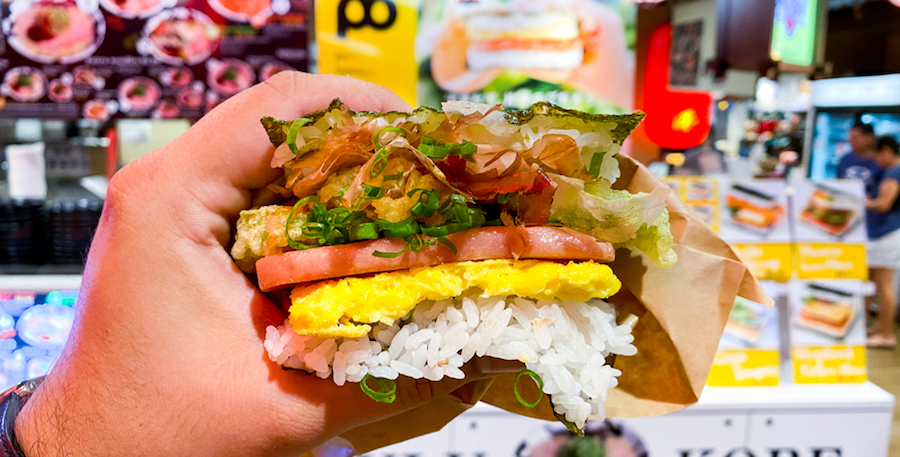 Royal Hawaiian Center is jumping into the food hall game with a collection of eight small specialty restaurants. Among them will be Milk, a soft serve ice cream shop; Meataly Boys, a casual chophouse concept; and Okinawa's Pork Tamago Onigiri, which I tried during a short pop-up at Shirokiya in November. This food hall will be the fourth within a two-block radius … hope you're hungry!
Royal Hawaiian Center • 2201 Kalakaua Ave. Bldg. C • Waikiki • opening spring 2020
See also: Okinawa's Potama Spam musubi sandwiches are coming to Waikiki
Ya-ya's Chophouse & Seafood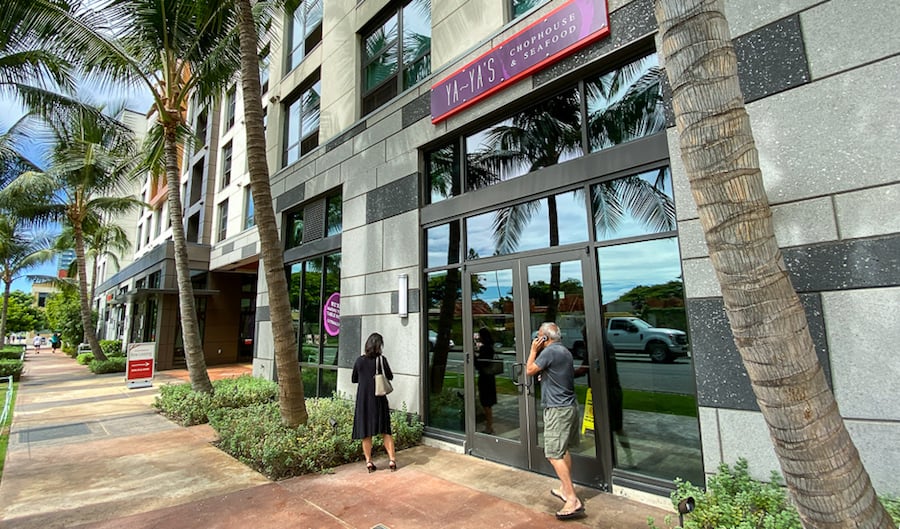 Initial photos of the menu show seafood towers and a full bar with seating inside and out of the space next to Real Gastropub. Ya-Ya's will be the third eatery for Ho Suk Lee and Bo Pathammavong, owners of Uncle Bo's Pupu Bar & Grill in Kapahulu and Haleiwa. Being a chophouse, expect a nice variety of steaks and other dishes for carnivores.
Keauhou Lane • 502 Keawe St. • Kakaako • 725-4187 • opened in November