17 New & Coming Restaurants to Watch for on O'ahu: February 2022
Poke bowls, mochi doughnuts, new Lebanese and xiao long bao!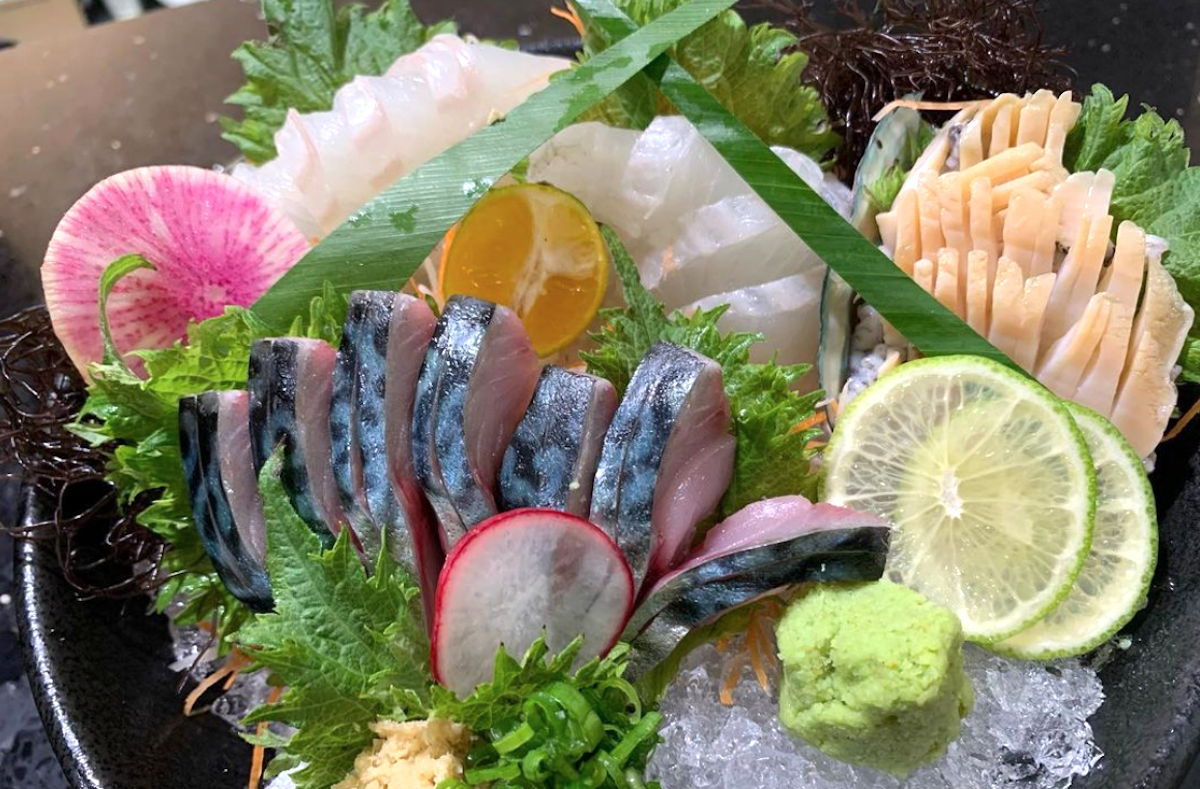 Times like this, when we survey the island's food scene like a crystal ball and see bright pops of newly opened eateries and the promise of future ones to come, we really love our job. We see we can never get enough sushi or doughnuts, we're always ready for a new pub, and we're ravenous for soup dumplings. We'll watch visionaries in cider and sake bring their ideas to life while another opens an izakaya at the edge of Kalihi. And by the end of the year, we hope, O'ahu will have its first Lebanese restaurant. Here's a snapshot of what to anticipate.
Aloha Donut Co.
McCully
View this post on Instagram
Brand new mochi doughnut shop in the former Hata Restaurant space across from Zippy's. Aloha Donut is in limited soft-opening mode, with plans to go live on Valentine's Day this Monday, Feb. 14. Look for mochi doughnut flavors like taro, liliko'i, black sesame and chocolate; plus cake doughnuts, nitro infused coffees, teas and rotating doughnut flavors.
1742 S. King St., @alohadonutco
---
SEE ALSO: The Best Events and Things to Do on O'ahu in February 2022
---
Black Shamrock Tavern
Downtown
A new Irish pub by J.J. Niebuhr of J. Dolan's pizza fame is set to open as soon as it gets its gas permits. The bar will open first, Niebuhr says; the kitchen will follow with a casual menu of pizzas, pastas, salads and sandwiches. Targeted opening is March 1; check Black Shamrock's (still-dormant) Instagram for updates.
902 Nu'uanu Ave., @blackshamrocktavern
---
Byblos
Chinatown
One of the oldest cities in the world, Byblos has been inhabited well over 7,000 years—"and now it's famous with a lot of good restaurants," says Chady Sakr, who plans to open a Lebanese restaurant named after the city in Downtown's old Indigo space late this year. Early plans call for an upscale restaurant with indoor and outdoor dining, a bar and a brick wood-fired oven to make pita bread. "It was on my mind to open a Lebanese restaurant since I came to Hawai'i in 2010," says Lebanese-born Sakr. "Finally I find one of the most beautiful spaces in Chinatown."
1121 Nu'uanu Ave.
---
SEE ALSO: My Top 5: Favorite Restaurants to Eat and Drink on O'ahu Right Now
---
The Clubhouse Mililani
Mililani
View this post on Instagram
Mililani Golf Club's revamped restaurant opened in December with breakfast, lunch and dinner, but it's the fresh oysters, sashimi and sushi that have been getting the most buzz. These are featured daily alongside matcha pancakes, burgers and saimin. Chef Lance Morishima, who previously cooked at Shokudo and Rokkaku Hamakatsu, has a penchant for fish flown in from Japan or caught locally, which is a good thing for Mililani.
95-176 Kuahelani Ave., (808) 784-0048, theclubhousemililani.com, @theclubhouse_mililani
---
E.A.R.L. Kaimukī
Kaimukī
View this post on Instagram
Kaimukī's over-the-top sandwich specialist moved from its original spot to Market City in January, sandwiched (ha!) between Cafe Kaila and Anytime Cafe. The bigger space allows more menu options, including steak and roasted garlic French dip sandwiches, Cubanos with pork belly, and rotating specials like Philly cheesesteak sandwiches. The shop is already serving these up, with grand opening specials planned for March 5. The original Kaimukī spot, meanwhile, will stay in the E.A.R.L. family—not with sandwiches, but a new breed of cheesy burritos set to debut in March.
2919 Kapiolani Blvd., (808) 200-4354, @earlkaimuki
---
SEE ALSO: Taste Test: We Tried Every Sandwich on the Menu at Earl Kaka'ako and Ranked Them
---
EP Bar
Chinatown
With nearly 3,000 extended play records and cocktails created with the help of noted mixologist Justin Park of Bar Leather Apron and Bar Maze, EP Bar is Chinatown's new hangout for chill music and drinks.
1150 Nu'uanu Ave. Unit A, (808) 753-9720, epbar.co, @ep.bar
---
SEE ALSO: Chinatown's New Listening Bar Melds Chill Music and Cocktails
---
Hanale by Islander Sake
Chinatown
If you ever parked yourself at Islander Sake's monkeypod counter in Kaka'ako and indulged in a leisurely sushi omakase or elegant home-style Japanese dinner, you know exactly what's in store when Hanale restaurant opens in Chinatown. Islander dismantled its brewery and tasting room in recent weeks, transferring its food service side to a new space that's set to take reservations once it gets its final permits. Hawai'i's only sake brewery, meanwhile, is being rebuilt in a new location. Stay tuned.
25 N. King St., islandersake.com, @islandersake
---
SEE ALSO: Islander Sake Pairs a Premium Sushi Omakase with Fresh Sake Brewed in the Next Room
---
Mango Mango
'Aiea
New York-based Mango Mango opened its first Hawai'i dessert shop at Pearlridge Center in December with Hong Kong-style dessert soups and specialty pancakes, crepes, ice creams, teas, smoothies and lots and lot of mango. The chain has more than 30 locations in 12 states; a second O'ahu franchise is already planned for Ala Moana Center.
98-1005 Moanalua Road, @mangomangohawaii
---
Mr. Dough
Kapiolani
Xiao long bao alert: A new spot for soup dumplings is set to open in the old MW Restaurant space on Kapiolani Boulevard in March. Early details are scant, but Mr. Dough's menu will include pan-fried and steamed dumplings and a multifaceted "10 Seconds Noodle Soup" that, according to its website, looks like a personal size hotpot.
1538 Kapiolani Blvd., mrdoughhawaii.com
---
Nami Kaze
Iwilei
It's not every year a new okazuya opens in Honolulu. This one, by longtime local chef and culinary instructor Jason Peel, is getting raves for its mix of classic and reinterpreted okazuya staples including Goteburg musubis from Peel's home island of Kaua'i. Unfortunately, the eatery is destined to be as fleeting as the waves (nami) and wind (kaze) it's named for. In a matter of months, Peel plans to replace the daytime-only okazuya at Pier 38 in the old Uncle's Fish Market & Grill (which has since moved to 'Aiea) with a full-fledged izakaya.
1135 North Nimitz Highway, toasttab.com/namikaze.hi, @namikaze.hi
---
SEE ALSO: First Look: Nami Kaze, Okazuya-style Now, Izakaya Later
---
Nana Ai Katsu
Kaimukī
Nana Ai Katsu, the tiny counter that built a cult following for its thinly sliced and layered kurobuta tonkatsu at 'Ohana Hale Marketplace, moved into a brick-and-mortar space in December. The intent was to expand with dine-in service, but unexpectedly heavy takeout volume has pushed back those plans. That hasn't stopped Nana Ai's menu expansion, though. New items at its Kaimukī location include katsu sandwiches and udon katsu curry.
3585 Waialae Ave., (808) 722-0146, nanaaikatsu.com, @nana_ai_katsu
---
SEE ALSO: What's New in Honolulu: The 7-Layer Tonkatsu at 'Ohana Hale Marketplace
---
Nature Waikīkī
Waikīkī
Japan-based Zetton Group's newest eatery is a reboot of Paris Hawai'i, which occupied the same space upstairs from sister restaurant Zigu before the pandemic. Nature's menu also features high-end, locally sourced French dishes, either a la carte or in regular and vegetarian tasting menus.
413 Seaside Ave., (808) 212-9282, naturewaikiki.com, @naturewaikiki
---
Paradise Ciders Mililani
Mililani
Kalihi's cider maker is expanding to Central O'ahu with a full bar and food by Hi Sliders food truck. Equipment delays have pushed the timeline back, so look for it in the old The Mill spot probably in May.
95-221 Kipapa Dr., @paradiseciders
---
Pint + Jigger
Ala Moana
View this post on Instagram
Tucked off the recently renovated lobby of the Ala Moana Hotel, the new incarnation of Mō'ili'ili's beloved gastropub is now aiming to reopen in February or March, two years after it closed on King Street. Harry's Hardware Emporium, its speakeasy arm, is set to reopen in a space just upstairs.
410 Atkinson Dr., @pintandjigger
---
SEE ALSO: Pint + Jigger Is Reopening Next Spring
---
Poke Fix
Waikīki
View this post on Instagram
Buzz about crazy good poke is coming out of Waikīkī (you read that right). Poke Fix, with a chef from Poke for the People Express, is turning out new poke styles and sides that resonate with locals as well as tourists. Of note: Hawaiian style, garlic shrimp and jellyfish poke, and inari bombs, which Poke Fix calls umami bombs, loaded with the same ultra-fresh seafood. Bonus: There's curbside pickup.
334 Seaside Ave., (808) 807-7999, @pokefixhawaii
---
SEE ALSO: Owners and Chefs Share Their Best Recommendations on What to Order at Their Poke Shops
---
Thuong An Lac
Chinatown
It's not uncommon for Vietnamese eateries to have vegan dishes; it is uncommon for one to feature nothing but plant-based fare. Thuong An Lac, across O'ahu Market at King and Kekaulike streets, has meat-free spring rolls, faux pork chops, spicy Hue faux beef noodle soup and a notable vegan steamed manapua.
135 N. King St., (808) 888-8997, @lacthuongan
---
YiFang Fruit Tea Hawai'i
Iwilei
View this post on Instagram
The first Hawai'i outpost of Taiwan's YiFang Fruit Teas soft-opened on Dillingham Boulevard just in time for Lunar New Year on Feb. 1. Choices include various fruit teas (think liliko'i, winter melon, kumquat), tea lattes (like this taro latte), brown sugar lattes and salty cream teas.
602 Dillingham Blvd., (808) 840-0110, yifanghawaii.com, @yifanghawaii